News from Around Banderas Bay | November 2005
Martina Navratilova/Rosie Casals Tennis Clinic

Martin Parra - PVNN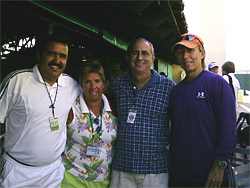 Canto Cel Sol Tennis Director Martin Parra, ex-pro Rosie Casals, Bob Cohen and pro Martina Navratilova before the half day clinic began. Click HERE for more event photos.

Puerto Vallarta - November 1, 2005 was a day tennis fans in Puerto Vallarta will long remember, but for the 200 cruise ship passengers that participated in the Martina Navratilova/Rosie Casals Tennis Clinic, it was an unforgettable event.


Olivia Cruises, who specialize in lesbian and gay vacations, filled a Holland America cruise ship with 1800 women - 200 of whom participated in a star-studded tennis clinic hosted by the Canto Del Sol Tennis Club Puerto Vallarta.


Featuring tennis' greatest female legend, Martina Navratilova, and her long-time friend and former professional tennis player Rosie Casals, the tennis clinic was filmed by the Travel Channel and will be aired sometime in the near future.


The Canto Del Sol Resort and Tennis Club welcomed the enthusiastic group of tennis fans at 9:00 am, and provided them with excellent accommodations until 1:00 pm. After warming up, the group of women broke up into groups divided by skill levels before warming up with Rosie on Court 1, Martina on Court 2, and members of the cruise staff on the other courts.


After instruction from the two pros, Martina chose a partner and played a game of doubles with two of the better players. Her form was classic, but rather than ripping away with some of her patented ground strokes she kept the ball in play to keep the game competitive.


After a couple of hours of doubles, Casals and Martini took the court. Casals hit some high lobs to Martini, treating everyone with smashes from the net that sailed into the seats. At 49 years old, Martina still plays competitive tennis, and is a regular at Wimbledon in mixed doubles matches.


As the clinic closed, Martina took the microphone, thanked everyone, and reminded them to stretch after playing. Then the autograph signing procession began as the tennis legend signed visors, caps, tennis balls and shirts for an enthusiastic group of tennis fans.


The cruise ship, which departed from San Diego and made stops in Cabo San Lucas, Mazatlan and Puerto Vallarta, chose Vallarta as the best place in Mexico to host the tennis clinic. This was a group that wanted to have some fun, and that they did!


While 200 of the cruise ship passengers were participating in the tennis clinic hosted by the Canto Del Sol Tennis Club, the other 1600 either strolled around our beautiful town or enjoyed some of the exciting tours that are available here in Puerto Vallarta.


The Canto Del Sol Resort and Tennis Club and the city of Puerto Vallarta would like to thank both Olivia Cruises and Martina for their participation and support. We look forward to your next visit and hope to see you again soon!
Tell a Friend
•
Site Map
•
Print this Page
•
Email Us
•
Top