News from Around Banderas Bay | November 2005
The Flavours of Contemporary Chile

Kathy Taylor - PVNN
An amuse-bouche is a small gift from the chef to "please the mouth."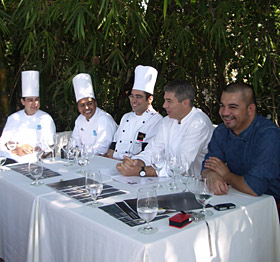 Left to right...Hugo Ahumada (sous chef, Cafe des Artistes), Ramon Alvarez (executive chef, Cafe des Artistes), Marino Palma (official chef, Valrhona Chocolate), Thierry Blouet, and Oscar Tapia, (guest chef, Cocina de Autor)

In the leafy aerie that is the top terrace of Chef Thierry Blouet's Cocina de Autor, his guest chef Oscar Tapia gave us a little gift yesterday, an amuse-bouche, which not only pleased but teased in anticipation for the chef's table dinner they will offer this Tuesday.


It was a gastronomic B-52, layers of flavour and texture and color in an elegant shot glass. A dark and mysterious reduction created a foundation for a rich stripe of cold almond cream perfumed with shallot. The crowning tier was a prawn tartare traced with mint oil and chives. Delicious.


It is one of Oscar's creations, born of his philosophy of creating dishes from ingredients that are local and seasonal. He says that "they should not be too expensive, and you should be able to find what you need even in the local markets."


Oscar Tapia's local market is in his home of Santiago, Chile, where he is president of the Chef's Association of Chile and Regional Director of Aregala Chile. Aside from his well-known professional credentials, he was recommended highly to Thierry for this collaboration by Monica Baron, a former festival organizer, who ate at one of Oscar's restaurants in Chile, and Gerald Dupont, President of the Académie Culinaire de France. Thierry says that he is excited by the experience of using "new ingredients, new flavours, and new techniques" in his collaboration with Oscar.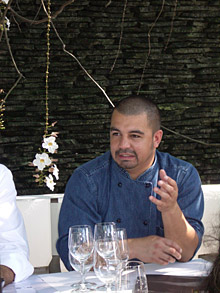 Oscar Tapia, Guest Chef Cocina de Autor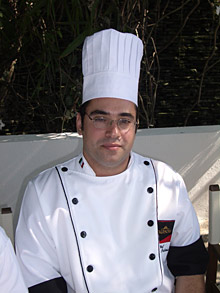 Marino Palma, Guest Chef Valrhona Chocolate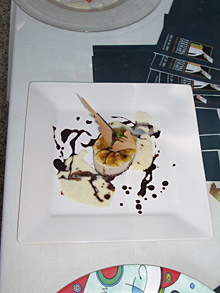 Dark mousse on a base of crisp bitter chocolate meringue, its top lapped with thin slices of caramelized banana.

One of the things that keeps Thierry Blouet's suite of dining experiences exciting is his willingness to learn and experiment, a trait that makes him a chef who defies categorization, with one exception, his total dedication to excellence.


Thierry is also dedicated to his audience, his customers. During the gourmet festival classic items from the Café des Artiste menu, cultivated through 15 years of Artiste success, are being offered alongside the special menu items created by Oscar Tapia.


One of Artiste's menu favorites was offered in yesterday's mini-tasting. We savored the tuna tartare, light cubes of delicate tuna with a hint of ginger, studded with toasted slivers of almond and tiny jewels of dried apricot. A confetti of scallion greens and a light parmesan crisp to scoop with…excellent!


The tartare is part of the special a la carte menu, but Thierry has also developed the Café des Artistes Grand Selection Menu where for a prix fixe, you can enjoy Artiste favorites such as the legendary traditional cream of prawn and pumpkin.


The one exception to the Artiste menu during the festival is the dessert selection. But what an exception! All of the desserts will feature Valrhona chocolate, in creations developed by the official chef for Valrhona, Marino Palma, Thierry's other guest chef at Artiste.


For anyone whose love for chocolate borders on worship, this is an affair to remember. Four memorable desserts were presented by Marino, whose chocolate fusions with spice and fruit reflect a global influence.


To begin, a classic chocolate parfait, in a pool of vanilla cream, a velvety introduction to Marino Palma's creations. Next, a dark mousse on a base of crisp bitter chocolate meringue, its top lapped with thin slices of caramelized banana, the plate painted with vanilla-flecked emulsion. An attention getting dark chocolate flan with an exotic saffron sauce followed - a delicate weave of east and west.


And finally, a trinity of mousse - bittersweet, white, and dark chocolate mousse, light as air, wide bands of familial flavour capped with a scatter of raspberries. Love was in the air.


Although a reservation for the chef's table on Tuesday night is an elusive possession in Puerto Vallarta these days, selling out rapidly, Chef Thierry Blouet has gone the extra mile to ensure that his customers will be able to share the excellence of Cocina de Autor and Café des Artistes throughout the festival.

Read all the event stories and view the photo galleries of the Festival Gourmet International 2005, from the Jungle themed kick off at the Mayan Palace to the Tropical Odyssey Closing Gala at the Sheraton. Just follow the links below.
---
Tropical Odyssey - An Exotic End to Festival 2005

Kathy Taylor

For an evening to be truly memorable, it takes a combination of ambiance, music, wine, food, and often, company. The Tropical Odyssey Gala that was the closing event of the Eleventh Annual International Festival Gourmet Vallarta had all of these elements.
more »»»
---
The ABC's of Gourmet

Kathy Taylor

What many consider to be the "heart and soul" of the Festival Gourmet takes place in the days between the opening and closing parties, and during the daylight hours before the coveted Chef's Tables. The cooking classes offered by the Festival Gourmet are a great way to learn new skills and rub shoulders with like-minded gourmands.
more »»»
---
The Chef's Table Masterpiece of Cocina de Autor

Kathy Taylor

Imagine this... you've invited two of the world's finest chefs into your home, as well as a sommelier, a maitre d' and staff, and a jazz duo. The linens are crisp, the glasses gleam in the candlelight, and soothing water cascades down the rock wall in your outside atrium as you watch Chefs Blouet and Tapia create a masterpiece.
more »»»
---
To Know Wine is to Understand Life

Denise Derameé

It has been said that "to know wine is to understand life," and thanks to the wine tasting events taking place at the Sheraton Buganvilias during this year's Festival Gourmet Expo Forum, you don't have to be a wine connoisseur to explore the wonderful world of wine.
more »»»
---
Bianco - The Best of Both Worlds

Erich Haubrich

Just a month after their gala opening, Bianco's Chef's Table event, as part of the Festival Gourmet, was a huge success. Guest Chef Bernard Guillas from La Jolla Beach and Tennis Club, and the Bianco staff created a one-of-a-kind 6 course meal in their unique fusion style, bringing together European cuisine and traditional Mexican ingredients.
more »»»
---
Festival Gourmet Brunch Highlights

Kathy Taylor

One of the most anticipated events of the Gourmet Festival is the Brunch at the Sheraton Buganvilias in Puerto Vallarta. Chef Francis Drillien of the Sheraton Cabo San Lucas, guest chef for this event, celebrated the sea with a minimalist brunch for 400 guests on Sunday. more »»»

---
Hot Opener for the Gourmet Festival International

Kathy Taylor

Fire. It is fitting that this most primitive and basic of cooking methods was the theme of the opening festivities of the Festival Gourmet International at the magnificent Mayan Palace in Nuevo Vallarta.
more »»»
Tell a Friend
•
Site Map
•
Print this Page
•
Email Us
•
Top