News Around the Republic of Mexico | November 2005
Court Rules Preserving Traditional Soft Drinks in Mexico not a Matter of National Interest

Mark Stevenson - Associated Press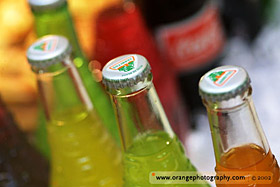 The debate in the court was fierce, with one justice questioning whether Mexico should hand over its soft drink market to multinationals and colas.

Mexico City – Few countries hold a Supreme Court debate over whether preserving their traditional soft drinks constitutes a matter of national interest. But Mexico did just that amid activists' calls for "soda nationalism" to help bottlers overcome an onslaught by Coke and Pepsi.


Mexico's Supreme Court voted 11-1 on Thursday that the Pascual Cooperative, a bottler specializing in Mexico's traditional fruit-flavored and fruit-based soft drinks, did not rate protection as a public interest.


The decision will force the bottler to turn over lands that the Mexico City government had expropriated in 2003 and given to the cooperative to help it continue producing its mango, tamarind and guava-flavor drinks.


The debate in the court was fierce, with one justice questioning whether Mexico should hand over its soft drink market to multinationals and colas.


"The question was: Are fruit-based drinks socially necessary? The answer is that in Mexico, the biggest consumer of juices and soft drinks, yes they are," said Justice Olga Sanchez Cordero. "They are part of the everyday diet ... of the poorest Mexicans."


"In the end, only two companies would remain in Mexico City, the multinationals, and thus this cooperative in my opinion is socially necessary," said Sanchez Cordero, who issued the lone dissenting vote.


In general, most Mexican soft drinks have tried to preserve their shrinking market share by charging lower prices than the bigger brands. But Thursday's decision – as well as rising advertising and other costs – may limit that strategy in the future.


While the Supreme Court decision won't kill Pascual – the cooperative, which has around 4,000 employees, has two smaller plants outside Mexico City – transportation costs from the satellite plants would make it hard to compete in a price-sensitive market, where some Mexican soft drinks sell for as little as 4 pesos (35 cents) per bottle.


Coca-Cola – whose soft drink market share hovers around 70 percent, and Pepsi, with around 20 percent – continue to steadily edge out Mexican brands.


The stakes are high here: Mexicans, per capita, consume more soft drinks annually than anyone else in the world, and if current trends continue, soon they may be drinking almost exclusively foreign sodas.


"Not one more Coke! Not one more Pepsi!" shouted a demonstration of about 200 Pascual workers outside the Supreme Court before the decision was announced.


Soap box – or soda box – patriotism? It's not just an attitude, but has been converted into a successful advertising campaign by Jarritos, a Mexican brand founded in 1950, whose ads play on the theme "Jarritos, as Mexican as you are."


Jarritos had a market share of about 13 percent two decades ago, when the multinationals focused largely on colas before getting into fruit-flavored brands. Now the Mexican bottler has about 3 percent of the market, company officials estimate, and is pinning its hopes on exports to the United States, as are other Mexican brands.


Coca-Cola doesn't see itself as an interloper; after all, it has been in the Mexican market since 1926.


"People have known us for generations, and they have a very special connection with Coca-Cola," said Adriana Valladares, a spokeswoman for Coca-Cola's Mexico subsidiary. The company has invested billions of dollars and created thousands of jobs here, she noted.


Some see it as a plainly nationalist issue, noting that soda flavors, like hibiscus flower, are peculiarly Mexican.


"Pascual products are part of Mexican culture," said Emmanuel D'Herrera, an activist who led an unsuccessful 2004 battle against the building of a Wal-Mart subsidiary store near the ancient ruins of Teotihuacan. "We need a sense of nationalism in this."


"The advocates of globalization are trying to strip away everything that identifies us as Mexican," D'Herrera told a cheering crowd of Pascual supporters.


Though some Pascual backers accuse President Vicente Fox – a former Coca-Cola employee – of favoring the multinationals, Fox's administration has in fact levied the highest anti-monopoly fines in Mexico's history against Coca-Cola.


Raquel Chavez – the combative Mexico City storeowner who filed the complaint that resulted in some of those fines – has banned the major cola brands from her own home.


"I would tell people, support our own brands, support our own Mexican soft drinks," Chavez said. "But people are addicted to Coke."
Tell a Friend
•
Site Map
•
Print this Page
•
Email Us
•
Top