Health & Beauty | December 2005
Pills for Losers

Sally Squires - Washington Post

If you haven't heard of hoodia or green tea extract, you haven't been checking your e-mail or spending much time on the Web. Since the Food and Drug Administration (FDA) last year banned ephedra, the long-standing leader among supplements promoted to help people lose weight, hoodia and green tree extract have taken a high profile among the products being offered to fill the void. Email blasts promoting them are sent to millions of addresses, and Web sites promoting them are ubiquitous online.


With two-thirds of U.S. adults overweight or obese and many of them unhappy about it, Americans' hunger for diet supplements is nothing new. Neither is the fact that little science has been done to prove that heavily promoted products are effective or even safe. Still, sales are huge. These herbal products offer the promise of a natural remedy for weight loss, and they're available without a prescription. Together, over-the-counter weight loss products - which also include bitter orange, chitosan, guar gum, L-carnitine and dozens more - account for nearly $2 billion in annual sales in the United States, according to the Nutrition Business Journal.


Even ephedra, banned last year by the FDA after its use was linked to several deaths, is creeping back on the market, thanks to a federal court decision that opened a legal crack to manufacturers.


What continues to cast a shadow on weight loss supplements is that few have been subjected to the type of research that drug companies must supply before a new medication can enter the market. That's because the government only loosely regulates weight loss supplements. When Congress enacted the Dietary Supplements Health and Education Act (DSHEA) in 1994, it gave dietary supplements a pass on undergoing this kind of pre-market scrutiny.


"Most people aren't really aware that the dietary supplement bottle on the shelf is not regulated the same way as other products next to it," said Robert Saper, director of Integrative Medicine at Boston University School of Medicine.


Despite worries over safety, a study of dietary supplements conducted by researchers from the National Institutes of Health's Office of Dietary Supplements and the University of Alabama and published this year in the Journal of the American Dietetic Association (JADA) found very few reported complications from use of these products for weight loss. But the team also noted that there is "a paucity of evidence" of safety.


Information on effectiveness is also lacking. "Inconclusive at present," as Johanna Dwyer, Paul M. Coates and David Allison described it in the JADA study.


The trade associations that represent dietary supplements say the findings from that study need to be put into context. When used with diet and exercise, "even approved weight loss drugs have only been shown to be useful for a very moderate increase in weight loss, about a pound a month," said Michael McGuffin, president of the American Herbal Products Association, which represents growers, manufacturers and retailers of herbal products. "Consumers think there is a magic pill out there. But there is no magic pill."


The successful formula for weight loss, he continued, "goes like this: diet, exercise and possibly some support from a dietary supplement. The idea that a dietary supplement will help you lose 15 pounds to get into that old dress for the party is not there in the supplement world, and it's not there in the drug world, either."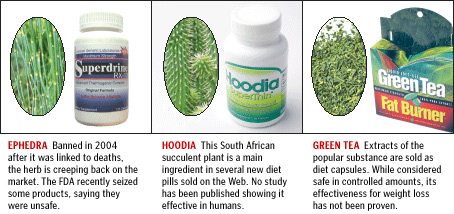 Enter Hoodia


That reality doesn't stop manufacturers from introducing new weight loss products or hopeful consumers from buying them. Hoodia - properly, hoodia gordonii-is one of the newest items on the shelf.


Hoodia's appeal shows how the lure of a quick fix can help "the market overtake the science," noted physician Tod Cooperman, president of ConsumerLab.com, which tests dietary supplements and other products.


Made from a succulent that grows in South Africa and Namibia, hoodia is a purported appetite suppressant said to help indigenous tribes make long treks through the Kalahari desert with little food. Hoodia gained national attention when it was featured on CBS's "60 Minutes" in 2004.


Hoodia supplements can now be purchased at GNC and other stores, starting at $19 per bottle. What consumers actually get for their money is uncertain: There are no established scientific standards to measure the quality of hoodia products, says Cooperman, so his company hasn't been able to test them for purity or content. The botanical is so rare that some experts question whether there's enough available to supply all the products said to contain it.


Does it work? There's no evidence to say. IBIDS, the electronic database at the Office of Dietary Supplements, contains no peer-reviewed human studies of the supplement. One of only two IBIDS citations for hoodia is a paper titled "Stranger in Habits and Flowers: Succulents," published in Germany with no references. The other is a small study of rats, published in 2004 in the journal Brain Research. Scientists reported that injections of hoodia into rat brains increased production of adenosine triphosphate (ATP), a substance key to cell energy production.


The lack of research hasn't dented the hoodia hype machine, however. Bottles of hoodia can be found everywhere, from Costco to local pharmacies. Blast e-mails that appear to be written by satisfied users tout the product's effectiveness and link to sites selling the product online. Perhaps the best example of how much hoodia has become part of the cultural fabric is its use by cast members of the hit television series "Desperate Housewives."


Weighed Down by Metal


Aside from safety and effectiveness, what worries some experts most about weight loss supplements is their purity. "If a product says that it contains 200 micrograms of chromium picolinate, is there indeed 200 micrograms in that capsule?" asks Boston University's Saper. "And are there any trace contaminants, such as heavy metals, pesticides or residues of other pharmaceuticals?"


When ConsumerLab recently tested a supplement that contains chromium, it reported that it found traces of hexavalent chromium, the same compound that led to a $333 million settlement made famous by the Julia Roberts movie "Erin Brockovich." (The makers dispute the ConsumerLab finding and have had their product retested by another lab, which did not find the contaminant. ConsumerLab says that it stands by its findings.)


Through testing, ConsumerLab has also discovered that some weight loss supplements contain far more of their active ingredients than their labels indicate. "Some have unbelievable amounts of caffeine-like substances that are equivalent to drinking 30 cans of cola per day or 12 medium cups of coffee," Cooperman said. "That should be of concern to people, because once you go over 300 milligrams of caffeine per day, you can have cardiovascular effects and insomnia." An eight-ounce cup of coffee has about 95 milligrams of caffeine.


Some nutrition experts also express concern about side effects from a handful of products. Among them: bitter orange, which can spike blood pressure in some users, much as ephedra does. Gastrointestinal problems have also been reported by some who have taken chitosan (which is extracted from crustaceans), guar gum (which is used as a food thickener) and spirulina (a blue-green algae.)


A paper published in the journal American Family Physician last year by researchers at Boston and Harvard universities advised doctors to discourage patients from using any products containing ephedra, guar gum, chitosan or spirulina. (See "Diet Supplements: What the Research Shows" on this page.)


"They probably also say, 'Eat no ice cream,' either, right?" said the AHPA's McGuffin. But he notes that adequate product labeling is the manufacturer's responsibility and that it's the consumer's responsibility to use the product accordingly. For example, if the label says to drink eight ounces of water with a dietary supplement, "then it's the consumer's responsibility to do that," McGuffin said.


For consumers determined to use weight loss supplements despite the unknowns, Cooperman has this advice: "Stick with single-ingredient products. Often marketers will say that you will get some great synergy by mixing ingredients, but it's a safer bet to go with a single-ingredient product to see if it works. And stay away from products that have proprietary blends. That's where you don't know what the exact ingredients are."


Resources


Find more information on dietary supplements for weight loss at :


The Federal Trade Commission's "Red Flag Reference Guide for Bogus Weight Loss Claim Detection," http://www.ftc.gov/bcp/conline/pubs/buspubs/redflag.pdf , and "Should You Believe These Amazing Claims?" http://www.ftc.gov/bcp/conline/edcams/waistline/index.html.
Tell a Friend
•
Site Map
•
Print this Page
•
Email Us
•
Top