News from Around Banderas Bay | December 2005
Tennis Great Dick Gould In Tennis Clinic at Canto Del Sol

Bob Cohen - PVNN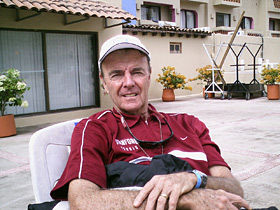 Up close with tennis legendary coach Dick Gould at the Canto Del Sol Resort and Racquet Club.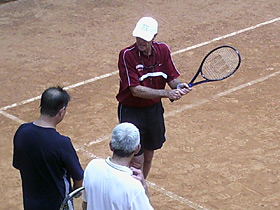 Doing what he's done for over four decades, instructing players, a passion that still lives with Gould.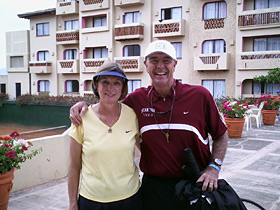 Dick Gould with his wife Anne, at the Canto Del Sol tennis facility.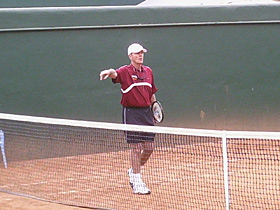 Dick Gould, a teacher first, always available for instructing.

Yet another famous tennis celebrity has graced the courts at the Canto Del Sol Resort and Racquet Club in Puerto Vallarta. Dick Gould college tennis' most famous and recognized coach joined a group of seven tennis pros to put on a week long clinic for about thirty people from around the San Francisco Bay area. Unlike many exhibitions, this was strictly a tennis clinic that has lasted a week and the group reserved all eight of the resort's tennis courts for the whole week.


Gould, 68 years young, now the Tennis Director at Stanford University after serving as head coach for 38 years was more then gracious in spending an hour speaking with me about his favorite subject; tennis. He retired as head coach at the end of the 2003-2004 season and is perhaps sports most successful coach, rivaling John Wooden's UCLA basketball prowess.


In his 38 years, Gould won an unprecedented 17 National titles, six in both the 1980's and 1990's, which earned him the ITA "Coach of the Decade" honors for two consecutive decades. Retiring from active coaching has not slowed down his schedule as he spent 15 months promoting and being granted the first ever combined men's and women's NCAA tournament to be held at the Stanford campus in 2006.


Players that Gould has coached can fill a "Who's Who" list of tennis greats. Fifteen of his players have reached professional finals. His legacy as a coach began when he recruited Roscoe Tanner of Tennessee, who changed the attitude for tennis at Stanford and went on to have a long successful professional career. John McEnroe played under Gould for just a year, coming to Stanford after making the Wimbledon semi finals, then turning professional. McEnroe's two brothers, Patrick and Mark both played four full years and graduated from Stanford.


Dick is also an accomplished author, with his 6th edition of "Tennis Anyone?" available as one of the most popular guides written about the sport. He also produced an instructional series for television and made a popular video, "Better Tennis for Life". His wife Anne joined him on the trip and she coached the Stanford women's team fro 1976-79 and led the women's team to their first NCAA championship in 1978. Anne is still a senior lecturer in Physical Education at Stanford.


After all the accomplishments we sat and talked tennis for an hour, obviously Dick's passion as we talked. He played tennis at Stanford from 1956-1960 and with a wooden racquet too. There were no scholarships at the time and he went on to get his Masters degree at Stanford. He taught high school for two years, not just tennis, but was and still is an educator first and foremost. He then spent four years as a junior college coach before his reign began at Stanford in 1966.


I asked him about the group that came for the clinic that was organized by professional Scott Borowiak that included seven teaching pros and about 30 participants. Watching Gould on the court, it was obvious that his passion and expertise is in teaching, and patiently worked with the players, stressing basics to improve their games. He was involved in the whole process, not just a celebrity there to supervise.


I asked him which player he coached that had the best natural ability. I was expecting to hear about an unknown player, but he flatly stated, "John McEnroe was the best I ever worked with. He was the best team player and loved the team environment. He had it all, hands, feet, vision and court sense. Although he had that temper and fire, he was a lot of fun to be around and other team members drew off his enthusiasm".


We spoke about the Florida becoming a hotbed for tennis, and he states that the big academies and the climate had surpassed that of Northern California. Gould is an educator first, as previously stated and does not see many players spending long periods in college, as the big money on the pro tour calls out to them. He stated, "Many players today study for their GED (high school diploma) only, through internet schools or home study". "The average male athlete matures at 29years old and has a professional life of 7-9 years, while women mature much earlier and tend to burn out."


Gould's normal day at Stanford still include 10-11 hours of work per day. The tennis facilities are quite impressive with 17 outdoor courts and 8 indoor courts. There are also three private clubs on campus and bring the total of available courts to 50.


Upon researching before we spoke, I read that Dick does not play anymore and finds watching tennis boring. "I probably haven't played a set in 15 years, although I'm constantly on the court instructing. When I was coaching I was so involved in the matches that wins and losses were both extremely personal to me. Watching as only a spectator is actually boring to me, not in the caliber of play, of course, but just not being a part of the team".


A final question to Dick actually caught me by surprise. I asked who he thought were the biggest ambassadors of tennis. "Arthur Ashe, Stan Smith, Chris Evert, and now Andre Agassi. I am from the "old school" and believe strongly that the game should be respected, and these players exemplify that", he stated.


It was an honor to be able to speak with Dick, who has seen the game change from wooden racquets, white clothing and baseline play to what it has become today. He and his wife Anne love Puerto Vallarta, visiting first some twenty years ago and have spent many trips at our destination. One thing is for sure; wherever he goes, the first place he stops is at the tennis courts, eager to offer any assistance when asked.


It is an honor to have Dick and Anne Gould in Puerto Vallarta, becoming more and more a tennis destination.
Tell a Friend
•
Site Map
•
Print this Page
•
Email Us
•
Top