News from Around the Americas | December 2005
Cuba to Train Doctors for the World

Prensa Latina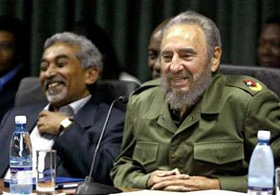 Cuban President Fidel Castro (R) and Mari Alkatiri visited students from East Timor who are studying in Cuba as part of a Cuban government program for Latin American doctors. (Reuters/Omara Garcia Mederos)

Havana - Cuba might train doctors needed in other parts of the world, Cuban President Fidel Castro said before the National Assembly of People's Power (Parliament) on Thursday.


"We will be the doctor trainers the world needs," he added while highlighting the work done by Cuban physicians in countries hit by natural disasters of lacking health personnel.


He stressed that Cuba can send doctors or other health specialists to any region in the planet.


This shows the human capital the Revolution relies on, the Cuban leader stressed before the sixth period of sessions of the sixth legislature.


He said "the US and Europe are not able to gather 200 doctors to send them to Africa," where there is such a high prevalence of the Acquired Immune Deficiency Syndrome (AIDS).


He highlighted Cuban doctor's readiness to serve in southern US areas in the wake of Hurricane Katrina, which caused heavy damages there, especially in the state of Louisiana.


However, he said, US authorities turned down the offer, despite requests made by legislators and several social, human rights organizations.


The Cuban president commented that in northern Pakistan, Cuban doctors have treated more than 80,000 children since they arrived in the wake of the quake in October.


In only one day, our doctors treated 11,000 Pakistanis, he said.


The leader of the Cuban Revolution announced the arrival of more Latin American youngsters to study medicine in Cuba, who will join the thousands already under training in the Island.


Several Asian countries have requested cooperation in this field, he added.


He also referred to Operation Miracle, by which thousands of people from other countries are receiving free ophthalmology treatment in Cuba.


He predicted that in the future, between three or four million people might undergo surgery every year.


The Cuban people have a very singular position in the world, not because of its power, but rather because of its conscience, culture and courage, he concluded.
---
Cuba podría formar médicos que se necesiten en otras latitudes, afirmó hoy el presidente Fidel Castro, quien intervino ante la Asamblea Nacional del Poder Popular (Parlamento).


"Seremos los formadores de médicos que el mundo necesita", expresó el jefe de Estado, quien destacó la labor de galenos de la isla en países azotados por catástrofes naturales o necesitados de personal de la salud.


Subrayó que su país puede enviar médicos u otros especialistas sanitarios a cualquier región del planeta.


Eso demuestra el capital humano con que cuenta la Revolución, destacó el líder caribeño ante el sexto período de sesiones de la sexta legislatura.


Manifestó que "Estados Unidos y Europa no pueden reunir a 200 médicos para enviarlos a Africa", donde está tan propagado el Síndrome de Inmuno Deficiencia Adquirida.


Fidel Castro destacó la disposición de los galenos cubanos de prestar sus servicios en Estados Unidos, tras el paso del huracán Katrina, que causó severos daños en el sur de ese país, en especial el estado de Lousiana.


Sin embargo, indicó, las autoridades norteamericanas rechazaron la oferta, pese al pedido de legisladores y diversas organizaciones sociales y defensoras de los derechos humanos.


El estadista comentó que en Pakistán los trabajadores de la salud de la mayor de las Antillas han atendido a más de 80 mil niños desde su llegada tras el terremoto que azotó el norte de ese país asiático.


Sólo en un día nuestros médicos asistieron a 11 mil paquistaníes, apuntó.


El líder de la Revolución cubana anunció la llegada aquí de jóvenes latinoamericanos para estudiar gratuitamente medicina, los que se sumarán a otros miles que ya se forman en esa materia.


Varios países asiáticos nos han solicitado cooperación en ese campo, añadió.


También se refirió a la Operación Milagro mediante la cual miles de personas de otras latitudes reciben tratamiento oftalmológico en Cuba de forma gratuita.


Vaticinó que en un futuro podrán ser operados de la visión entre tres o cuatro millones de personas cada año.


Este pueblo ocupa un lugar singular en el mundo, no por su poder sino por su conciencia, cultura y valentía, concluyó Fidel Castro.
Tell a Friend
•
Site Map
•
Print this Page
•
Email Us
•
Top