News from Around the Americas | December 2005
Reality Show Tricks Men Into Dating Transvestite

gagreport.com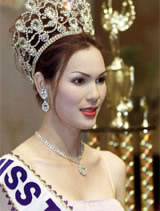 Would you? You guys should think very carefully before answering that one!

Sky One, a British satellite TV network, is in deep trouble over their new reality show entitled "Find me a Man." The show challenged six "lively and outgoing" men to spent a fortnight trying to woo a leggy South American brunette called Miriam, while staying at her luxury villa in Ibiza.


Only at the end of the show, (after several of the contestants had been filmed kissing and groping her), did the men learn the horrific truth - that Miriam was a pre-operative transsexual!


The six contestants have since hired the London law firm Schillings, to attempt to block the transmission of the program. They are also planning to sue for conspiracy to commit a sexual assault, breach of contract, personal injury, and defamation of character.


The show, filmed in Spain during the summer, began with the contestants being asked to pick their favorite from a line-up of women. The men's lawyers claim, however, that they ended up with Miriam despite none of them making her their first choice.


A Sky source told reporters that the men only found out the truth about Miriam after she lifted up her skirt and revealed her penis.


"The men had no idea that Miriam was a transsexual," the source said. "They are horrified because there are shots of them snogging, cuddling and groping her. At the end of the show she sat them down and told them, 'I've got something to show you', then lifted up her skirt."


One contestant was so outraged, he hit the producer in the face. It's got to be the cruelest reality show yet.
Tell a Friend
•
Site Map
•
Print this Page
•
Email Us
•
Top