Business News | December 2005
Minimum Wage to Rise in Mexico

Louie Gilot - El Paso Times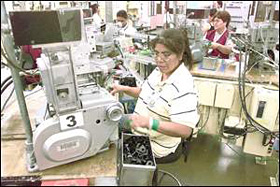 Most workers at Juárez maquiladoras make more than Mexico's minimum wage, but a 4 percent increase, to 48.67 pesos a day ($4.56), in the minimum wage on Sunday could mean pay raises for some maquila line employees, too. These workers were part of the Delphi operations in Juárez in 2003.

Mexico is raising its minimum wage above its inflation rate next year - good news for Mexican workers and El Paso shop owners, and mixed news for maquiladoras.


Mexico's National Minimum Wage Commission said last week that Mexico will raise the minimum wage by 4 percent on Jan. 1, higher than record-low annual inflation of 2.91 percent in November. The minimum wage in Juárez will increase to 48.67 pesos ($4.56) a day from 46.8 pesos ($4.39) a day.


Many companies use the minimum wage percentage increase as a benchmark to negotiate pay contracts even if workers earn several times the official minimum wage.


Most maquiladora operations in Juárez have shut down this week for the holiday season, and attempts to reach maquila officials for this story were unsuccessful.


Minimum-wage increases "unchain a reaction where every salary gets a similar increase, even a little more," said Rudy Garcia, El Paso director of operations for Caseem Staffing Services, a Juárez-based manufacturing staffing agency.


In Juárez maquilas, the average pay for line workers is already about twice the minimum wage at $1.25 an hour to $10 a day ($20 if you count benefits), Garcia said. Managers probably won't get a raise, Garcia said, but line workers whose per-hour rates are based on the minimum wage probably will. Overtime rates will also be affected, since they are calculated from the minimum wage rates.


This will increase Mexican workers' buying power and encourage consumption in Mexico and on the border, but it also makes it more expensive for maquilas to operate in Mexico.


"It's a double-edged sword. Mexico has a competitiveness problem. In one sense it drives up the costs of doing business in Mexico," said Donald Michie, president of NAFTA Ventures Inc. and a professor of business management at UTEP.


In Juárez, where there is a growing shortage of workers, new hires don't stay on the minimum wage very long - about 90 days, Michie said.


But maquilas try to retain workers by offering attractive benefits - which are not taxed in Mexico. On average, maquilas' benefit packages are 30 percent higher than what is available in other employment sectors, Michie said.


Mexico's miners and steelworkers union said in an e-mailed statement it rejected the 4 percent increase because the union considers it "unworthy for the working class of the country and an embarrassment for the nation's unions." The union was the only organization that refused to sign the commission's minimum-wage document, the statement said.


In 2005, the average increase of the minimum wage in Mexico was 4.5 percent.


Mexico's inflation rate has declined to a record low from 9 percent when President Vicente Fox took office in December 2000 and as high as 52 percent in 1995 after a peso devaluation in December 1994. Mexico's central bank has set a target of 3 percent annual inflation.


In the United States, the minimum wage has been stuck at $5.15 an hour since 1997.


This year, Democratic lawmakers in the Senate tried unsuccessfully to increase the minimum wage to $7.25 in three steps. Passage in 2006 appears unlikely unless Republicans use it as a bargaining chip to gain Democratic support for other legislation.

Bloomberg News and Gannett News Service contributed to this story.
Tell a Friend
•
Site Map
•
Print this Page
•
Email Us
•
Top