Entertainment | January 2006
In New Orleans, the Latin Sounds are Growing Louder

Dianne Solis - Dallas Morning News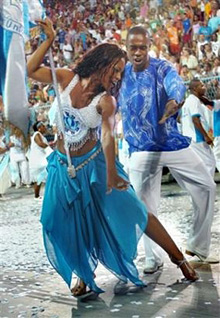 Members of a samba school train a parade in the 'Sambadrome,' in Rio de Janeiro, Brazil. The festival, which originated in ancient pagan celebrations of spring in Europe, acquired regional flavors as it soaked up local music and customs in cities as disparate as Venice and New Orleans. (AP/Renzo Gostoli)

New Orleans - Ernesto Schweikert did all he could to warn his Spanish-speaking radio listeners of Hurricane Katrina's force. "This one is really coming. This one is really coming," he told them. Then the station, KGLA-AM, lost power.


Schweikert evacuated over the rising, choppy waters of Lake Pontchartrain and into Jackson, Miss., but returned a few days later with a $1,000 generator to get his little 1,000-watt station back on the air.


Within the hour, callers flooded KGLA's phones for help, information and therapy. "I told them, 'Say whatever you want to say on the radio as you need to get it off your chest,'" Schweikert recalled.


The small station and its scrappy crew filled and continue to play a critical role as the key resource for Spanish-language listeners in the city, said David Honig, who heads a Washington-based public interest group for minority broadcasters.


Four months after Katrina hit Aug. 29, KGLA's listenership and advertising are climbing, reflecting the changing face of New Orleans.


The once-negligible Latino population here is poised to explode as Mexican and other Latin American migrants pour in to help reconstruct the area.


Many of the callers now are Mexican migrants who need help with housing, haven't been paid or have been hurt on the job.


Even before Katrina, Schweikert and his staff charted the growth of New Orleans' Latino population.


That's when programming was shuffled at the station he calls "una caja de fosforos," a matchbox. KGLA added a show called "Chile, Tomate y Cebolla," ingredients for a good salsa but also reflective of the green-red-and-white of the Mexican flag. The show was two hours, Monday through Friday. Then it expanded to three.


Also, new musical rhythms began to seep into the playlist. Cornelio Reyna's norteno riffs from Mexico, for example, can be heard with the cumbia from Colombia, and reggaeton from a fusion of nations, including the United States.


Schweikert says the airwaves are important for other reasons: "The best thing in this country, which is supposed to be the kingdom of democracy, is the First Amendment."


"I think, through the radio ... people have a medium from which to speak."


Schweikert, who arrived here from Guatemala in 1970 to attend high school and never left, bought the radio station in 1990.


He'd advertised there for his travel agency and liked the results. Station employees turned to him to buy KGLA out of fear that the then-owner would sell the station and it would switch formats to English.


There isn't a chance of that now.


The Latino population was already growing enough to sustain KGLA and a competing Spanish-language station. Experts estimate that Latinos may now represent a fifth of the city's roughly 144,000 inhabitants.


KGLA has a growing list of advertisers such as wire-service giant Western Union that want to reach the Spanish-dominant newcomers.


The influx of Latinos is fitting, Schweikert says, because New Orleans has deep Spanish roots.


Hondurans have come to the port city over the years, an outgrowth of the banana routes from Central America financed by the fabled United Fruit Co., he says.


A statue of Mexico's Benito Juarez - the first indigenous president of that country - stands on the esplanade near the French Quarter. He hatched one of the great Mexican revolts while in exile here, Schweikert says.


And the yellow-and-blue Spanish talavera tiles on French Quarter streets come from the architecture of Andalusia in southern Spain. That's because the Spanish government rebuilt the city after a great fire in the late 18th century.


"Now, Latinos are rebuilding the city again," he says. "I hope they stay here. They deserve to stay here."
Tell a Friend
•
Site Map
•
Print this Page
•
Email Us
•
Top