News from Around Banderas Bay | January 2006
21st Annual Tennis Pro Am Tournament At Canto Del Sol Heads into Final Weekend

Bob Cohen - PVNN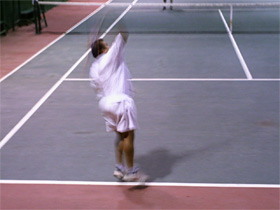 Martin Parra uncorks serve to reach quarterfinals today.

Action at the 21st Annual Pro Am Tennis Tournament at the Canto Del Sol Resort and Tennis Club heads into the final three days of action as all divisions have reached the quarterfinal round. Tennis players and fans alike have been treated to quality matches thus far as the opening rounds have been played form 4 PM until close to midnight.


The quality of competition has been outstanding and many first round matchups saw opponents that had the ability to play in the finals play one another early in the draw. An example of that was when Emile Larrivee faced 14 year old Sergio Martinez, both "A" winners in 2005, in the opening round. Sergio, the son of Canto del Sol tennis pro Polo Martinez won a close first set in a tiebreak 7-6. Emile raced out to a 5-0 lead in the second set, but the youngster ran out the match winning 7 consecutive games.


Martinez then faced Mike Roberts, who is vacationing in Puerto Vallarta from Seattle and lost a long three set match as he was broken serving for the match at 5-4. Roberts won the next two games to close out the match, with the large crowd on the edge of their seats with each shot. It was a tough loss for the popular youngster, but at only 14 years old, there is plenty of tennis in his future.


The quarterfinal matchups for Thursday night in the "A" division are as follows:


• Yan Welffens vs. Raul Meza
• Roberto Martinez vs. Oscar Rivera
• Duncan Forbes vs. Armando Said
• Mike Roberts faces the winner of the Forbes-Said match


The Pro-Am has also produced thrilling matches early in the tournament and only eight teams remain as of late Thursday afternoon. Thursday's matchups are as follows:


• Pro Luis Carlos Rodriguez and father and Canto Del Sol General manager Rene Rodrνguez
• Vs. Canto Del Sol Tennis Director Martin Parra and amateur Joseba.
• "A" Yan Welffens and "A" Emile Larrivee
• Vs. Pro/Am Duncan Forbes and Pro Alfonso Montes Deoca
• Pro Roberto Padilla and amateur Jorge Zaragoza
• Vs. Pro Jorge Pelayo and amateur Joaquin Comela
• Pro Marcos Reyes and amateur Branco Musich
• Vs. Pro Pedro Rodriguez and amateur Raul Meza


The "B" and "C" divisions have produced superb tennis as well and competitors will all play quarterfinal matches on Thursday. Fans watching the event have been running from the courts to televisions as they are following the last rounds of the thrilling Australian Open. All competitors are making a statement that Puerto Vallarta tennis is most definitely growing in quality as well as popularity. Grab a bus or taxi and join the crowd for weekend action culminating with the awards ceremonies that follow.
Tell a Friend
•
Site Map
•
Print this Page
•
Email Us
•
Top