News from Around Banderas Bay | January 2006
Rodriguez/Meza Win Pro Am, Welffens Wins "A" at Canto Del Sol Tennis

Bob Cohen - PVNN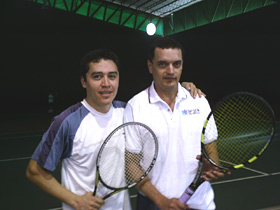 Pro Am winners Pedro Rodriguez on left with amateur partner Dr. Raul Meza at match end.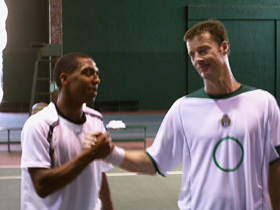 Finalist Mike Roberts of Seattle congratulates winner Yan Welffens at the conclusion of the "A" finals.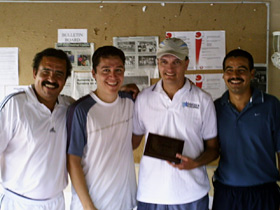 From left to right, Martin Parra presents the ProAm trophy to Pedro Martinez and Dr. Raul Meza. Pro Polo Torres joins in the presentation on the right.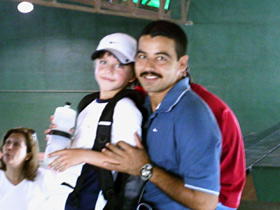 Future tennis star? Eight year old Pedro Fernandez sits on the lap of teaching pro and his personal mentor, Polo Torres.



Click HERE to check out
our photo galleries

Tennis pro Pedro Rodriguez teamed with Dr. Raul Meza as his amateur partner to defeat Emile Larrivee and Yan Welffens in straight sets by the score of 6-3, 7-5 to win the 21st Annual Canto Del Sol Tennis Club's Pro Am doubles tournament Saturday afternoon. Welffens had just finished a three set match to capture the "A" singles title over Mike Roberts 6-2, 3-6, 6-1 and had to go back on the court in his attempt to claim both titles.


Pedro and Raul played the tournament without dropping a set and were pushed to the limit by Emile and Yan as they were tied at five games each in the second set before winning the final two to claim the season's first doubles title. The play was superb by both teams, highlighted by solid groundstrokes, powerful and finesse play at net, combined with excellent serving. Both teams were able to utilize their partner's abilities for superb teamwork and all four gentlemen proved to be a compliment to doubles play.


Welffens had an extremely busy three days and it was truly amazing he was still able to stand, let alone battle after his "A" singles title victory that took two hours to complete. A short 15 minute break and it was back on the court for Yan, the same as Thursday and Friday night, as he won every match all week except for the finale. In the span of 60 hours, he was on the court for close to 15 hours and also worked full days at the Westin Resort, managing to squeeze in a bit of sleep.


In the "A" finals, Welffens utilized strategy in defeating Mike Roberts, who was on vacation for a week from Seattle, not even aware of the tournament until he came to Canto Del Sol just looking to play a match. Roberts, who had to board a plane back home before the awards ceremonies, was an aggressive, powerful opponent who's best shot was a booming forehand played from anywhere on the court. Welffens kept the ball deep to his backhand as much as possible, discovering the formula for victory with his dominating 6-1 final set.


The tournament set the Puerto Vallarta tennis season up with Welffens as the now top ranked "A" player. In all reality the turnout of players was so spectacular in talent that any one of a dozen players could have won the match. First and second round matches were the equivalent of finals in many tournaments.


In the "B" division, Hector Venega did not lose a set coming to the finals and dominated his rival and finalist Amilikak Kopul 6-2, 6-3 and now must move up to play in the "A" division according to rules. Kopul was twice forced to three set matches during the tournament and valiantly finished despite a painful groin injury that hampered his movement.


The "C" division was won by Francisco Vallejo 6-4, 7-5 over finalist Juan Jose. Both players went through the tournament without dropping a set. Vallejo will now move up to "B" in his next tournament.


Two youngsters played in the "D" finals and put on quite a show for the crowd in attendance. Ten year old Rodrigo Martinezgarza defeated tiny eight year old Pedro Fernandez 7-6, 6-2, as his mentor and coach Polo Torres sat in the stands approving the performance. Both kids made a statement to the Puerto Vallarta tennis community with their superb play, as one day soon they will be competing with the big boys.


Friday night supplied two thrilling doubles matches as the father and son team of Rene and Luis Carlos Rodriguez took Larrivee and Welffens to a third set tiebreaker after losing the first set 6-4 and winning the second in a tiebreak 7-6. The finalists barely survived and won the tiebreak in a match that should have had no loser. Next to them on Court 1, the team of Jorge Pelayo and Joaquin Comela took the eventual champions to the limit as well, barely losing 6-4, 7.6 in a tiebreak as well.


In "A" singles Friday Night, Roberto Martinez gave Yan Welffens all he could handle, losing a tight match in three sets, 6-4, 4-6, 3-6 in a semifinal match. The other semifinal had Mike Roberts defeating Duncan Forbes 6-3, 6-4. Reported earlier were earlier matches that were just a great timely shot here and there from determining the winners that advanced.


Kudos go to Canto Del Sol Tennis Director Martin Parra, and his staff of pros, including Polo Torres and Polo Martinez who handled the singles event while Parra organized the doubles Pro Am. Participants and fans enjoyed the week of tennis action and more will be following in the very near future.
Click HERE to check out our photo galleries »»»
Tell a Friend
•
Site Map
•
Print this Page
•
Email Us
•
Top