News from Around Banderas Bay | January 2006
Canto Del Sol Pro-Am Reaches Semifinal Play

Bob Cohen - PVNN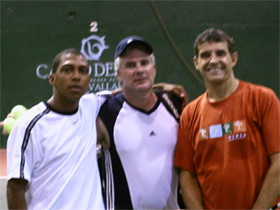 Duncan Forbes in the middle offer congratulations to Yan Welffens and Emile Larrivee after a hard fought doubles match.

Forbes and Deoca raced out to a 4-1 early first set lead, thanks to the blistering service of Deoca and Forbes consistent groundstrokes. Welffens had just completed a 90 minute singles match with a victory over Dr. Raul Meza 6-4, 6-1, and looked a bit tired early. Emile and Yan, however are not a team to be taken lightly and although neither is a professional, both are two of the top "A" players in Puerto Vallarta and when they have an opportunity to play together, exemplify teamwork.


Teamwork is what they changed in their match as they pulled even at four games apiece in the first set. They were able to pick up a slight weakness in their opponents' game and their adrenaline increased, providing them to hit more outright winners. Their game was more finesse and less power than their opponents. They went on to take a tough first set at 7-5 and the crowd sensed a possible three set match.


The second set was close throughout, with neither team leading by more than a game and a late break of service gave Larrivee/Welffens an opportunity to serve for the set and match. The game went to deuce a number of times and on the second match point Emile and Yan earned the right to move into the semifinal round with a 7-5, 7-5 tough victory. Forbes and Deoca lost a tough match and congratulations were kindly exchanged at net.


The next opponent for Larrivee and Welffens is the father and son team of Luis Carlos Rodriguez and Rene Rodriguez, who defeated Martin Parra and Joseba 6-3, 6-2 earlier in the day. The other semifinal in doubles pits the top seed Pedro Rodriguez and Raul Meza against Jorge Pelayo and Joaquin Comela.


In the "A" division, Yan Welffens as previously mentioned defeated Raul Meza 6-4, 6-1, Roberto Martinez beat Oscar Rivera 6-4, 6-4, Duncan Forbes over Armando Said 6-3, 5-7, 6-2 and Mike Roberts won his quarterfinal match a day earlier.


Welffens, who is the only player left in both the Pro-Am doubles and the "A" singles, will face Roberto Martinez and Duncan Forbes will face Roberts in the other semifinal. Play on Friday is scheduled to begin at 7:00 PM and all finals will be played Saturday afternoon beginning at noon.


The "B" and "C" singles divisions also reached the semifinals and a report will follow as the winners head to the finals. Come and join what is expected to be a large crowd for the weekend festivities at the Canto Del Sol.
Tell a Friend
•
Site Map
•
Print this Page
•
Email Us
•
Top