Entertainment | February 2006
A New Incarnation for Telenovelas

Fabiola Santiago - MiamiHerald.com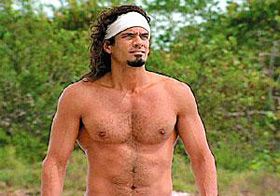 Mario Cimarro plays the reincarnated Pedro Jose Donoso. (TeleMundo)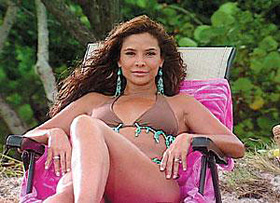 Isabel, played by Lorena Rojas, has the nasty habit of offing her husbands. (TeleMundo)

One of the hottest telenovelas on Spanish-language television - aptly titled El cuerpo del deseo (The Body of Desire) - features steamy sex scenes, an evil woman in the lead role, and reincarnation as the main theme.


Its riveting last chapters are being filmed against the clock at Miami-Dade and Broward locations, courtesy of a 20-day delay caused by Hurricane Wilma.


This Telemundo show is not your abuela's telenovela.


For one, NBC, owner of Telemundo, has announced that it will remake it in English to compete with a CBS plan to feature an English-language telenovela in prime time this summer - a testament to efforts by major networks to cater to Hispanic viewers, who can be very faithful to their nightly melodramas.


But consider all that makes El cuerpo del deseo, shown weekdays at 8 p.m. on WSCV-Telemundo 51, groundbreaking in its genre:


There's the body heat between protagonists Isabel and Salvador - underwater shots of scantily-clad ocean trysts, clothes-ripping scenes in a "forest" (really a field south of Doral), and the nightly dose of aching kisses. They make the chemistry in Mr. & Mrs. Smith seem like kindergarten frolic.


Then there's leading lady Isabel, played by Mexican actress Lorena Rojas. She is no Simplemente María, the naive, poor girl seduced by a rich, bad-boy - the prototypical plot still prominent in many telenovelas.


Isabel is as conniving as she's gorgeous. An executive at "Cítricos Donoso," she marries for money the fruit company's wealthy old owner, Pedro José Donoso, then poisons him at the behest of her lover, another company exec. That lover becomes husband No. 2, but she also murders him to marry former chauffeur Salvador, who is really Donoso reincarnated in the body of a younger man - a major hunk, played by exiled Cuban actor Mario Cimarro.


MADE IN MIAMI


And consider the South Florida setting.


While the bulk of telenovelas seen here and across the United States on the Telemundo and Univision networks are filmed in Mexico, Venezuela, Colombia or Brazil, El cuerpo is one of Telemundo's made-in-Miami productions.


Also being filmed here now is the new telenovela Tierra de pasiones (Land of Passions), about a dysfunctional, proud family of winemakers, which starts Feb. 20.


Ditto for Telemundo's Amor descarado (Brazen Love), filmed in 2003, Prisionera (Prisoner) and Anita no te rajes (Anita Don't Give Up) in 2004-05, and the ongoing one-hour mini-dramas Decisiones (Decisions).


All are Telemundo-RTI Colombia joint-venture productions - and they're turning Miami into another telenovela capital.


"Let me put it this way: When we did an open casting for Amor descarado three years ago, 15 actors showed up," says Patricio Wills, head of production for Telemundo Studios. "When we did the casting for Tierra de pasiones, 350 actors showed up. That tells you how significant Miami has become."


Thirty to 35 per cent of Telemundo's telenovela production is now done in Miami, says Telemundo spokesman Alfredo Richard.


"Miami is turning into the Plan B to Mexico," Wills says.


While Telemundo's novelas are still rated behind Univision's mostly Mexican productions, they're gaining ground in markets like South Florida and the Northeast, which have more Caribbean and pan-Latin populations, Wills says.


A NEW AUDIENCE?


Success has captured the attention of English-language programmers.


"There's a lot of buzz in the industry about English-language networks venturing into the novela genre," Richard says. "It's going to be interesting to see in which way Miami becomes a player in that new, uncharted territory."


"The genre has a lot of roots and know-how within Hispanic television in Miami and television in Latin America. It's almost going to be impossible not to tap the talent here."


Televisa, which produces most of Univision's telenovelas, also recently filmed in Miami the telenovela Inocente de ti (Innocent of You), but most of its programming comes from Mexico City.


It's no secret that Telemundo is on a mission to gain ground.


Ratings released last week show that Univisión made-in-Mexico telenovelas Contra viento y marea (Against All Odds) - which competes with El cuerpo del deseo - and Alborada (Dawn), a lush historical novela with a star-studded cast, have more viewers than Telemundo's telenovelas.


But ratings also show that Telemundo has made significant audience gains in the last eight months - and especially with the coveted 18-to-49 age group in the time slot of El cuerpo.


Most of the sexy telenovela is filmed at Telemundo's mammoth studios in a warehouse district near Doral.


Stars come and go from the tightly secured compound. High-tech sets rise as the storylines command - the inside of the luxurious Donoso mansion, the secret passage to Donoso's office and piano, the hopping bar of the novela's colorful spiritualist-cum-barkeeper, Gaetana Charry.


The studio has been busier than usual with the simultaneous production of the beginning of Tierra de pasiones and wrapping up El cuerpo, a remake of the 1990s Colombian telenovela En cuerpo ajeno (In Another's Body) by Julio Jiménez.


On the Tierra set, a row of sets mimics the stately rooms in two haciendas where the action takes place. Outdoor scenes are being filmed at a "winery" now under construction in a small Homestead patch, which will be computer enhanced to appear grander.


Although El cuerpo del deseo's real setting is never disclosed to viewers, all the visual glamour is local.


The outside view of the Donoso mansion is the stately Davie estate of "un americano." Outdoor dining scenes were shot on Lincoln Road. Isabel and Salvador's wedding was filmed at the First United Methodist Church in Coral Gables - on one of the recent gray, windy days, a factor that added to the mystique of the dead groom in another's body.


Even the traffic flow on South Florida highways - scenes used to transition geographical locations in the storyline - looks good.


Perhaps there's some poetic justice in the telenovela blossoming in Miami.


The telenovela genre was born in Cuba, its origins traced to the island's early radio novelas. Delia Fiallo, considered "The Mother of Telenovelas," began her career in Cuba in 1952. After the 1959 triumph of the Cuban Revolution, productions were halted with the nationalization of media and Mexico became the telenovela capital of the Americas, followed by Venezuela, Argentina, Brazil and Colombia.


Actors, directors and production crews now working in the made-in-Miami telenovelas mirror South Florida's Hispanic population. There are exiled Cuban actors of the older and younger generations; Mexican stars eager to get away from the kidnappings and assaults in Mexico City and make Miami a second home; Argentines fleeing a bad economy; Colombians getting a respite from an endless war; Venezuelans nervous about what they fear could be the making of a dictatorship back home.


"It's a great opportunity to live - and work - in Miami," says long-exiled Cuban actress Marta Picanes, a veteran of Miami theater and local television who plays in El deseo the role of Rebeca - the resentful, social climber aunt of Isabel who secretly falls for the younger Salvador. In 40 some years of exile, Picanes seldom had such high-profile opportunities, since most of the non-news programming on Spanish-language networks was produced elsewhere and she was anchored in Miami, raising a family.


"For many years, I couldn't live like what I am - an actress - because there were no productions in Miami," she says.


Picanes, who played Anita's grandmother in the previous telenovela, Anita no te rajes, is hilarious as the dramatic Rebeca, parading in one wig after another and providing plenty of (sometimes dark) comic relief to the traditional over-the-top melodrama.


Says Miami viewer Abner Clemente, a hairdresser: "La Picanes has stolen the telenovela. She's doing an amazing job."


WORLDWIDE REACH


She's also got fans across the Atlantic.


El cuerpo is causing a stir in Spain, where it is reportedly beating all other telenovelas in its time slot, and it's also showing in Eastern European countries and China. "I have a 19-year-old fan from Romania who writes me e-mails every week," Picanes says.


It's not easy to land such a role.


Cuban and Argentine actors are frequently asked to "neutralize" their respective habanero and porteño accents, a point of contention for many in South Florida who complain that a neutral accent is not asked of Mexican actors with heavy regional accents.


"We are making these productions for a broad national audience and even an international audience," says spokeswoman Elizabeth Sanjenís. "We want everyone to be able to make the telenovela their own, not attach to the telenovela a particular nationality or a particular location."


In the case of Mexican productions, the accents are not an issue because Televisa caters to its home audience and the Mexican-American market, the largest Hispanic group by far in the United States. On the West Coast, Televisa's Mexican productions trounce Telemundo telenovelas, although again, with El cuerpo, Telemundo has gained viewers in those markets as well.


There are other problems with Telemundo's local productions versus the productions of giant Televisa.


While El cuerpo features a stellar cast, the acting is not always even. The piano-playing of the two leading men - Cimarro and veteran Andres García, who plays the older Donoso - is hardly credible. There's no match between the music and the body language.


And a recent week stretched the plot into badly acted episodes with extras acting - for way too long and with badly spoken lines - as police officers and outlaws who kidnap Salvador while he has briefly returned to the personality of his simpleton country character.


"Well, we're not claiming Hollywood perfection yet," Sanjenís says.


But Hollywood-style special effects are part of the modernization of the novelas and El cuerpo is also an example of the trend. The transformation of Salvador from the older Donoso to his newer physique is well done, as are the shootout scenes with villains, and Isabel's killing of her second husband while on a canoe on a lake.


It's all part of a trend in the last decade to incorporate into telenovelas subjects seldom seen in the past - homosexuality, drug use, adultery as a commonplace reality, even scientific cloning.


"It's only natural that the telenovela would evolve and modernize," says Luis Pérez-Tolón, who runs Taller Telemundo at Miami Dade College, a new telenovela-writing program designed specifically to produce screenwriters for the Miami productions.


"Telenovelas have always reflected the state of society, but don't mistake it, they are entertainment, escape."
Tell a Friend
•
Site Map
•
Print this Page
•
Email Us
•
Top