Entertainment | April 2006
Alex Lora Maintains Band's Aura

Brad Kava - Mercury News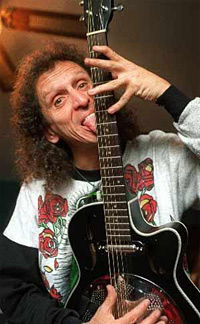 Alex Lora, 52, who has been the front man for El Tri, Mexico's leading rock band, for more than three decades, says he likes to jam with musicians all over the world to keep his music fresh. (Margaret C. Ugarte/AP)

After 37 years of playing live music, Alex Lora, the godfather of Mexican rock, has lots of firsts.


He was the headliner at Mexico's answer to Woodstock, Festival Rock y Ruedas de Avándaro, in 1971; he was on the cover of Rolling Stone's first Spanish edition in 2002; and last week his band, El Tri, was the first Mexican band to headline the Long Beach Grand Prix, which has been around for 32 years.


With 40 albums, and tours that run more than 200 nights a year, El Tri is as famous in the Spanish-speaking world as the Rolling Stones are here. But the band, which plays its blues-based rock to crowds ranging from 2,000 to 100,000 a night, is largely unknown to English speakers.


The band's name comes from the way Mexicans mispronounced its 1960s incarnation when it played in English and was called Three Souls of My Mind. Three became "tri." Lora decided after two discs to record only in Spanish so his fans could sing along.


Lora's main influence is John Lee Hooker, and, like the late Peninsula resident, this 52-year-old Mexican's boogie is as endless as his jive.


I've been lucky enough to sit in on harmonica with his band during the past five years after bonding with the songwriter during a late-night interview that turned into a jam session. He likes to jam with musicians all over the world, he says, to keep his music fresh.


When you drive around Mexico with Lora in his beat-up van, he crosses himself at each roadside memorial and curses politicians every time he sees a dog on the road. You also get pulled over a lot by police. They don't give him tickets -- they hit him up for autographs.


By telephone from Mexico City, Lora spoke about his new album, politics, religion, immigration and the contradictions that make up his life.


Some rockers get fat, but you don't look any different now than you did three decades ago. Were you born to be a rock 'n' roller?


Definitely. My whole life I always asked the Virgin Mary to give me the grace to be a rock 'n' roller. Since the beginning, I felt the music called me. I feel all right when I'm playing and inventing songs, or rehearsing. I feel complete. In fact, it's the only thing I guess I can do right.


Your new album has to be the only rock record with songs about both Pope John Paul II and Che Guevara. How did those come about?


A child about 8 years old who saw me at an airport asked me to write the song about Juan Pablo a day after he died. He was the most Mexican pope ever, and he was the biggest believer in the Virgin Mary. He said the Virgin Mary lighted his way to be a great leader. He was the only leader in the history of mankind that when he died, leaders from all over the world went to his funeral. Even leaders who hated each other were there together, shaking hands.


No El Tri fan doesn't have a shirt with Che, the Virgin Mary and El Tri. They are the Trinity. Che is a very rock and rebel image. He was the greatest Cuban revolutionary, not Fidel. He's the real thing.


Your new disc, the first on your new self-owned label, is called "Mas Alla del Bien y del Mal," (Beyond Good and Bad). What does that mean for you?


It means El Tri has done what it wants, beyond good and bad. Whatever we do, we get criticized by someone. Like, on the new disc, there is a song about what would happen if Mexico won the World Cup (in soccer). And some people said it was too sad and depressing. And others said it was too joyful or satirical. So we say what we do may be good or it may be bad, but it's beyond that. Let's just say it doesn't matter.


You also have a song about bootleggers. The Wall Street Journal reported you are one of the most pirated bands in the world. Bootlegged copies of your albums are available at every Mexican flea market for pennies.


Pirating is part of human nature, like corruption. In the song I say we are all pirates. For corruption to exist, you need a guy who is corrupt and a guy who accepts corruption. We are all pirates, because pirates wouldn't exist if we didn't buy what they had.


But I'm not protesting it. I'm like a journalist, reporting it. In the Middle Ages, jugglers went from town to town singing about what is happening. We are modern jugglers.


You are a man of so many contradictions in concert. One minute you are singing a sad song about the forgotten Mexican immigrants who died at the World Trade Center; the next you are dancing beside a man in a giant penis costume. How do you explain that?


Because El Tri is a living thing. When you are alive, you have many moments, many moods and many attitudes in an hour. You may be pissed off, inspired, in love or sad. I can sing about the Virgin Mary one minute and a penis the next because it's the way people really are. They may not let you see it, but everybody says dirty words and has bad thoughts. That's why I need to be playing music always, because otherwise I'm thinking stupidity and bad things.


There is talk about building a wall between the United States and Mexico. What do you think of it?


The wall is the most stupid thing I have ever heard. They should give their money to a better cause, to things that really matter. Wall or no wall, people are going to keep going across the border. It will be an incentive. People will say, `I want to jump that (expletive) wall.' The day it is finished, it will be filled with graffiti.


It will be like the Chinese wall. What was the purpose? To preserve China for themselves. It didn't work at all, and it won't work here.


When we travel in the U.S. now, we have Mexican fans everywhere, and our music takes them home for a night. We play in Des Moines, Minneapolis, Indianapolis. When we played in Salt Lake City, I thought no one would come see us, but it was full. They are all working hard and chasing the American dream all over the country, and it is even more hard for them having to cross the border.


I hear your daughter took you to see U2 in Mexico, and the entire audience sang along in English. I know you aren't a fan. Tell me something good about it.


I didn't hate it. They added phrases of popular Mexican songs at the end of their own songs, and it made the fans want to sing. I didn't appreciate it when I was there, but two days later, I realized it was very good. They don't play blues, which is what I don't like about them, but the production was great, and the videos, and their greatest hits.


Neil Young recently complained about being anchored to his back catalog. With 40 albums, you must have the same problem. How do you handle it?


Fans always like the old songs, because to remember is to live. For instance, a guy older than me, when he listens to our old songs, he feels young again, or remembers the greatest times of his life.


We try to play new songs too, that have something to do with what is going on right now. In Argentina last month, we played the Che Guevara song, and it was like they already knew it.


What do you like about San Jose, where you play at least once or twice a year?


I always think that Los Angeles is like Mexico City, Pasadena is like Cuernavaca, Long Beach is like Acapulco and San Jose is like Guadalajara. The city is beautiful, with a lot of flowers and green spots. The people are more friendly and nicer than in Los Angeles. I want to eat at Sushi O Sushi (in Santa Clara). When we were there last time, everyone in the kitchen knew us.
Tell a Friend
•
Site Map
•
Print this Page
•
Email Us
•
Top