Entertainment | Restaurants & Dining | April 2006
How Much Do Chefs Really Make?

Judith Weinraub - Washington Post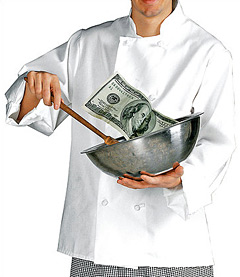 Celebrities aside, the short answer is:
Less than you might think.

When 20-year-old Jacques Van Staden left his native South Africa for Washington in 1990 to become a chef, he had to sell his car to pay the airfare. Sixteen years later, he is making $140,000 plus a percentage of the profits of a restaurant group and is executive chef at its award-winning Alize restaurant in Las Vegas.


His success is a result of talent and hard work - and his move to Nevada didn't hurt, either.


Higher salaries, more opportunities, and in some cases union benefits are luring top chefs to the casinos of Las Vegas and Atlantic City. Average salaries there - $85,000 a year for a chef and $14 an hour for line cooks, the people who make the food that gets sent out to diners - are the highest in the country, according to a recent salary survey by StarChefs.com.


Even the prestige of the White House pastry kitchen wasn't enough to keep Thaddeus Dubois in Washington. Although Dubois said money wasn't the only reason, he recently left 1600 Pennsylvania Avenue and a $120,000 salary to return to his former employer and the prospect of working at a luxury hotel and casino being built in Las Vegas.


Although Washington restaurants are among some of the finest and priciest in the nation, chefs' salaries here are actually below national norms. The average salary for an executive chef here is $71,666, according to a recent salary survey by StarChefs.com. The national average is $75,596, according to estimates by the online industry magazine.


Locally, the range for line cooks is somewhere between $12 to $15 an hour, chefs and restaurateurs say. "I have some cooks who have to work two jobs," says Ann Cashion, the chef and co-owner of Cashion's Eat Place in Adams Morgan and Johnnie's Half Shell on P Street. "It's very common."


When Van Staden started out, he wasn't even making that much. He manned the overnight guard station at the South African Embassy, helped out in the kitchen and mowed suburban lawns to afford tuition to culinary school. Over time he became chef at several posh Washington restaurants and hotels. But he wanted his own restaurant, and eventually became the chef and co-owner of Cafe Ole, a thriving but modest mezze place on Wisconsin Avenue NW. He paid himself $30,000 a year.


Almost overnight, he tripled that salary in 2000 when he became executive chef at the Aladdin Casino and Resort in Las Vegas. Since then, his stature has continued to rise - and with it, his income.


Washington's $71,666 average isn't enough to keep sought-after chefs where they are or to lure hot young chefs either, local restaurateurs say. "It takes more than that to get good talent," says Ashok Bajaj, who runs a small empire of restaurants in Washington.


"There are certainly chefs in this area in the six-figure range," says Dan Mesches, president of the Star Restaurant Group. The group, with Guest Services Inc., recently hired Bryan Moscatello, one of Food & Wine Magazine's 2003 Best New Chefs in America, to be executive chef at the new Indigo Landing restaurant on Daingerfield Island.


Even so, owners say, salaries are limited by the revenue of a restaurant - about 3.2 percent profit on checks that exceed $25, according to the National Restaurant Association.


Hotel restaurants tend to have more financial leeway: "We pay whatever it takes," says Michel Morauw, general manager of the Park Hyatt Washington. The Park Hyatt has kept its top chef, Brian McBride, on the payroll since closing its Melrose restaurant last July. It also paid all of McBride's expenses while he conducted research in Europe and Asia for the Park Hyatt's new restaurant, Blue Duck Tavern, which is scheduled to open May 22.


But even with its better pay, many cooks and chefs don't like the corporate world. They prefer the closer relationships they have with the food and the customers in more traditional restaurant settings.


- MORE COOKS THAN CHEFS


Not everybody in a restaurant kitchen is entitled to be called "chef." Most people there are cooks who are paid by the hour: the ones just starting out; the ones with experience and more skills; and those in charge of specific areas (or stations) of the kitchen. In this area, line cooks make $12 to $15 in freestanding restaurants, and up to $18.50 in some hotels.


Next are the sous-chefs - a management level just under the chefs de cuisine (the creative boss) and the executive chef (the boss's boss). Sous-chefs are paid an annual salary. What sous-chefs and chefs de cuisine earn varies, depending on the level of responsibility and the size and popularity of the restaurant.


Full-time pastry chefs are sometimes paid on this basis as well - and those who do average $50,581 nationally, according to the StarChefs.Com survey. Pastry chefs in Las Vegas make about $70,000 - the highest in the country.


- PAY LEVELS


Executive chefs' salaries vary tremendously and are closely held. The StarChef survey of 2,000 chefs found that 12 percent of all executive chefs were paid more than $100,000 last year.


After many years in the business, Susan McCreight Lindeborg was making $60,000 as executive chef at Majestic Cafe in Old Town Alexandria when it opened in May 2001 (she also had a small percentage of the partnership). Like other chef-owners, Jeff Tunks, the corporate chef of Passion Food Restaurants, and his two partners are paid a management fee based on the financial health of the restaurants. At Bob Kinkead's restaurants (Kinkead's in downtown D.C. and Colvin Run Tavern in Vienna), his chefs de cuisine are paid $60,000 to $70,000.


But most cooks and chefs say the pay is hardly commensurate with their skill levels, the hours on their feet and the cost of living - let alone the amount of stress. The help-wanted board at the professional culinary school, L'Academie de Cuisine in Gaithersburg, last month listed a country club in Baltimore that was looking for an experienced executive sous-chef. The salary: $60,000. An inn in Talbot County was looking for a recent graduate to work side by side with the chef for $30,000.


- PROFIT LEVELS


Most restaurants have small profit margins: in 2004-05, table-service restaurants where the average check per person is $15 to $24.99 made 4 cents on the dollar, and the margin was less for more expensive restaurants, according to the National Restaurant Association. "It costs more money to produce higher-end food," explains Tracy O'Grady, chef and co-owner of Willow in Arlington.


A chef's star power is a factor. Jose Andres (Jaleo, Zaytinya, Oyamel, Cafe Atlantico) is an officer in his company, Proximo Restaurants. He's also its executive chef, its public face and its chief creative officer - and he has ownership in the business. In addition, he has his own program on Spanish national television. "We're in the process of renegotiating" his compensation, says Rob Wilder, Proximo's chief executive.


- THE LURE OF LAS VEGAS


Superstar chefs who have flocked to Las Vegas get much more, chefs say. "Las Vegas numbers are way above the ones here," says Fabio Trabocchi, executive chef at Maestro in the Ritz-Carlton at Tysons Corner.


As for the executive chefs, "I think it would be safe for me to say that every chef out there is making more than any chef in this city - probably several times more," says Kinkead, who was contacted about running one of the restaurants in the Borgata Hotel Casino and Spa in Atlantic City when the property was being developed. "Those restaurants essentially have a captive audience. . . . Butts in the seats are what anybody in the restaurant business really cares about."


- LIFESTYLE BENEFITS


Some cooks and chefs get benefits such as 401(k) retirement savings plans. But the really big issue is health care insurance. More established places do offer it - in some cases to salaried employees and in others to their hourly workers as well. "Restaurants that are under 100 seats have a hard time coming up with the money," says Cashion, whose employees get health care coverage after one year. "It has nothing to do with whether they'd like to or not."


What's particularly valued are lifestyle benefits, such as two days off a week. Another prized benefit is having a Friday or Saturday night off. Passion Food Hospitality provides a stipend to encourage each member of its culinary management team to sample food in other restaurants and to buy cookbooks or food magazines.


- THE VALUE OF CULINARY SCHOOL


There is little evidence that a culinary degree immediately pays off in higher salaries or better benefits, but some restaurateurs see a diploma as a sign of seriousness about the profession, Bajaj says.


Culinary schools do what they can to present a realistic view of the industry. "I don't want anyone thinking they'll make Emeril Lagasse money on the way in," says Barbara Cullen, director of admissions of L'Academie de Cuisine. Most accredited culinary schools require an externship in a restaurant kitchen, which often leads to an entry-level job upon graduation.


- JOB SATISFACTION


As the number of restaurants in downtown Washington dramatically increased in the past few years, wages have crept up for cooks. One way of measuring that, says Lynn Breaux, president of the Restaurant Association of Metropolitan Washington, is the increase in D.C. restaurant sales tax: from about $179 million in 2000 to $233 million in 2005. The growing number of restaurants has led to greater demand for cooks and chefs, and that, in turn, has boosted wages. "In the last couple of years, that's gone up considerably for a competent line cook," says Kinkead. "Five years ago they might have been paid $10 an hour. Now it's $12 to $15."


Salaries have never been the big attraction for chefs. People who are going to stay in the industry for the long term are not doing it for the money, says Cashion. What keeps you at it, she says, is loving to do it and the satisfaction you get from preparing food for other people's enjoyment and your own.


"I feel like I always have had a really high degree of satisfaction, day in and day out," Cashion adds. "We all know people who don't feel that way about their jobs."
Tell a Friend
•
Site Map
•
Print this Page
•
Email Us
•
Top