Health & Beauty | May 2006
More than a Drugstore

Eliza Barclay - Houston Chronicle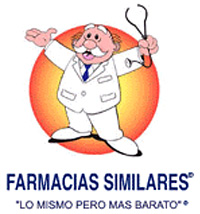 Mexico's poor flock to discount chain for medical basics.

Mexico City - Yasmine Tontle has little faith left in Mexico's public health care systems after two surgeries at public hospitals that she says left her blind.


And because the 39-year-old mother of three now makes her living singing traditional Mexican ballads on the metro with a small karaoke set strapped around her neck, she must pay for all of her and her children's health care expenses out of pocket.


Millions of Mexicans like Tontle have become loyal customers of a discount drugstore chain called Farmacias Similares, where a consultation with a doctor costs only $2, most medications are under $5, and lab services like ultrasounds go for $12.


"The doctors here are attentive, and the medications are so much cheaper," Tontle said during a visit to a branch in Mexico City's center. "We pay less for health care now and have a little more money for food and transportation."


To the annoyance of government health officials and multinational pharmaceutical companies alike, Victor Gonzalez, the upstart entrepreneur who launched Farmacias Similares in 1997, has succeeded in creating an alternative to the crowded government health care system and the steep cost of brand-name medications.


But the government is slowly trying to win back Mexico's poor with a program called Seguro Popular, an initiative lauded by the World Health Organization as a model for reaching the 55 million uninsured Mexicans.


The race to meet the health care needs of the poor is one that many developing countries are engaged in as burgeoning markets for generics have put many medications in much closer reach, offering an alternative to government programs that leave many, like Tontle, without coverage.


Wal-Mart-style health care


Gonzalez is offering something like a Wal-Mart approach to health care by providing low-cost products and services in large volumes, in part by cutting out middlemen in Mexico and other Latin American countries. Last year Gonzalez sold $570 million in drugs and health care services to the uninsured in Mexico and 11 other countries for prices that seem cheap even in Mexico.


Gonzalez's empire includes a packaging company, a laboratory for manufacturing generic versions of patented drugs and 3,685 pharmacy franchise branches. The company said an average of 2.5 million people use the services in the clinics subsidized by Gonzalez's Laboratorios Best Foundation every month.


It is what academics like anthropologist Cori Hayden at the University of California-Berkeley are calling the first example of "populist privatization," where the burden of health costs are transferred to the consumer for prices within reach of those earning $2 a day in the informal economy.


A long battle


In 1997, the secretary of health launched an effort to expand the market for generic equivalents of brand name drugs, which the multinational pharmaceutical firms like Eli Lilly and Roche resisted. At that point, those and other multinationals held 90 percent of Mexico's pharmaceutical market.


These multinationals waged a battle over patents for nearly a decade, but they were unable to restrict the dramatic growth of Farmacias Similares, which has reported a 420 percent jump in sales since 2000, according to the company.


Farmacias Similares now occupies 12 percent of the market share for pharmaceuticals in Mexico, a market valued at $11.3 billion in 2005 by Espicom Business Intelligence.


Despite their widespread use, Gonzalez's "similar" drugs remain controversial. The secretary of health does not include any "similar" generics in its basic catalog of drugs sold in public health institutions in Mexico and does not advocate their use. Mexico's pharmaceutical trade association, Canifarma, calls the generics sold at Farmacias Similares and other discount pharmacies "interchangeable" because they don't have brand names. While few of Canifarma's drug-producing members sell to Farmacias Similares, the association has nothing against the chain.


"As long as they meet the government's requirements for safety and quality, we don't have any problem with them," said Jorge Lanzagorta, Canifarma's director.


Folksy advertising


Another key to Gonzalez's success is a folksy style of advertising.


"Gonzalez has departed from the traditional generics model and has invested a lot in advertising and public relations," Hayden said. "It's radically different from other generics companies, which generally keep a low profile."


The centerpiece of the Similar campaign is the Dr. Simi character, a chubby, mustachioed, smiling cartoon character evoking a friendly family pharmacist. Dr. Simi is emblazoned on every store and frequently brought to life in the form of staff members dressed in oversized costumes.


The advertising has also come in handy for Gonzalez's passionate, if quixotic, run for the presidency in the July elections. The election commission denied Gonzalez's attempt to register as a candidate in January, so he is running as the only unregistered candidate.


The government recently launched its own form of health insurance aimed at the 55 million Mexicans — nearly half the populace — who lack it.


The voluntary Seguro Popular program is available to Mexicans who are outside the health care program known as IMSS, the most commonly available plan administered jointly by employers and the government, or the programs serving government employees or the military.


Through Seguro Popular, the individual covers 10 percent of basic health care costs, while the federal government pays for 70 percent and the state governments 20 percent.


3.5 million members


Members can use the services of any public health facility in the country. According to Juan Antonio Fernández, the program's national commissioner, there are 3.5 million members, and another 1.6 million are expected to join by year's end.


While Gonzalez's Farmacias Similares stores have been reaching the same target population of Seguro Popular since 1997, Fernández refuses to acknowledge that his program is competing with the chain.


"We don't recognize those pharmacies as a valid part of the country's health care system," Fernández said. "They are at the margin of the pharmaceutical sector."


But Gonzalez has made it a precise marketing strategy to emphasize the government's failure to reach the poor.


"The Fox government is made up of pure lies," Gonzalez said in a telephone interview from Mazatlán. "We offer people the assistance they need."


According to Raul Molina, an economist who has studied the Mexican medical sector at the Metropolitan Autonomous University-Iztapalapa, the government's Seguro Popular program is flawed because it only covers specific illnesses as part of a limited package of services. And less than 10 percent of Mexico's uninsured are covered by Seguro Popular.


"When the access to health care depends on a limited income, it's great that businessmen like Dr. Simi appear and offer a real alternative," Molina said.


But Lanzagorta of the Canifarma trade association said as the Seguro Popular program expands and reaches more of Gonzalez's market through the public sector, it may eventually counter Gonzalez's growth.
Tell a Friend
•
Site Map
•
Print this Page
•
Email Us
•
Top