News from Around Banderas Bay | May 2006
Martinez & Martinez Win Pro AM at Pipi's 10th Annual Canto Del Sol Tennis Classic

Bob Cohen - PVNN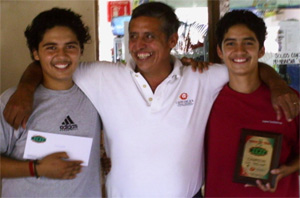 From left to right, Roberto Martinez, Papa Polo Martinez and Sergio Martinez show off their hardware after winning the Pipi's Canto Del Sol Pro Am.

Click HERE to see event photo gallery

Canto Del Sol tennis pro Polo Martinez was a proud Papa Saturday afternoon after his two sons Sergio (15 years old) and Roberto (17 years old) captured victory in the 10th Annual Pipi's Canto Del Sol Tennis Classic. Roberto, who had just been defeated in the "A" finals, teamed up with younger brother Sergio to defeat Pro Marco Reyes and his amateur partner, Antonio Alballon in straight sets 6-3, 7-6.


Both teams made it to the finals without dropping a match in the 16 team round robin format. The winners of each division faced each other in the semi finals and the winners played at 1:00 PM Saturday. The strength of the Martinez team was their equally capable playing ability which just barely offset Reyes amateur partner. The second set went to a tie break and it had all appearances of going to a deciding third and final set until the Martinez brothers ran off the final three points to take the tie break 7-5 and the match.


At 2-2 in the second set, tempers flared and the remainder of the match was played with some traditional Mexican passion. An out call (which appeared to be in), on a second serve made by Reyes, who was standing on the opposite side of the court infuriated both teams and the remainder of the match saw the young brothers keep their composure and the older and more experienced team actually lose a bit of composure and showed frustration by throwing an occasional racquet and verbally arguing as well.


The winners split the winning purse of 2000 pesos and Marco Reyes, the pro for the finalist picked up 1200 pesos for second place. Third and fourth place received pay days as well. This was the second Pro Am of the year at the Canto Del Sol and a large crowd was in attendance, as all finals in each division were played within two hours of each other.


The "A" division had former "AA" or professional Alejandro Garcia taking on Roberto Martinez in the finals. Garcia, who had been out of action for close to three years due to knee injuries took a relatively easy first set at 6-1 before Roberto Made it closer in the final set, losing 6-4. Martinez had to play into the main draw with an upset over Jorge Joya and continued to play superb tennis. Garcia had two relatively easy victories against top players in his march to the finals. The match showed that there is a clear difference in play between "AA" and "A" competition and it appears that Alex might have to compete against the pros after his impressive return to action.


The "B" division winner was Abelardo Robles, who defeated Gustavo Viera rather easily in straight sets 6-4, 6-1. Viera got to the finals playing only one and half matches, as he won one round on a walkover (opponent not showing up) and in the semi finals after losing the first set 6-1, his opponent had to retire due to injury. Robles had a more difficult time getting to the finals, playing in as a qualifier and then winning three more matches, dropping only one set in the process. The contrast in playing style was quite interesting as Robles, who barely broke a sweat returned almost every shot, keeping the ball in play, waiting for his harder hitting opponent to make unforced errors. That is how most "B" division matches are won; the consistent player tends to be victorious.


The same can be said for the very competitive "C" division. Twelve year old Rebeca Aguirre the only female playing in the competition took out older and more experienced men with superb play to get to the finals. Her opponent in the finals was Martin Curiel, who easily won all his matches in straight sets and has been a "C" champion in many tournaments. Again a contrast in style was displayed as Curiel returned almost every shot and appeared to be a human backboard, hitting back mostly soft easy returns. Rebeca hit mostly clean crisp returns, but Curiel, with great speed ran most down and waited patiently for Rebeca to hit unforced errors.


Those watching the match sat in disbelief as Curiel who appeared to play average tennis kept wining points and games. He took the first set easily at 6-3, as Rebeca dug in and hit even more successful angles in the second set, but fell short, losing 6-4. At the awards ceremony Tennis Director Martin Parra stated that Curiel will be moving up to "B", at least at future Canto Del Sol tournaments.


The "D" division was made up of kids and two 11 year olds played each other in the finals as they repeatedly have done in most events. Rodrigo Martinez, a small, thin kid took the match over a stronger and bigger Geraldo Lopez 7-5, 6-2. Amazingly, after the awards ceremony, the two went back out on the courts and played each other once again.


Once again, a popular tournament was played at the tennis club and kudos go out to the Canto Del Sol tennis staff, Martin Parra, Polo, Polo, Jesus and Chino and General Manager Rene Rodriguez, a tennis competitor himself. And a big thank you to Pipi's Restaurant for supporting the tournament.
Click HERE to see event photo gallery
Tell a Friend
•
Site Map
•
Print this Page
•
Email Us
•
Top