News Around the Republic of Mexico | May 2006
Tepic's Copa Ne Kie Tennis Classic Won By Peña and Aguirre

Bob Cohen - PVNN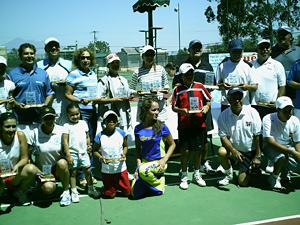 All of the winners and finalists pose for a group trophy presentation.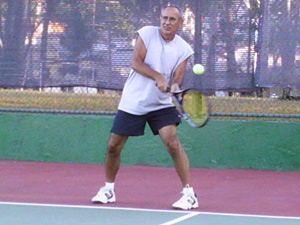 Puerto Vallarta writer and competitor Bob Cohen rips a backhand and played well, but was eliminated in the quarterfinals.

Club Britania Las Brisas in Tepic, Nayarit was host to a very successful tennis tournament this past week (May 3rd – 7th) as Tepic's top tennis stars showed the region that they are a force to be reckoned with in national competition on the amateur level. Well over 100 local players, including out-of-town writer and competitor Bob Cohen of Puerto Vallarta were part of the large field looking to capture trophies.


Tennis professional and director Martin Herrera, with tennis pros Salvador Gomez and Lucio Altamiarndo, did a superb job promoting and running the inaugural event at Club Britania. General Manager Dra. Lucia Paredes was extremely involved in the tournament that was played on the club's 11 courts and included men's, women's, kids singles and doubles play that began on Wednesday and concluded with all the finals played on Sunday.


Tepic is the Capitol of the State of Nayarit, but to most it is just a town that most pass by on their trips fro Puerto Vallarta to Guadalajara. Tepic does not have the glitter and nightlife of Puerto Vallarta, but does have local tennis talent that is every bit as good. At 3200 feet above sea level, playing conditions were much different than tournaments played in Vallarta. The air is thinner due to the altitude and the humidity is much lower. The result is many balls that would drop in, often sailed wide or deep due to the thinner air. Another difficult part to factor in the game is that Tepic sits in a valley and wind creates much havoc as well.


The overall star of the tournament was 6'4" 16 year old Dario Peña, who won both the "A" division, singles and doubles championships. Dario, in this writer's opinion has an opportunity to become a tennis professional, but does need to train at an academy to fine tune and improve his game. Staying in Tepic will not allow him to face better opponents, which he sorely needs to keep improving. Dario has already played two years in Cuernavaca and a year in Argentina during the last four years. At his height, he has a booming service game and an aggressive solid net game. His ground strokes are well played and mixed with topspin and slices, and he is still growing into that tall body.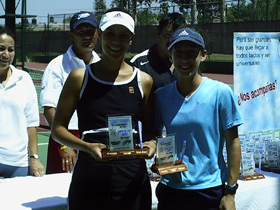 Winer of the Women's "A" finals, Melyna Aguirre accepts her trophy with finalist Paula Lopez.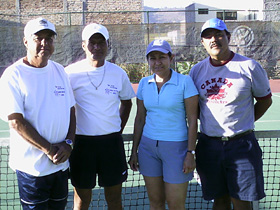 Event organizers pros Luci Altamirano, Salvador Gomez, General Manager Dra. Lucia Paredes and Tennis Director Martin Herrera.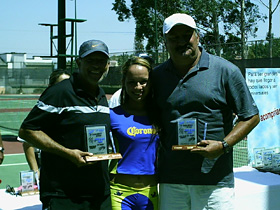 Winner of the Men's "B" doubles title on the left Ignacio Gonzalez and Luis Huerta surround the Corona girl at the trophy presentation.

The women's star was 25 year old Melyna Aguirre, who matched Pena's feat of winning both the singles and doubles titles. Melyna played competitive tennis in previous years at the professional or "AA" level very successfully, but opted for remaining in Tepic and starting a family with her husband and now two young children. Melyna was actually more dominant in the women's division, winning the singles final 6-1, 6-0. Her groundstrokes are strong and accurate and her sense on the tennis court should keep her on top of local competition as the younger players aspire to improve.


And there are many younger players! There is a large group of 16 year old competitors already playing at the "A" level and a number of 12-15 year olds playing regularly, taking lessons and will improve significantly. In comparison to youngsters in Puerto Vallarta, there are far more younger kids playing competitively in Tepic.


The upcoming Kid's Cup will be played again at the Canto Del Sol Tennis Club and some of Tepic's youngsters could win the national titles. The Kid's Cup competition will have the best 12, 14, 16, and 18 year olds, both boys and girls from every state in Mexico competing. The winner of each division will move on to play in the World Cup, an amazing opportunity for recognition and potential future international play at higher levels of competition.


As for this writer, I was greeted warmly by Martin and his staff and by the tournament end I was offered the "mi casa es tu casa" that is symbolic of the warm culture in Mexico. I will be back to play at Club Britania for competition and camaraderie especially during the warmer months, with playing conditions being more comfortable. Jokingly when I arrived, tennis pro Salvador (one of the few that spoke English) asked me if I was a "coyote", meaning if I came to try to "steal" a trophy playing in a lower division.


Although I did make it to the quarter finals, I was ousted in straight sets by Ray Chavarria and delegated once again to reporter, photographer and fan for the remainder of the tournament. Accompanying me on the trip was Don Lynch, owner of Papa Don's Pizza in Puerto Vallarta. Don, a former tennis player was so impressed with the event, competition and enthusiasm in Tepic that he decided to pick up a racquet after a multi year layoff and we played as a team in "C" doubles, just barely losing in the first round.


Winners of each level are as follows:


Boys 12 – Emilio Hernandez
Boys 14 – Ramiro Quezada
Womens Doubles C – Gaby Gonzalez & Bella D' Novelo
Womens Doubles B – Viki Dsegreste & Dalila Dsegreste
Womens Doubles A – Melyna Aguirre & Triny Gonzalez
Mens Doubles C – Ray Chavarria & Armando Gonzalez
Mens Doubles B – Luis Huerta & Iganacio Gonazalez
Mens Doubles A – Dario Peña & Juan Pablo Gomez defeated Roberto Fregoso and Jose Vasquez 6-2, 4-6, 6-4
Womens Singles C – Dalia Rojas def. Luz Perez 6-2, 6-2
Womens Singles B – Viki Dseagreste def. Cecilia Nieto 6-2, 6-1
Womens Singles A – Melyna Aguirre def. Paula Lopez 6-1, 6-0
Mens Singles C – Marcelino Macedo def. Oscar Tovar 6-2, 6-1
Mens Singles B – Sergio Cazarez won by default
Mens Single A – Dario Peña def. Flavio Peña 6-4, 6-0


The main event finals that I covered were the Mens "A" finals, Men's "A" Doubles finals and the Women's "A" finals.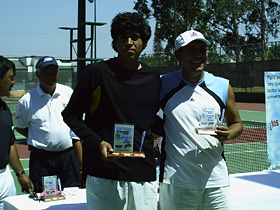 Dario Peña hold the Men's "A" champion trophy as Flavio Peña receives the finalist award.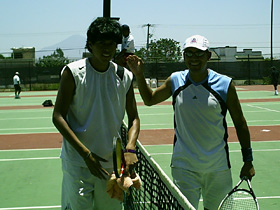 (Tio) Uncle Flavio Peña congratulates "A" winner Dario Peña at net after the finals.

The Mens Double's semi finals and finals were both played Saturday late afternoon and evening due to scheduling conflicts. Both matches were exciting and competitive. The winners, Dario Peña and his partner who stood a foot smaller, Juan Pablo Gomez defeated Rodrigo Aronzobal and Flavio Peña in two hard fought sets, 6-4, 7-5. The first set stayed on serve through the first 8 games, then Peña and Gomez broke and then held serve for the set. The second set saw the team come from a 3-5 deficit to win the four remaining games to reach the final.


The final started just an hour after the conclusion of the semi final. Dario and Juan Pablo's opponents were Roberto Fregoso and Jose Vasquez. The first set was rather easily won by Dario and Juan Pablo at 6-2. The second set was a turnaround as Fregoso and Vasquez built a 5-1 lead and withstood a late run to take the second set at 6-4. The youngsters appeared quite tired and the difference was numerous double faults. The final set was played even and was thrilling as the two 16 year olds served out the match at 6-4 to defeat their older and more experienced opponents.


The Women's "A" final was between veteran Melyna Aguirre who faced yet another 16 year old, Paula Lopez. Paula played very well, but as each stroke she hit Aguirre had an answer. Melyna had no weaknesses in her game as her groundstrokes were powerful and precise from both sides and her serve was strong and consistent. She won the first set 6-1 and then took the second set 6-0 from a frustrated Lopez, who hit great shots, but just couldn't compete in class. Look for improvement from Lopez as at 16 her competitive career is just beginning.


The Men's "A" finals pitted Dario Peña against his (Tio) or uncle, Flavio Peña. Flavio is a left handed player and the played gutsier tennis, picking up needed points when necessary in the first set. Each player held serve for the first eight games and Dario finally broke Flavio's serve and went on to serve out the first set, winning 6-4. The second set was a different story as Dario settled down and stopped trying to blast winners on every shot. The better player, the youngster won the second set 6-0, playing superb tennis.


In attendance for the final two days of play was Martin Parra, Tennis Director at the Canto Del Sol along with General Manager and tennis player Rene Rodriguez. It was a bit of a gathering of tennis buddies from the region; guys whose relationships spanned 25 years of competitive tennis and then tennis pros and directors.


Kudos go out to Tennis Director Martin Herrera and his two popular teaching pros, Salvador Gomez and Lucio Altamiarndo. General Manager of the beautiful Britania Country Club, Dra. Lucia Paredes supported and enjoyed the tournament and we thank her as well. Sponsorship was very strong with Corona, Peñafiel, Que Hay newspaper and the Secretary of Tourism for the State of Nayarit in presence along with the Britania Las Brisas Country Club.


Word around the club at the conclusion of the tournament was that the Tepic players would like to have a challenge tournament against the best of Puerto Vallarta in each category level. This write would love to see such an event come to fruition and will do whatever is necessary to help build a natural geographical rivalry between the two cities.
Tell a Friend
•
Site Map
•
Print this Page
•
Email Us
•
Top