News from Around the Americas | May 2006
In Bolivia, Flamboyant Morales Confidante Becomes Foe

Bernd Debusmann - Reuters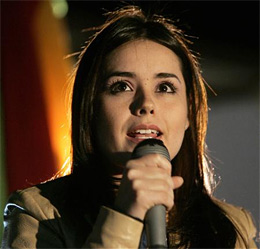 Bolivian politician Adriana Gil speaks during the founding rally of her Social Democratic Force in the eastern Bolivian city of Santa Cruz de la Sierra May 22, 2006. Virtually unknown outside Bolivia, 24-year-old Gil is fast becoming a household name in Santa Cruz de la Sierra, Bolivia's economic powerhouse and a bastion of opposition to President Evo Morales, who rode to victory in presidential elections last December on a tidal wave of support from the country's indigenous, poverty-stricken majority. (Reuters/Marcos Brindicci)

Santa Cruz, Bolivia - She is young, attractive, upper middle class and U.S.-educated. Until recently, she was close to Bolivian President Evo Morales. Now, Adriana Gil leads a rival party and her career goal is clear: "I want to be my country's first woman president."


Her principal role model, she says, is the late Eva Peron. But she also admires former British Prime Minister Margaret Thatcher, not for her politics but for her no-nonsense leadership style.


To get to the political top, Gil launched her own left-leaning party on May 22, her 24th birthday, less than three weeks after she was abruptly expelled from Morales' Movement Toward Socialism (MAS) for lack of party discipline.


"This is the first time in the history of Bolivia that a woman heads a political party," she told the founding meeting of her Social Democratic Force. "This is the birth of hope. We need to counter the dictatorial tendencies of the present (Morales) government."


Virtually unknown outside Bolivia, Gil is fast becoming a household name in Santa Cruz province, Bolivia's economic powerhouse and a bastion of opposition to Morales, who rode to victory in a presidential election in December on support from the country's indigenous, poverty-stricken majority.


More than half of Bolivia's 9 million people eke out a living on $2 a day or less.


How Gil came to join MAS, and was expelled from it, highlights some of the difficulties facing a country where the 60 percent of citizens who belong to indigenous ethnic groups have little in common with the traditional white elite of European descent.


Gil, then a law student at the university here, joined MAS two years ago because its message of social justice appealed to her. "I was severely criticized by people of my own background," she said in an interview on the day she launched her party. "They called me a traitor, they called me naive, they treated me as if I had AIDS and leprosy at the same time."


TASTE FOR DESIGNER CLOTHES, PELTED WITH EGGS


Criticism ranged from her taste for designer clothes to having "gringo" friends, the result of having gone to high school in Bay Minette, Alabama, where she lived with an aunt married to the sheriff.


As she gained prominence in MAS and began appearing at campaign events with Morales, the anger of conservatives in Santa Cruz deepened. At one point during the election campaign, she was pelted with eggs as she waited for Morales at the airport.


Morales won 32 percent of the vote in Santa Cruz, a sound defeat but the best result MAS ever scored in the city and the province of the same name. Many of its citizens, from both ends of the political spectrum, ascribe the relatively good showing to Gil.


"Her role in the campaign convinced a good many that MAS is not only a party of the indigenous poor," said a senior public servant who did not want to be named. "She served as his passport to parts of society traditionally hostile to him and his ideas."


Gil herself is reluctant to quantify her pro-MAS activism. "I have no doubt that I helped him (Morales) win votes," she said. "But it is difficult to say how many. What is not difficult to say is that I was used and manipulated. I feel betrayed and disappointed."


What prompted Gil's falling out with Morales and the MAS appears to be a "they said, she said" affair difficult to decipher for outsiders. The official reason for the expulsion was that Gil had taken the side of a Brazilian steel company, EBX, in a dispute with the new government. "Not true," says Gil.


EBX became the first foreign company to be expelled from Bolivia after Morales took office in January. His government ordered the company out on April 24 for operating without proper environmental permits and, in violation of the Bolivian constitution, less than 30 miles from the border.


Unlike the widely cheered nationalization of Bolivia's oil and gas industry, announced a week after the EBX decision, the move against the Brazilian company remains controversial. Local residents deplore the loss of hundreds of EBX jobs.


Gil said she was as upset by the circumstances of her expulsion from MAS as by the expulsion itself. "I read about this in the newspaper after returning from a long weekend," she said. "No advance warning, no phone call, no proper discussion in the party, nothing."


Anti-Morales stalwarts see this as evidence that the new leadership, four months into its term, is acting just as arbitrarily as previous administrations.


"We are tired of politicians who negotiate and take decisions behind closed doors," said Gil. "We need openness. That had been promised. But it hasn't happened."


And how long does she think it will take her to turn her party into a serious political force and fulfill her dream of becoming the first female president? "I haven't set myself a timetable," she said. "But I have time. I'm only 24."
Tell a Friend
•
Site Map
•
Print this Page
•
Email Us
•
Top