News from Around Banderas Bay | July 2006
Puerto Vallarta's Thais Romero - A Look at Her First Year at the Bollettieri Institute

Bob Cohen - PVNN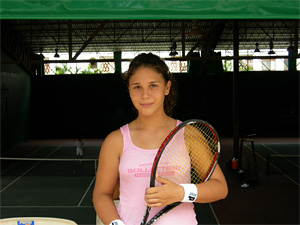 Thais Romero, 13 1/2 year old local Puerto Vallarta tennis star, in town during summer break from Bollettieri Tennis Academy in Sarasota, Florida.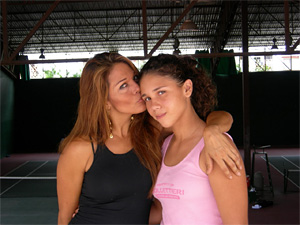 Lovely mom Cynthia shows proud she is and how much she loves her daughter.

Watching Puerto Vallarta tennis phenom, 13 ½ year old Thais Romero the other day, I was amazed at the progress the extremely mature youngster has made after her first year at the Bollettieri Tennis Academy in Sarasota, Florida. Thais has been home for the summer and plans to return to the academy for her second full scholarship year in early August.


Thais has been training in Vallarta at the Canto Del Sol Tennis Club, facing "A" men's players as well as teaching professionals. Covering tennis tournaments the last few years, I have watched Thais win local tournaments and reach the finals of a number of National events as a 12 year old. Just two days ago she crushed an "A" player 6-1, 6-2, then went on to hit with professional Polo Torres.


Thais spent her first year at Bollettieri working with trainers, teaching pros and nutritional experts. She did not compete in any tournaments, other than the in house campus events. In fact her nutritionist recently tested her and deemed her as "genetically abnormal", Romero stated, which sounded extremely strange to me. The fact is that for a soon to be 14 year old girl, Thais is much stronger than most her age, and with the science of predicting the future size of a young athlete has proven impossible at this point in her young career. Thais also follows the advice of a dietician that works at the academy campus.


What is a day like for a budding potential tennis star? "I wake up at 5:00 AM and run; a combination of jogging, sprinting and coordination exercises three times a week", Thais stated. "At 7:30 AM, I catch the bus to school and am in classes from 8:00 AM – 1:00PM, get back to my dorm and practice daily, playing matches and drills from 1:30 – 4:30 PM. The next hour is spent on training and conditioning, then back home to do my homework. I spend a lot of time instant messaging with my Mom."


Thais gets to sleep in on weekends and hits the courts at 8:00 AM, and trains for three hours and then plays "friendly matches" with other students at the academy as well as "internal tournaments". Her Mom, Cynthia, a Puerto Vallarta resident now virtually spends all her time in the Sarasota/Bradenton area to be close to her daughter. Her tennis career is promoted by her Dad, Duncan Forbes who plays competitively in tournaments in Vallarta and other parts of Mexico. Forbes also has been working to get better quality tournaments in Mexico through his involvement with the Bollettieri Institute.


Thais will be entering the eighth grade, such a young age for such an intense schedule. Her fellow academy attendees are from almost every country in the world. "There are kids from so many countries I never even heard of before", Thais told me. Asking how tall she was now, she stood up next to me and I deemed her to be 5'6" or 5'7", sporting a muscular yet still to be developed frame.


Asking Thais about how her game has developed in her first year at the academy, she stated, "My biggest improvement has been my backhand; now I mix up my shots with both topspin and slices. My serve and volley game has improved immensely; I used to hit regularly just from the baseline. The instructors tried to change my serve, but were unable to do so, due to my unorthodox serving motion. I utilize a hard, flat first serve and put a semi slice on my second serve, but it is basically a flat serve as well."


What is on tap for Ms. Romero this next year? "I will be playing in National (Mexican) tournaments, coming back home three or four times this coming year. Also, I am scheduled to play ITF tournaments in South America. The two biggest tournaments I will play in will be in Florida; the Orange Bowl Classic and the Eddie Herr Classic, two events that draw the best youngsters from around the globe." The ITF stands for International Tennis Federation and her goal is to earn points in order to achieve an international ranking. ITF points are more valuable in international events, thus her reasoning to play in only three of the six Mexican tournaments.


She prefers playing on the hard court surface, which enhances her power game. Utilizing genetic testing, experts expect her to grow to be six feet tall and she has grown a bit more than an inch the last six months. Of course her goal is to become a touring professional, thus she was offered her second consecutive full scholarship to Bollettieri. Thais even has Prince endorsing her; she plays with their racquets, wears their shoes and tennis attire. Her roommate is a 15 year old from Czechoslovakia and the county pays for her scholarship. Her mentor is Mary Pierce, who took a liking to Thais when she first arrived at Bollettieri.


At 13 ½ Thais Romero has quite an amazing life. He Dad, Duncan lives vicariously through her tennis career and Mom Cynthia keeps the family unit close, spending as much time as possible with her in Florida. We will keep our readers updated with results of her tournament play this coming year. Good luck Thais; make Puerto Vallarta proud!
Tell a Friend
•
Site Map
•
Print this Page
•
Email Us
•
Top