News from Around the Americas | July 2006
Questions Begin to Arise Over Death Mask of Pancho Villa

John MacCormack - San Antonio Express-News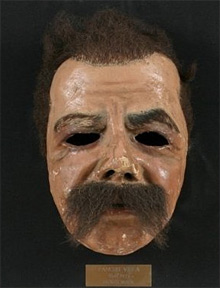 The mask looks very little like Villa and nothing like the mask recognized by historians as authentic.

San Antonio - Almost as soon as the bidding stopped at $16,000 on the sale of a purported death mask of Pancho Villa, questions began to arise about its authenticity.


While the Dallas collector who bought the mask at a Texas Hill Country auction is delighted, he may have bought a crude imitation.


For starters, the mask looks very little like Villa and nothing like the mask recognized by historians as authentic.


"I don't think it's a forgery. I think I've got the real one," said Buel Crawford, who placed the winning bid by phone.


But the issue is far from resolved.


Like the rough-and-ready Mexican revolutionary and border bandit whose deathbed image was preserved, things rarely have been clear or simple with the Villa mask.


In recent decades, lawyers have bickered about it, Mexican and American officials have feuded over it, and unauthorized copies have been made. Even a children's book was written about it.


What is certain is that shortly after Villa's assassination in 1923 in Parral, Mexico, at least one mask was made by someone who applied wet plaster to the dead man's face.


Facsimiles abound


Bronze and ceramic copies of a facial mask that bear a striking resemblance to Villa and can be traced to the 1930s now are housed in various museums in Mexico and the United States.


But until last month, when eccentric artist Charles Trois included a purported Villa death mask in a million-dollar auction of Western memorabilia at his estate north of Fredericksburg, Texas, no one had claimed to have a different one.


Almost cartoonish in its features, the mask Trois sold to Crawford is quite distinct from the others.


It has eyeholes, a large nose and bushy eyebrows and a mustache that Trois suggested before the bidding might with DNA testing actually prove to be Villa's.


But people familiar with the other Villa death mask immediately denounced the newcomer as a laughably crude impostor.


"It's a mockery, a barbarity. I don't know who would have paid $16,000 for it," said Jose Socorro Salcido Gomez, a former Mexican federal senator from Chihuahua and a Villa expert.


"It's definitely not the Villa mask. The cheekbones, the chin, the nose are not Villa's," he said after examining a photo published last week in a Mexican newspaper.


His strong words were echoed by Joseph P. Graves, chairman of the board at the Radford School in El Paso, Texas, which claims to have had custody of the original Villa mask for half a century.


"That one is totally false. It's a fraud. It looks like a carnival mask," said Graves, 82, who also saw a newspaper photo of the pretender.


He said the school was given the original mask about 75 years ago by Otto Norwald, whose daughter Ruth attended the private girls school.


About 25 years ago, Mexican officials learned of the original's existence and began demanding its return.


Ruth Norwald, who supported its return, was upset, in part, because copies were being made of the original. Even Texas Gov. Bill Clements got involved before a compromise was reached to send the original impression to a museum in Ciudad Chihuahua, Mexico.


Various other copies were distributed, including one to Mexican President Miguel De La Madrid and another to Villa's widow.


Claim of only authentic mask


The school's claim to having the only authentic mask is backed by Leo Norwald, whose father, Otto, was a friend of Villa's. Otto Norwald brought the original mask with him when he moved from Parral to El Paso in the late 1920s. Leo Norwald said the mask was given in secret to his father shortly after Villa was slain July 20, 1923, by gunmen who ambushed his motorcade.


None of these issues might have aired had not Trois, a Hill Country artist, included a Villa mask among about 700 items offered in an auction in June.


Because of the mask, the two-day sale got plenty of media coverage, and news accounts caught the attention of people who quickly raised the alarm.


Contacted by a reporter several days later, Trois said he was shocked to hear the mask might be a fraud.


"Are you serious? I'd like to know what's going on. How about all the paperwork?" he said of photographs and documents that purported to prove its authenticity.


But, he acknowledged, none of the historical documents specifically mentions the mask.
Tell a Friend
•
Site Map
•
Print this Page
•
Email Us
•
Top