Entertainment | Books | August 2006
Passage from Polygamy

Steve Crump - Times-News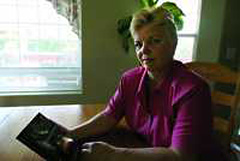 Author Susan Ray Schmidt of Twin Falls, the former wife of a polygamist in Mexico, recently published 'His Favorite Wife: Trapped in Polygamy,' an autobiographical story. (Meagan ThompsonTimes-News)

Twin Falls, Idaho — At an age when most kids are getting their first driver's licenses, Susan Ray Schmidt was getting married.


"At 15, I became the sixth wife to Verlan LeBaron, the 38-year-old president of the Church of the Firstborn," said Schmidt, a 53-year-old Twin Falls resident. "It wasn't until I was 23 and had five small children that I finally escaped from polygamy."


They were eight eventful years. Schmidt was caught up in a blood feud for control of a polygamous Mormon-offshoot community in Mexico.


She's detailed her experiences in a new memoir, "His Favorite Wife: Trapped in Polygamy," published this month.


"It wasn't that I was bound with ropes or chains," she said. "What mostly trapped me was fear — fear of giving up my promised celestial crown as a goddess, fear of losing my relationship with my parents, family and friends in Mexico. Then there was the overwhelming fear that I couldn't possibly make it on my own with five young children out in the scary, evil world."


Schmidt was raised in Colonia LeBaron, a polygamous town in the northern Mexican state of Chihuahua. Her Utah-bred parents were converts to the Church of the Firstborn.


"I had a great childhood," she said. "Looking back on what happened afterward is still hard for me to believe."


What happened was a violent power struggle among three brothers. Joel LeBaron — the anointed head of the church — was murdered in the Mexican border city of Ensenada on the orders of his younger brother, Ervil. Verlan, Schmidt's husband, became leader of the faction loyal to Joel.


"Ervil was charismatic, conniving, power-hungry and claimed to be Jesus' personal representative on the earth," Schmidt said. "I was 14 when he tried unsuccessfully to coerce me into marriage by insisting God had given him a revelation I was to become his wife."


But Ervil wanted their marriage to be kept secret, she says — even from her parents. Schmidt refused.


"Starting in 1969, Ervil demanded that our prophet (Joel LeBaron) hand over the church leadership," she said. "Ervil wrote threatening letters to the LDS church president and to fundamentalist groups throughout Utah, demanding they uphold him as their new leader or pay the consequences. In 1972, Ervil began a rampage of 'blood atonement' murders. Certain members of Ervil's own personal family, who had become disillusioned with his fanaticism and lunacy, were 'blood atoned.' One of these was my cousin, Lorna — Ervil's fifth wife. More than 25 killings followed, masterminded by Ervil and carried out by his faithful followers.


"By the late 1970's Ervil was known throughout the U.S. as 'the Mormon Manson.'"


Most of the book details her complicated relationship with Verlan, on whom she doted, followed throughout Mexico and Nicaragua — and with whom she eventually became disillusioned.


"We lived in small adobe houses — mostly without toilets, running water or electricity," she said. "Food, medical attention or anything that cost money was scarce. But the most compelling reasons I left were my constant loneliness, and emptiness, from being supposedly married yet rarely having a husband and father for my children around. I began to beg God to help me either totally accept the church and polygamy, and that he just naturally favored his sons more that his daughters, or to show me that this whole concept was as wrong as my gut instincts told me it was.


"I also began the overwhelming task of studying our church doctrine. I started with the subject of polygamy itself — and found discrepancies in the books our church considered scripture. I pointed them out to my husband and he assured me that I just needed to have faith, to not worry about a thing, and leave the heavy scripture studying to the priesthood men."


On the pretext of a Thanksgiving vacation, Schmidt persuaded her father to drive her and her children to her brother's home in Utah in 1976. She never went back to Verlan.


"For several years after I left Mexico I felt haunted and lost," she said. "Confusion tore at my insides, and I wondered what the answer to life's important questions really were. I'd been convinced growing up that I was a member of the only true church on the face of the earth. All others were wrong. My little church would grow and one day soon would encompass the whole world. But that wasn't happening and I didn't believe that it ever would. What else was there? My children needed a church family just as I'd had growing up. Maybe I should go back to Colonia LeBaron, repent, accept the church's shortcomings and realize it was the best the world had to offer. But I couldn't bear the thought."


In Utah, Schmidt worked as a waitress and a telephone operator and lived on welfare for a time, then met a man and had another child. After that relationship ended, she met her current husband. They moved to Twin Falls 25 years ago to start a small business.


"One night I found a notebook and began writing my thoughts down, trying to make sense of my shattered beliefs," she said. "Night after night once my children were asleep I would pour over my notebook, writing and weeping and praying that God would guide me and heal my tormented soul. It took a few years but my self-therapy worked, as did the love of the new husband. The prayers, friendship, and acceptance of the kindly people we met in southern Idaho ran my cup of blessings over. That was the beginning of the book."


Her search for a publisher proved difficult.


"I didn't have the resume, the writing credits to attract the attention of a publishing house," she said. "So I decided to have it published in Twin Falls."


Now a grandmother "many times over," she's found a new Christian faith and a fresh beginning. The book, she says, is a catharsis.


"For many years after leaving Mexico, I was plagued with recurring nightmares," she said. "In these dreams, Verlan and his many wives grasped at me, argued with me, pulled at me. Ervil haunted me. But just this past year, since completing this book, the nightmares have thankfully become a thing of the past."


Verlan had nine other wives — and 57 children.


He survived several assassination attempts by the followers of his brother, only to die in a car wreck in 1981.


Three days after Ervil died in prison of a heart attack.

"His Favorite Wife: Trapped in Polygamy" is published by Kassidy Lane Publishing LCC of Twin Falls and sells for $24.95. It's available at Barnes & Noble Booksellers in Twin Falls or online at http://www.kassidylane.com
Tell a Friend
•
Site Map
•
Print this Page
•
Email Us
•
Top