Health & Beauty | August 2006
Breast Isn't Best: Readers Tell US Parenting Magazine

Jocelyne Zablit - AFP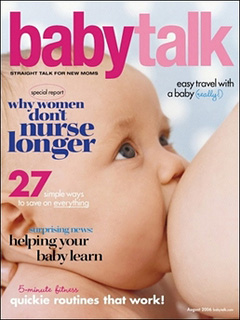 The August 2006 cover of Babytalk magazine. Readers of a US parenting magazine are crying foul over the publication's latest cover depicting a woman breastfeeding, with some calling the photo offensive and disgusting (AFP)

Readers of a US parenting magazine are crying foul over the publication's latest cover depicting a woman breastfeeding, with some calling the photo offensive and disgusting.


"I was SHOCKED to see a giant breast on the cover of your magazine," one woman from Kansas wrote in reaction to the picture in Babytalk, a free magazine that caters to young mothers. "I was offended and it made my husband very uncomfortable when I left the magazine on the coffee table."


Her reaction was part of some 5,000 letters the magazine has received in response to a poll to gage reader sentiment about Babytalk's August cover photo, which shows a baby nursing.


Several readers said they were "embarrassed" or "offended" by the Babytalk photo and one woman from Nevada said she "immediately turned the magazine face down" when she saw the photo.


"Gross, I am sick of seeing a baby attached to a boob," the mother of a four-month-old said.


Another reader said she was "horrified" when she received the magazine and hoped that her husband hadn't laid eyes on it.


"I had to rip off the cover since I didn't want it laying around the house," she said.


A national television program also ran a segment on the controversy, interviewing several people in New York who expressed disgust over the cover photo.


The picture in Babytalk was aimed at illustrating the controversy surrounding breastfeeding in the United States, where a national survey by the American Dietetic Association found that 57 percent of those polled are opposed to women breastfeeding in public and 72 percent think it is inappropriate to show a woman breastfeeding on television programs.


Babytalk executive editor Lisa Moran said though most of those who responded to the poll about the cover photo gave the magazine a thumbs up, she was surprised that some 25 percent expressed outrage.


"There is a real puritanical streak in America," Moran told AFP. "You see celebrities practically baring their breasts all the time and no one seems to mind in this sort of sexual context."


"But in this very natural context of feeding your child, a lot of Americans are very uncomfortable with it."


She said the controversy is all the more surprising in light of concerted efforts by the US government and health professionals to encourage women to breastfeed.


"Everyone is saying that breastfeeding is best for baby but there is so little support for it in public," Moran said.


She said the Babytalk cover photo marks the first time a major parenting magazine in the United States dares to break the taboo about showing a woman's breast and the outrage it has prompted is not about to discourage editors from doing it again.


"This hasn't scared us off at all," Moran said. "We're thrilled and hopefully this will help women get more support for nursing."

• R E A D E R S ' C O M M E N T S •

I was not offended at all when the issue of Babytalk had a infant breastfeeding on the cover. That's what our breast were made for, and all the woman was doing was feeding her baby. I breast fed my daughter until she was 15 months old and I was offended when I would see a woman give her baby a bottle and I would not think twice.


It is a personal choice, if a woman is going to breast feed or not, we shouldn't judge them on their choice.
- Melissa Brown
---
I am writing to add to the discussion about the reaction to the nursing baby in the cover of Babytalk Magazine. I am amazed at what persons choose to quibble about. What is so offensive about the cover, clearly we all know what the magazine is about so I don't see why anybody should find it so offensive.


I note that persons have said they tore the cover off and they burnt the magazine and they are saying that they did this because they did not want their children to see it. Pleeeeeeeeeeeease! There are more offensive things around that children encounter everyday that they should be concerned about. All the profanity and lewd acts on TV as well as on the street are surely more objectionable than a magazine cover that is meant to convey a message to nursing and expectant mothers.


Come on people let's get real here. I think we are loosing sight of what is important, if we are concerned about our children getting the wrong message if they happen to see the cover of that magazine, it is simply that we must educate them to know what is acceptable and what isn't.


I have seen instances where people are parading around nude and there were children about, the beach is one example of that yet people justify it by saying that it is the persons right. Come on give me a break if anything is inappropriate and offensive it is that. So please let us pay more attention to the more important things in life and stop quibbling about something that is so insignificant.
- FSRC
Tell a Friend
•
Site Map
•
Print this Page
•
Email Us
•
Top