Health & Beauty | August 2006
Crossing for Care

Melissa McEver - Brownsville Herald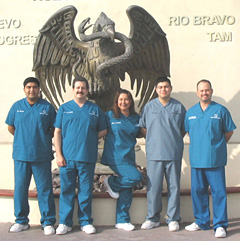 If the United States and Mexico could cooperate and find solutions, binational coverage could make a positive impact on the uninsured population.
Experts examining cross-border health insurance as solution for uninsured.

Reynosa — At Hospital Santander, patients typically wait just 10 or 15 minutes to see a doctor. Office visits and procedures generally are much cheaper than in the United States, and the doctors are friendly, make frequent eye contact and listen closely to what the patient is saying.


These are the reasons Guadalupe Garcia, a 56-year-old McAllen resident, gives for visiting the hospital's outpatient clinic in Reynosa instead of a doctor's office in the United States. She's a regular at the spacious facility, which has 13 general practitioners and 60 specialists on staff, according to Dr. Irma Yolanda Martinez Guerra, one of the clinic's general practitioners. Other patients have offered similar reasons for coming to Mexico for care, she said.


"For patients who don't have a lot of money, it's more economical (to visit) Mexico," Martinez Guerra said. "You see a friendly doctor, friendlier than in the United States … (patients see) the U.S. doctors as more professional, but it's very cold."


As the cost of health care continues to swell in the United States, more and more patients are going to Mexico for cheaper medical and dental care. Many border residents say they also feel more comfortable with Mexican doctors, who speak their language and understand Mexican American culture.


The road isn't just one-way, though. Mexico residents often cross the border for care, seeking better quality controls and the latest technology, experts say. Mexican nationals without health insurance frequently go to emergency rooms on this side of the border, even for routine care, said Bob Wright, direc-tor of managed care for South Texas Health System. The system, which includes McAllen Medical Cen-ter and Edinburg Regional Medical Center, must cover more than $150 million in uncompensated costs each year, he said.


With the flow of patients going in both directions, experts and officials are beginning to look at the fea-sibility of developing cross-border health insurance programs. Such programs potentially could reduce costs to U.S. hospitals, provide cheaper premiums for employees and make insurance more affordable for employers, experts say.


"It's a low-cost option that's also culturally appropriate for a lot of people," said David Warner, health and social policy fellow at the Lyndon B. Johnson School of Public Affairs at The University of Texas at Austin.


Warner and students at the LBJ School examined the issue in a 2004 book, "Cross-Border Health Insur-ance Options for Texas." The book included a case study of the Rio Grande Valley, looking at its rate of uninsured residents, types of medical care available and ways the region could benefit from cross-border coverage.


The researchers looked to California, which currently has a few insurers who sell cross-border plans, as an example.


"I wanted to figure out how California did it and what the issues were in Texas," Warner said.


Employers in California seem to have jumped at the chance to offer cross-border plans, and many em-ployees have enrolled, according to one insurance-company executive.


"We definitely see a great level of interest," said Ana Andrade, vice president of Latino programs for Health Net of California. The company has a cross-border product in which about 300 employers partici-pate and 20,000 employees from both sides of the border are enrolled, she said.


The plan covers particular Mexico providers who are licensed in California, and the program is audited by the state.


Before it could offer cross-border plans, Texas would have to revise several Texas statutes, said Gloria Leal, international counsel for the Texas Department of Insurance.


For one, any providers covered by Texas insurance plans must be licensed in Texas, Leal said.


"Under the definition of 'health-care practitioner' in Texas law, you're required to be certified in Texas," she said. "Whether you're an insurer offering an HMO or an indemnity plan, you still have to deal with that definition."


State insurance law, however, only applies to insurance plans that aren't "self-funded." Many large employers fund their own insurance plans, thus falling under the federal Employee Retirement Income Security Act, or ERISA. Federal regulations aren't as restrictive as state law, and so self-funded plans can include cross-border coverage more easily, Warner said.


Confusion over applying Mexican insurance laws is another possible obstacle for some Texas insur-ance companies.


"We have talked about potentially looking into (cross-border plans) in the next couple of years," said Mat Robie, executive director of Valley Baptist Health Plan, but he added that it was difficult to know which country's laws would apply.


"For now, we've decided to just grow our business locally," Robie said.


Texas Department of Insurance spokesman Ben Gonzalez said that the agency's jurisdiction "stops at the border."


In recent years, state decision-makers have taken a look at these regulatory issues, as well as the pros and cons of developing cross-border plans.


The state legislature in 2002 called for a committee to study the feasibility of cross-border insurance in Texas. The committee reported that binational plans could save state funds and tax dollars by making health-insurance coverage more affordable. Because premiums and copays for cross-border plans are usually cheaper, employees likely would sign up themselves and their families if given the option, the committee's report said. In turn, fewer children would need Medicaid or the Children's Health Insurance Program. Also, county indigent programs and hospitals could see fewer uninsured patients, which could reduce taxes.


Cross-border insurance isn't a complete solution to escalating health-care costs, but it could help re-duce the number of uninsured, said Jim Springfield, CEO of Valley Baptist Health System. Springfield served on the legislative committee that studied binational health plans, along with state senators and local health officials.


"If we could improve access to care, I think it would generally be a good thing," Springfield said.


About 40 percent of Valley residents are uninsured, according to health officials. Most of the region's uninsured are the "working poor" — they have jobs, but their employers don't offer health insurance, Springfield said.


Increasing health-care costs have set a vicious cycle in motion, Springfield said.


"As providers see patients who don't have any insurance, they raise rates, then employers say they can no longer afford private insurance, which creates more and more uninsured," he said.


Binational plans could prove more affordable for employers because premiums are about 25 to 40 per-cent cheaper, according to the legislative committee's report.


Out-of-pocket costs to employees also are less. For many California binational plans, doctor's office vis-its are $5 or $10, compared to $15 or $20 for the typical Texas plan. Prescription drugs can be as cheap as $5.


Although they concede that cross-border plans could have advantages, officials have wondered if health care in Mexico is regulated sufficiently, and if patients would receive quality care across the border. Doctors' groups in particular have lobbied against cross-border insurance in the past — county medical societies turned out in force at 2002 hearings in El Paso on the subject.


"A lot of the concerns have to do with quality of care," said Rich Johnson, director of Texas Medical Association's division of medical economics. "There could be difficulties in coordinating care and under-standing the coverage available to a patient. There also could be patient safety issues."


Warner, of UT-Austin, agreed that many issues need to be resolved before cross-border insurance can become a viable option for Texas. But if the United States and Mexico could cooperate and find solutions, binational coverage could make a positive impact on the uninsured population, he said.


"It's certainly not a cure-all," Warner said. "But it would increase coordination of care on both sides and better cooperation. If you could instill that, it would be for the good."

melissam@valleystar.com
Tell a Friend
•
Site Map
•
Print this Page
•
Email Us
•
Top