News Around the Republic of Mexico | August 2006
Mexico Orders Evacuations as Hurricane John Nears

Daniel Aguilar - Reuters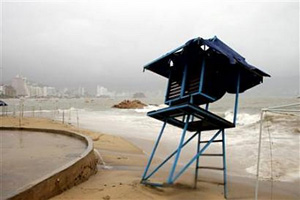 A lifeguard station as Hurricane John lashes the resort city of Acapulco, August 30, 2006. (Stringer/Reuters)

Mexico ordered the evacuation of at least 10,000 people in the Baja California peninsula on Thursday as Hurricane John headed toward the peninsula and tourists were told to hole up in hotels.


Local residents around the Los Cabos beach resort will be taken to shelters, by force if necessary, before the storm pummels the region on Friday, said Jose Gajon, head of civil protection for the state of Baja California Sur.


"Those who do not want to leave will be taken away by the army," Gajon said in an interview. "The number to be evacuated could rise."


Most hotels in the luxury resort, popular with foreign tourists and famed for its beaches and Jack Nicklaus-designed golf courses, have their own shelters and tourists have been advised to stay in them until the storm passes, Gajon said.


The Category 3 hurricane, packing sustained winds of 125 mph (205 kph) and stronger gusts, lashed beaches and ports with torrential rain on Mexico's mainland on Thursday morning and was veering toward Los Cabos.


Residents in the busy port of Manzanillo -- a favorite spot for U.S. and Canadian fishermen -- boarded up doors and windows as John churned off the Pacific Coast, and some tourists cut short their vacations to get out.


But the storm was just far enough out in the ocean to spare them its full fury.


"Thank God. We're happy the hurricane didn't hit us," said Guadalupe Marin, 29, on her way to work at a Manzanillo eatery.


The center of Hurricane John swirled northwestward off the mainland about 150 miles northwest of Manzanillo.


RUSH TO EVACUATE


Emergency teams were more concerned about Los Cabos. There was glorious sunshine in the resort on Thursday morning but Gajon said the evacuations would be completed in the daytime to avoid problems at night.


"Preparations to protect life and property should be rushed to completion," the Miami-based National Hurricane Center said, referring to the Baja California peninsula.


After slamming into Los Cabos on Friday, the storm is expected to spin back out into the Pacific, posing no threat to the United States.


In October, Hurricane Wilma smashed up Cancun and other beach resorts on Mexico's Caribbean coast. It caused massive damage, sucking away large stretches of beach and stranding tens of thousands of tourists in makeshift shelters for days.


Mexico's rescue services have vastly improved their hurricane response plans in recent years.


The hurricane center said John's winds and rain are strong enough to cause life-threatening flooding, severe damage to property and mud slides in mountainous areas.


Rainfall of 6 to 10 inches, with isolated deluges of 18 inches, were possible along the coast, forecasters said.


The busy tourist resort of Acapulco had sea surges of up to 10 feet on Wednesday. Seafront roads were ankle-deep in water and people struggled to stay on their feet in winds that knocked down trees.


Meanwhile, The U.S. National Hurricane Center issued a hurricane watch for a portion of coastline from South Carolina to North Carolina on Thursday as Tropical Storm Ernesto gained strength over the Atlantic.
Tell a Friend
•
Site Map
•
Print this Page
•
Email Us
•
Top