News from Around the Americas | August 2006
Do Dos From the 'Yak

Andrew Allen - thelog.com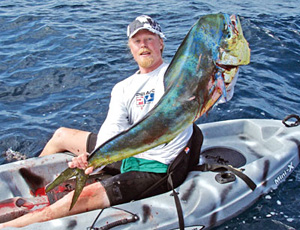 In Our Own Backyard - Brad Messmer with a very nice 20-lb. bull dorado caught just 6 miles off San Diego. (Adi Ljubovic)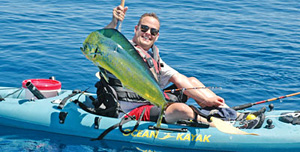 Caught on Tape - Jon Schwartz gets the party started with his first local dorado. (Joe Sala)

Dorado are fast-growing fast-swimming eating machines. Few live beyond four years and most live only three years. The blunt-headed males grow faster than the females and in the most optimal conditions can attain 60 lbs. in a mere two years.


To obtain and sustain a dorado of this size, less traveling and more eating is required, and Baja Sur would be a likely place to find a bull of this stature. Dorado of various sizes are a common catch targeted from kayaks fishing the East Cape.


The average dorado to swim into our local waters is 10 to 20 lbs. and is less than 2 years old. The bigger these fish get, the more solitude they seek, meaning the bigger the school you encounter the smaller the average fish will likely be.


There are not many SoCal anglers that call this fish by the regional name: common dolphin, albeit somewhat confusing as most people envision the water-bound mammal that shares this name. Opting for the Spanish name "dorado" seems to make perfect sense, as these acrobatic peacocks of the sea travel to us through Mexican waters in years when our waters warm to the fish's liking. Dorado translates to "the gilded one," a more than appropriate name for this color-flecked, gold-sided exotic that thrills on the water and pleases on the table.


My daydreaming of pursuing dorado from the kayak began one September afternoon several years ago. A friend and I were chasing large schools of feeding dorado in a skiff as close as 4 miles off Del Mar. Looking toward shore, I could not help but think it was easily obtainable in an ambitious day's paddle. I have made some halfhearted attempts in my pursuit of this fish, but that perfect day has thus far eluded me. Timing is of the essence to make this a realistic venture.


Late last summer had these fish showing in our local waters. Following a report of one being hooked and lost from a kayak off La Jolla, I posed the question on several popular fishing Web sites: "Has anyone caught a local dorado from the kayak?" I had heard several rumored, unnamed reports of it being done, but no specific persons or any documented proof.


I would not have been surprised if it had indeed been done by more than one person, someone not looking for any kind of notoriety, just a tasty meal and a story to tell their friends. This was just recently proven to me in an e-mail - including photo documentation - that described an unassisted catch of a dorado at an undisclosed location by an angler who wished to remain anonymous. This was an incidental catch in 100 feet of water around a mile from shore.


Most dorado are caught near kelp paddies or other flotsam, but this does show the fish would be a viable target for the kayak angler believing there is little chance of finding that golden paddy. Dorado are known for their keen eyesight as well as feeding close to the surface, making a slow-trolled bait an excellent presentation. What better platform than a kayak for this.


Jon Schwartz recently finagled a ride aboard a powerboat with hopes of filming a kayak-caught dorado. This aspiration made using powerboat support the logical way of obtaining this video. Some 22 miles off Oceanside is more than a realistic day's paddling. This is where Schwartz found success.


After boating several yellowtail from various paddies, Schwartz found his willing dorado. His desire to capture fish from the kayak and on film has led him to exotic locations such as Puerto Vallarta and Hawaii. This time the exotic came to him in home waters. A video compilation of these exploits will soon be available at www.bluewaterjon.com.


Schwartz is not the only won to cash in from the 'yak. Adi Ljubovic and Brad Messmer set out early from Mission Bay on August 4, with a 9-foot kayak lashed to Ljubovic's powerboat in search of local dorado.


After several hours and only barren paddies, they spotted a jumping dorado off their bow. One tossed bait; the other tossed the kayak over and slow-trolled a sardine. Fishing from the kayak, it didn't take Messmer long to hook up with a hen dodo and then another, while Ljubovic boated one as well.


They traded places, and when all was said and done they had each landed three dorado with three landed from the 9-foot vessel. They found this hot action a mere 6 miles from shore, but were quick to point out that many more miles were covered to find the willing fish.


The heat wave that hung over the region throughout most of July brought the sea surface temperatures up to as much as 78 degrees off San Diego. We also saw incredibly deep blue water very close to shore during this time period, and ample reports of dorado less than 5 miles from shore had a lot of kayak anglers yearning for gold.


The waters have since cooled somewhat and unsettled weather has made the inshore waters less stable than offshore, pushing the volume of dorado out of paddling range for now. I will forever be the optimistic angler and strongly believe the opportunity to target these prized wanderers has not passed us by this season. High pressure and light winds should make for favorable conditions once again between Mission Bay and Dana Point, and possibly even farther north.


If you plan on venturing out, be aware of your limitations, be safe and be smart. The list of safety measures should be a long one. You'll want to be around to try your hand at the first local yellowfin tuna caught from the kayak, but that is yet another daydream.
Tell a Friend
•
Site Map
•
Print this Page
•
Email Us
•
Top