News from Around the Americas | August 2006
Cubans in Miami Cheer Castro's Illness

Peter Whoriskey - Washington Post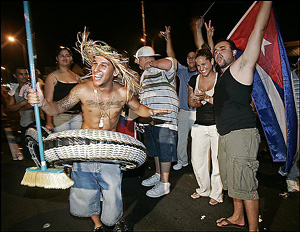 Cuban immigrants in Miami celebrate in the streets after hearing that Cuban leader Fidel Castro was hospitalized and had temporarily ceded power. (Al Diaz/Miami Herald)

Miami - On Calle Ocho, they jeered his name and wished for his death. " Cuba Sí, Castro No! " they shouted. " Se Acabó! " - "It's Over!" Horns blared and celebrants waved flags and smoked cigars.


The announcement late Monday that Fidel Castro is ill and has temporarily ceded power in Cuba to his brother Raul has spawned a sense of momentous expectancy here. At various spots popular among the city's Cuban immigrants - a park for playing dominoes, at restaurants that serve café cubano, and all along Little Havana's main thoroughfare Calle Ocho - the possibility that the dictator's long reign might be ending has set off dizzying waves of anticipation, glee and nostalgia for the island and loved ones they left decades ago.


"I hope he's dead!" said Mirta Fernandez, 76, smiling broadly outside the Versailles Restaurant, adding that she could not sleep last night wondering what it all means.


"It's a manufactured lie," said Juan Gonzalez, 76, amid the clinking of tiles at Domino Park, echoing many who no longer believe any news they hear from Havana.


"My first thought was ' . . . he's dying now, and I wish my father were alive,' " said Carlos Prio-Touzet, a Miami architect and the son of Carlos Prio Socarras, the last democratically elected leader in Cuba.


The demonstrations in the streets have amounted thus far to simple, uncomplicated fun, but what lies ahead and what's at stake may be far more complicated.


"We are cutting a little slack right now if people want to conga down Eighth Street at three in the morning like they did last night," said Miami Mayor Manny Diaz.


Exactly what the surprise announcement means for the population of this region - which has been transformed time and again by waves of Cuban immigrants since Castro's rise - is also the subject of much speculation. How many people here would return to live on the island, if given the chance? How many people in Cuba will try to immigrate?


Federal and state officials said they are preparing to block mass migrations into the United States.


Florida Gov. Jeb Bush (R) said a plan is in place "to not allow for mass migration into the country at a time when the net result of that is it creates tremendous hardship and risk for people that could lose their lives."


Rep. Ileana Ros-Lehtinen (R-Fla.) echoed Bush, warning people against taking boats to ferry people across. "There is not going to be a successful launch of migrants to the U.S.," she said, standing in front of the Versailles, a landmark gathering place for Cuban exiles in Little Havana.


But if the demonstrations have been simple, many here suspect that the political future in Cuba, even if Castro, dies may be far more complicated.


Jaime Suchlicki, director of the Institute for Cuban and Cuban American studies at the University of Miami, predicted that some of those celebrating may be surprised at how long any transition to democracy lasts. Should Raul Castro eventually take over for his brother permanently, Suchlicki said he may prove to be a more formidable leader than others predict.


Though many Cubans here consider themselves to be "exiles," many surveys have shown that few plan on permanently returning, even if Castro falls.


Miami pollster Sergio Bendixen has surveyed the Cuban population regularly over the past decade and found that 20 percent or fewer would return.


"That number is a great surprise to many people, particularly those who consider themselves political refugees who would go back when Castro falls," Bendixen said.


A recent poll put the number at 17 percent, but Bendixen said he suspects the real number is even lower because it is "politically correct" for a Cuban immigrant to say he or she will return once Castro falls.


"Their lives are here now," Bendixen said. "It's been too long - what, 45 years?"


Indeed, few people interviewed Tuesday indicated they would leave their Miami lives for a return to Cuba.


"To tell you the truth, until four or five years ago, my dream was to die in Cuba," said Oscar Reguera, 75, among the dozens of men clinking tiles at Domino Park in Calle Ocho. "But I have 10 children and 23 grandchildren now. So, what am I going to do in Cuba?"
Tell a Friend
•
Site Map
•
Print this Page
•
Email Us
•
Top