Entertainment | Restaurants & Dining | August 2006
Beck's Best Taco Stands

Gary R. Beck - PVNN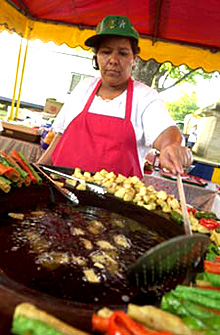 The Banderas Bay Area plays host to at least 500 taco stands, some having been passed from one generation to the next.

Please do not scream and run away. Today's topic as I begin writing regular columns for BanderasNews is "Taco Stands," Mexico's ubiquitous street food. Designed as a method to get a good, healthy, tasty, fast and reasonable meal or snack, it us found all over much of Latin America and has made vast inroads into Hispanic communities elsewhere.


After trudging along the many cobblestone byways, far from the beaten path - jumping from high curbs and dodging speeding buses - one reaches the conclusion that the Banderas Bay Area plays host to at least 500 taco stands, some having been passed from one generation to the next.


Also, I learned from an article published years ago that for the best and freshest food, dine where there is at least one dog nearby. These street denizens may be very hungry but seem to be the leading critics, so do not doubt their wisdom, let alone cultivated taste buds.


Or, pick the stand where the wait is three people deep, all patiently waiting while the tortillas are hand pressed, meats quickly grilled and choices topped with green peppers and onions.


Then, one heads to the salsas and condiments, where a range of hotness is offered in addition to pickled jalapeño, lettuce, tomato, maybe some carrots and creamy avocado sauce. Scoop and slather but grab a generous handful of napkins to mop the drips before your shirt becomes the colors of the Mexican flag.


The employee handling the money must not be the cook. Disposable plastic gloves and light hair net signal a genuine concern for hygiene. Plastic plates may be reused often, once the plastic bag covering is discarded and replaced.


Now the fun begins. OK, you may have to stand and lean against a tree or wall since the 5 or so seats are occupied, or packaged up "to go" for a quick trip back to your residence. But, if you have not sampled tacos al pastor or a chorizo burrito, a glorious treat awaits. While some stands offer an array of choice, others stick to specialties as deep fried shrimp taco, ceviche tostada or topped grilled potato.


Here are some of my favorites:


Brother-in-Law Taqueria [El Cuñado]
Francisca Rodríguez near Olas Altas OT/SS
Taco de maíz [corn], taco de harina [flour], asada [beef] and adobada [pork] all topped with guacamole and salsa.


El Moreno Tacos
Francisco I. Madero at Constitución OT/SS
Wooden block pressed tortillas, corn or flour, tripe and birria.


La Hormiga [The Ant]
Lázaro Cárdenas, 2nd stand up from Insurgentes before Aguacate OT/SS
This is the famous one in the street row with the huge following. No, ants are not served.


Marisma's Fish Taco II
Naranjo 320 between Basilio Badillo and Venustiano Carranza OT/SS
Noted for fish or shrimp taco battered and deep-fried. Also smoked marlin quesadilla and ceviche tostada served with five homemade salsas as avocado cilantro, fresca and soy with onion.


Peter and Carmen's Tacos
Manuel Diéguez at Olas Altas near the beach OT/SS
Many local favorites at great prices, all served with four fine salsas, radish and lettuce as tacos, birria, burrito al pastor and tortas [sandwiches.]


Tacos Memo
Aguacate at Basilio Badillo OT/SS
Very fine fast food for the locals. Famous for baked potato with sour cream, salsa and ground beef and a huge shrimp and onion burrito.
---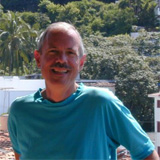 After 20 years in the San Francisco restaurant business, Gary R. Beck turned his attentions to cooking, dining out, creating recipes and exploring Puerto Vallarta's rich array of eateries. Famous for his restaurant guide, available online at CafePress.com or Lulu.com, Gary also writes restaurant reviews for Puerto Vallarta newspapers, Bay Area magazines, and now, a feature column for BanderasNews.com. Contact Gary at garyrbeck1@yahoo.com.
Click HERE for more articles by Gary R. Beck.
Tell a Friend
•
Site Map
•
Print this Page
•
Email Us
•
Top