News from Around the Americas | September 2006
Stars Come Out at U.S. Open

Liz Clarke - Washington Post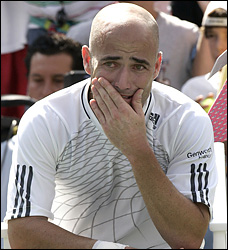 Andre Agassi pushed his body to the limit during his final U.S. Open, but he is unable to summon any of the magic Sunday that propelled him to a stunning second-round victory. (Timothy A. Clary - Getty Images)

Tropical Storm Ernesto may have flooded basements and downed power lines as it wended its way through the Northeast, but the aftermath was particularly kind to Sunday's ticket holders at the U.S. Open.


The driving rain that washed out three sessions of play on Friday and Saturday made for a packed schedule Sunday that saw virtually every superstar in the sport alight on the courts at the USTA Billie Jean King Tennis Center.


And the drama that ensued ran the gamut, with tearful defeats, stirring comebacks, stunning upsets and five-set thrillers.


Two-time champion Andre Agassi bowed out of the sport racked with pain yet with his head high, losing to an unheralded German qualifier, Benjamin Becker, 7-5, 6-7 (7-4), 6-4, 7-5. A capacity crowd of 24,000 did its best to pull the former champion through despite an inflamed sciatic nerve that rendered him virtually immobile as the match ground on.


Agassi's face crumpled in tears at the sustained standing ovation that followed, as raucous New Yorkers cheered, clapped and wept in expressing their appreciation for his 20-year career.


"I was saying goodbye to everybody, and they were saying goodbye to me," said Agassi, 36, who had undergone four injections of anti-inflammatory medication in the last six days to continue playing. "You know, it's a necessary evil. But we were getting through it together. That felt amazing."


Earlier in the day, American Lindsay Davenport, the tournament's 1998 champion, fended off two match points against Katarina Srebotnik before prevailing, 3-6, 6-3, 7-6 (7-5). At 30, Davenport is believed to be playing in her final U.S. Open, although she refuses to acknowledge as much.


Andy Roddick, the tournament's 2003 champion, faced an equally difficult struggle in getting past Spain's Fernando Verdasco, 6-7 (7-5), 6-3, 6-4, 6-7 (7-4), 6-4.


Roddick is trying to erase the memory of his first-round defeat at the Open last year and has enlisted former champion Jimmy Connors to help him reclaim his top-10 ranking.


Two-time champion Serena Williams posted her most impressive victory in months by toppling 16th-seeded Ana Ivanovic, the gifted teenager who dominated this summer's North American hard-court season, 6-2, 6-4. The unseeded Williams needed a wild card to enter the tournament after her ranking plunged to 91st because of injury-related layoffs.


"I just feel like I'm trying to do the best at playing my game and working on things that I worked on in practice," said Williams, who will face world No. 1 and top-seeded Amelie Mauresmo next.


Mauresmo, who has won two of the season's three Grand Slam events, was a 6-3, 3-6, 6-2 victor over Mara Santangelo.


"I only beat her once," Mauresmo said of Williams. "When she's playing well, she just does everything. She's hitting hard on both sides. She's serving well. She likes to take control of the points."


Other winners included Maria Sharapova, who made quick work of fellow Russian Elena Likhovtseva, dismissing her, 6-3, 6-2. The third-seeded Sharapova, who is seeking a second Grand Slam title to complement her 2004 Wimbledon championship, swamped Likhovtseva with power, slamming 22 winners to her opponent's four.


Russia's Marat Safin, the 2000 U.S. Open champion, proved that his flair for drama is still intact despite his plunge in the rankings. Safin outlasted fourth-seeded David Nalbandian of Argentina in the day's most fiercely contested match, prevailing, 6-3, 7-5, 2-6, 3-6, 7-6 (8-6).


"I got a bit scared because I was playing too well," said the angst-ridden Safin, who missed seven months with a knee injury. "I start to think a little bit too much. I stop to attack. I change a little bit my game, then he started to play his tennis."


Second-seeded Rafael Nadal progressed to the tournament's fourth round for the first time in his career, subduing the big-serving Wesley Moodie of South Africa, 6-4, 7-6 (7-5), 7-6 (7-4). Nadal is seeking to reach his third Grand Slam final of the year. He successfully defended his French Open title with a victory over world No. 1 Roger Federer, but fell to Federer in the final of Wimbledon.


Federer, in the opposite side of the draw, outclassed American Vince Spadea, 6-3, 6-3, 6-0. The Swiss was never broken in the match, which left him particularly pleased.


Fifth-seeded James Blake battled Carlos Moya past midnight before prevailing, 6-4, 7-6 (8-6), 2-6, 6-3.


If Agassi is the sport's most natural showman, feeding on the electricity of the crowd, the circumspect Davenport is his opposite. She requested that her postponed match be relegated to an obscure side court early Sunday morning. And there, with an intimate but spirited crowd that included her mother, sister and niece, Davenport found new life after coming so close to defeat, pumping her fist as she stormed back into contention after dropping the first set with uncharacteristically sloppy strokes.


"I was trying so hard to get myself to play better," said Davenport, the highest-seeded American woman in the tournament (10th). "I was just trying to get myself going: 'Okay! You can play better!' My sister was so excited she got to cheer loud in a match."


Like nearly every player in action Sunday, Davenport took pains to pay tribute to Agassi and the impact he has had on the sport over the last two decades.


"I think Billie Jean [King] made huge inroads for women," Davenport said, "but Andre made our sport cool -- popular with the crowd. Exciting. He's beloved. Not many players come what he has become. You know that he is going to be equally famous and equally successful in his post-career."


Roddick followed suit. "I'll miss him as a friend, as kind of a mentor," he said. "He was unbelievable to me, with how accessible he was when I was younger. He would call me before matches and give me strategy advice before I was playing people when I was 17, 18 years old. I don't know many people who will take time out of their day for some little punk, trying to give them strategy."


"Obviously it's near impossible to live in the shadows of what he has accomplished off the court with his charitable ventures. He definitely set the tone."
Tell a Friend
•
Site Map
•
Print this Page
•
Email Us
•
Top