News from Around the Americas | September 2006
Accused Mexican Drug Figure Pleads Innocent in US

Reuters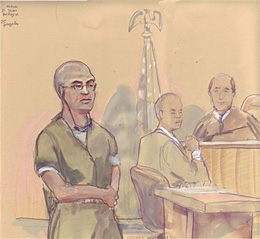 Shown in this courtroom sketch, an accused leader of the Arellano Felix drug cartel, Francisco Rafael Arellano Felix, left, pleads not guilty to cocaine charges as US prosecutor Peter Ko and Federal Judge Anthony J Battaglia listen, in this artist sketch Monday, Sept.18, 2006, in San Diego. Felix, 36, was captured by the Coast Guard aboard a sport-fishing yacht in international waters off La Paz, Mexico, and taken to San Diego to face drug charges. (AP/Krentz Johnson)

Francisco Rafael Arellano-Felix, the oldest of four brothers accused of operating one of Mexico's most infamous drug cartels, pleaded not guilty on Monday to 26-year-old drug charges.


Arellano-Felix, who was extradited to the United States on Saturday in a rare hand-over of an accused major drug figure from Mexico, entered his plea during a brief hearing in San Diego.


The 56-year-old former fugitive was dressed in a green jail jumpsuit. He is facing 1980 charges of possessing a controlled substance with the intent to distribute.


U.S. Magistrate Judge Anthony Battaglia set a bail hearing for Thursday after prosecutors said that Arellano-Felix should be held without bond because he presented a flight risk.


Arellano-Felix, who posted bail and fled to Mexico 26 years ago, faces a possible 30 years in prison if convicted.


His younger brother, Javier Arellano-Felix, was caught on a fishing boat off the coast of Cabo San Lucas in August and also faces federal charges in San Diego.


Javier Arellano-Felix and 11 other accused members of the ring were indicted in federal court in San Diego in 2003 on charges of importing and distributing drugs into the United States.

• R E A D E R S ' C O M M E N T S •

Why was Señor Arellano extradited to the United States, holding him in a Mexican Jail for an extra two years after serving his entire term and then released by the Americans? It seems a tremendous waste of public funding that could have been used on education for children.


Could it be that Señor Arellano was innocent all along and the Americans knew of this fact? The two Federal Agents that arrested him in 1993, have themselves been arrested for violating the civil rights of the prisoners they handled, fined Five Million US Dollars and jailed. This information was known before bringing Señor Arellano to the United States.


What is wrong with this picture? Perhaps the Americans can spend more money separating families in the United States and denying medical treatment to the ill and elderly who have worked their entire lives for this country without papers, who only do the dirty work for less than minimum wage.
- Angelica Profaci
Tell a Friend
•
Site Map
•
Print this Page
•
Email Us
•
Top