News Around the Republic of Mexico | October 2006
Mexican Fashion: "Global Design with a Local Touch"

Kimberly N. Chase - Associated Press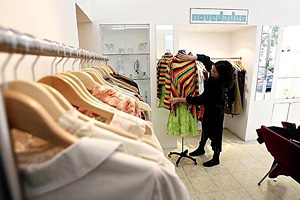 Maria Molinari arranges Carla Fernandez designs at Colectivo 7, a Mexico City boutique. Fernandez gets her inspiration from indigenous designs. (Claudio Cruz/AP)

From a distance, the black woolen jacket created by fashion designer Carla Fernandez looks like a simple, ordinary blazer. The difference is in the details: bright, multicolored dots embroidered to a piece that combines age-old Indian sewing techniques with an innovative, modern cut.


Fernandez, one of six designers at the Local clothing boutique in Mexico City's trendy Condesa neighborhood, works with women in the southern Mexican states of Chiapas and Oaxaca to create a product that is local in its use of indigenous design but also made for a modern woman who wants something stylish.


"What I wanted to do was to use their methods to do something that was very sexy and very appealing to this market," she said.


Fernandez is just one example of several young talents in Mexico City looking to make it onto the international fashion stage by offering modern designs with a clear Mexican flavor. The new crop of designers hopes to take advantage of Mexico's increasingly stabilized economy, which has improved over the last six years during Vicente Fox's presidency. Designers say their new businesses are finding receptive customers, both local and foreign.


"The next step has to be Mexico, in a way," Fernandez said, noting that Colombia, Brazil and Argentina have already attracted a fair amount of attention.


The designs are found primarily in small boutiques for now, with department stores continuing to stock European or American clothing. But events such as Mexico's growing Fashion Week are giving them a boost. About 30 designers, mostly Mexican, participated in the April show and at least 40 designers were expected as the four-day event started Tuesday, said Anna Fusoni, the event's fashion director.


Fusoni looks for participants who have both a Mexican cultural element and the ability to sell to a mass market, such as Pineda Covalin and Carmen Rion, she said.


"They have to have a focus. They have to have a market," she said. "It's global design with a local touch."


For Fernandez, who is not participating in Fashion Week, local means finding a way to blend age-old sewing techniques with modern style.


Fernandez started to form her style while working at a Mexico City Indian culture museum that has since closed. There she noticed the prominence of squares and rectangles in the clothing of Mesoamerican cultures.


"I thought it could be a great thing to try to explore this concept of making clothing and making fashion," she said.


Fernandez says she chose to use rectangles because rather than cutting fabrics, Indian people tear them along the line of the weave, making curves in garments using pleats and darts in the fabric. She took a gently ruffled skirt off the rack and showed how if its stitches were removed, the fabric would relax back into rectangles.


To help make her clothing, Fernandez works with nongovernmental organizations in Chiapas and Oaxaca to organize groups of women in sewing groups that double as public-health education seminars. The women work with the designer to develop ideas for each piece, she said. They are paid per item, and can also benefit by preserving traditional techniques while making clothes for their own children.


"They are very happy because it's like making a new story every day," Fernandez said.


Her typical customers are artists, actresses and others who "dare to dress differently," she said. But they're also people who can afford it — that little black jacket is priced at the equivalent of about $240 and the pleated skirt goes for about $120.


In Polanco, another hip and wealthy, if more conservative, part of town, designer Adriana Hans says she is also seeing more interest in Mexican fashion, both from local women and international buyers.


"I feel that Mexico is in a transition," said Hans, who makes custom-decorated tank tops as co-owner of the small but trendy line Wishes. "There is a really strong change."


Tucked into a private street-level unit, Wishes' showroom feels like a young girl's bedroom. Red, pink, yellow and blue tops hang flat on a light blue wall graced with the company motto "What you wish is what you get" in curvy handwriting.


A sister duo, Adriana and Sharon Hans, started the business in 2004 with the idea of making hand-decorated tank tops that were tailored to the tastes of the individual customer. They've gained popularity with a line of tops that integrate the modern and the traditional, using lace, rhinestones and Mexican embroidery. Tank tops start around the equivalent of $22, and dresses run in the $300 range.


Wishes already has received support from Mexican society magazines, and the team has just been chosen by Warner Brothers to use the company's cartoon characters, including Speedy Gonzales and Tweety Bird, on their tank tops, in the same vein as Nicky Hilton's Tweety Bird clothing line, Adriana Hans said.


Hans feels that along with the industry's improving reputation, consumers are getting more creative with their looks.


"I feel that we were in a more classical phase, and now we're becoming more brave," she said, adding that her typical client "is looking for the latest."


That is indeed what customers of the new designers say they want.


At Trend, another boutique nearby, 26-year-old Blanca Garcia said she finds things that are just a little out of the ordinary. "It's a place where you can find things that everyone else isn't wearing," she said.


Like Local, Trend features a group of local designers, and also sells goods made with the collaboration of designers and indigenous groups. Both are about a year old. On her second visit to the store, Garcia bought a gray silk wrap skirt made by Maya women in the Yucatan for the brand Dzitnup.


Cata Mont, another designer at Local, said that the boutique's designers cater to women who want something more than the conservative tops, pants and skirts you see in the more conservative areas of town.


"You don't have to dress like everyone else," she said.


The change is on the level of the individual consumer, she said, but it's also in the industry, which didn't previously leave room for the tulle-adorned dresses and zebra-striped yoga mat bags that hang on racks in her tiny shop on tree-lined Amsterdam Avenue, she said.


"There was no venue in Mexico for alternative fashion," she said.


She checked one customer out, and a few minutes later a neighbor walked by with his dog, waving hello though the doorway.


Despite the eccentricity of some of the items, Mont said her customers are regular people.


"They aren't just models and actresses," she said. "They are girls who live here."
Tell a Friend
•
Site Map
•
Print this Page
•
Email Us
•
Top