News Around the Republic of Mexico | October 2006
Oaxaca Teachers Will Return To Classes

El Universal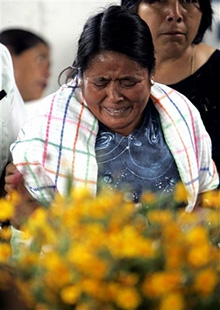 Angelina Martinez wife of teacher Panfilo Hernandez cries during during a homage in Oaxaca City in Mexico, Friday Oct. 20, 2006. Hernandez was shot to death late Wednesday in Oaxaca, Mexico. Senate vote eliminated the last legal recourse for their demand that Oaxaca Governor Ulises Ruiz be removed. 'The return to classes is a fact,' union leader Enrique Rueda told reporters, 'the only thing left to define is the day.' He said that could happen as soon as Monday. (AP/Eduardo Verdugo)

Striking teachers in the southern state of Oaxaca on said they plan to return to their classrooms by month´s end and sought to distance themselves from vigilantism on the part of some of their allies in the effort to force out the state´s governor.


The spokesman for Section 22 of the SNTE national teachers union, Enrique Rueda, told W-Radio the educators would return to work on a permanent basis by Oct. 30 at the latest.


Rueda also said the union was not responsible for recent acts of vigilante violence in Oaxaca city, where several people - after being beaten by people supportive of the Oaxaca People´s Assembly (APPO) - have been tied to posts in the street with signs such as "Take a good look at me. I´m a thief and a rapist."


APPO is a broad coalition of grassroots organizations united by their opposition to Gov. Ulises Ruiz.


"Those who are doing that (administering street justice) must assume responsibility, but the teachers of Oaxaca have not taken it upon themselves to conduct people´s trials. That I can tell you will full certainty," Rueda said.


"We don´t agree with these trials, nor with offending human dignity in any way. We don´t support or condone such actions," he said.


Rueda also said classes will resume shortly for the 1.3 million students in Oaxaca state who have been without instruction since May 22.


"We´re fully aware of the ... social commitment we have with the children and the people of Oaxaca and our plan is to resume work by Oct. 30 at the latest," he said.


He made it clear, however that Section 22 will continue to press for the removal of Ruiz even as it seeks an end to the lawlessness that has plagued the state for months.


"We know that all of society, along with the government ... we have to implement a mechanism that allows all the social actors to find a way to restore peace and tranquility to Oaxaca," Rueda said.
Tell a Friend
•
Site Map
•
Print this Page
•
Email Us
•
Top