Entertainment | Restaurants & Dining | October 2006
Boca Bento Steps Out of the Box!

Kathy Taylor - PVNN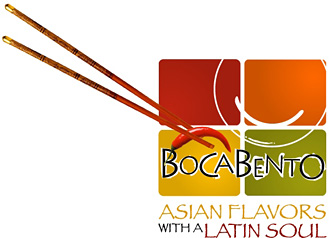 Come discover for yourself why Boca Bento was voted "Best New Restaurant" in 2005! Located at 180 Basilio Badillo (just east from Olas Altas) Boca Bento is open every day from 6-11 pm. For reservations, call 222-9108.

Puerto Vallarta - Approachable is the catch word of the season over at Boca Bento in Old Vallarta. A little less serenity, a lot more fun! Some of the changes are subtle - in décor, lighting and music. But some of them are significant - in portion size and price!


When one of the prettiest dining rooms in Vallarta, exuding an aura of oriental elegance, "just enough to be cool" jet set hipness, and a "could be in San Francisco or Vancouver" fusion menu opens to rave reviews, does well for a while, and then its customers stay away in droves, what do owners Stewart and Monika Haverlack do?


They ASK, and they LISTEN! And then they just get BETTER!


You have to realize that Boca Bento is on Basillo Badillo, one of the liveliest restaurant streets in Old Vallarta, and was/is an oasis of hipness on a street devoted to shorts and sandals diners. (Hey, it's hot and you are on vacation! It's okay. We dig it.)


So what were people saying about Boca Bento?


Too sophisticated - I think I said it before - this is one of the most beautiful rooms in Vallarta, and it truly looked its finest under low ambient light, with its sea of white linened tables, and black clad wait staff. But it was a little intimidating for the casual, drop in, spur-of-the-moment, "I didn't pack the Manolo Blahniks" kind of dinner.


What they did was... turn up the lights a bit (so glad I have that sun kissed glow... I reallllly liked the other lighting), jack up the tunes a bit (Latin pop for lovers - long live Carlos Santana) to pitch up the general hum of the place, and add a bit of color. Just enough. Tablecloths. Wait uniforms. Still sophisticated and beautiful, but less Zen, more Jen. (Lopez or Aniston, take your pick.)


Price and portion size - That "ohmigawd the food was amazing but I'm still hungry and I really should pay my rent instead" size is gone. This is real food served in real portions. You could actually SHARE the Caesar salad lightly laced with chipotle ...yeah, I know - Boca Bento!


These are BIG portions, and amazingly well-priced, with an across the board drop in price of at least 15% on every item.


Those savings alone will buy you a cocktail or two. The Mandarin Lemonade is a long legged blonde of a thirst quencher and the Pomegranate Martini is exotically rambunctious and better for you than a shot of wheat grass, but the Key Lime Margarita (rocas, con sal) is perfect. Deserving of a haiku...

Desert cactus
cool tart salt lime spirits
whisper... margarita

Which leads me to this - what could be more Boca Bento than a haiku about a margarita? It is at once Latin and Asian... and we don't use the word fusion anymore... influence perhaps. This Boca Bento is all about bold flavors with subtle shadings of both cultures.


I am on a cultural exchange and this is what I am coming back for more of:


Chipotle Caesar Salad - I'm not sharing. Get your own. Lightly dressed, a hint of chipotle, crisp romaine. The sesame croutons are new and crisp and a little detour in flavor. Good.


Sesame Lime Soft Shell Crab - The sweet corn puree to drag the claws through was a total surprise, and balanced the tartness of the crunchy crab coating perfectly. Smoky Miso dressing on ultra fresh greens - maybe a little less next time, but a great, great dish - and only $85 pesos!


Thai Style Chile-Crusted Calamari - One of the stars of the evening. (I'm saving room for dessert.) Melt-in-your-mouth tender, lightly panko-chile crusted, dunked in a chipotle dipping sauce. Move over Zorba.


Spicy Duck Quesadillas - This is a quesadilla worth the carbs. Young duck, some adobera cheese, shitake mushrooms, an Asian pico de gallo, grilled between two tender tortillas and anointed in a Serrano Hoisin sauce. That is one finger licking good influential sauce!


Soy Glazed Chicken Breast - Even I was starting to glaze over a little by this point, but the chicken was juicy and the molé complex and layered with flavour. Another cross-over ingredient, that Latin/Asian workhorse cilantro, was used in the rice and in the thick dabs of cilantro oil that edged the plate which were perfect for dipping the wafer thin chayote.


Trio of Crème Brulees - Ginger/Chocolate Chili/Kahlua - Okay, this is the dish that prompted the big discussion about food and subjective tastes and personal preference and "the whole catastrophe" life, death and the in-between (a few long legged blondes, a haiku or two and more than a few rambunctious Pomeranians - no, no, that's Pomegranate-tinis had been consumed by now). But here's the real skinny from a not so.


Three mini-ramekins on a long plate.


Kahlua - The brulée is thin, like early autumn pond ice - cracked with a tap of the spoon to expose the silky Kahlua crème beneath. A taste so good it could pull you under.


Chocolate-Chili - This is the bridge brulée - from Latin Kahlua to Asian ginger. The same "keep off the ice brulée" with a slightly more dense crème, the chili spiking the rich chocolate just enough to keep the chill off.


Ginger - We have now crossed over to the Asian end of the plate, where all is delicate and mysterious - the crust, the tingle of the gingery cream. Aaahh.


The Kahlua Crème Brulee is the best dessert that I have eaten in a long, long time. And guess how much? Only $68 pesos. For my new godchildren, the Triplets Brulée!


And who is cooking this wonder? Chef Juan Arco, formerly of Guadalajara, who has spent a few years wandering North America apprenticing in various kitchens. It shows.


Be glad that Boca Bento is "taking it to the street." Basillo Badillo will never be the same.


New menu items tasted, but not reviewed due to sensory overload were: Venezuelan Sweet Corn Chowder with Yunnan Ham, Pineapple MahiMahi Ceviche, Chile Mora Vegetable Lo Mein, Chinese Cajun Grilled Salmon, and Sizzling Fajitas - Miso Beef, Tequila Lime Chicken, Asian BBQ Shrimp, Soy Glazed Portobello.


Boca Bento officially opens on Friday, October 27th - click HERE for info.
Tell a Friend
•
Site Map
•
Print this Page
•
Email Us
•
Top