Health & Beauty | November 2006
Free AIDS Clinic Opens in Vallarta

PRNewswire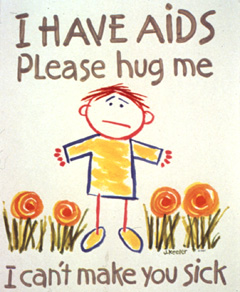 One of the most recognized HIV/AIDS posters ever produced, this image of a child with outstretched arms accompanied by the message, "I have AIDS, please hug me, I can't make you sick," has become a worldwide icon in the fight against HIV/AIDS discrimination. Inspired by the experience of Ryan White, a 13-year old hemophiliac with AIDS who was barred from school in 1985, it became a symbol of the intolerance that is inflicted on AIDS victims.

Puerto Vallarta, Mexico - AIDS Healthcare Foundation (AHF), the largest AIDS organization in the US which operates free AIDS treatment clinics in the US, Africa, Latin America/Caribbean and Asia, including twelve clinics throughout California; and Vallarta Contra el SIDA, a respected, local Mexican non-governmental organization (NGO), are joining forces with federal, state and local government bodies in Mexico to partner together in a new, free AIDS clinic in Puerto Vallarta - Mexico's newest community-based comprehensive HIV/AIDS clinic - which will provide medical care and life-saving anti-retroviral treatment to people living with HIV/AIDS in the region.


The clinic, AHF's second in Mexico (its first opened in Tijuana in October, 2005), was dedicated with a ribbon-cutting and opening celebration Friday, November 24th. The facility will be known as CAPASITS (Centro de Atencion Ambulatorio Para Infecciones de Transmision Sexual y el SIDA). The clinic is located in a new building situated directly behind the new Regional Hospital in Pitillal, Puerto Vallarta, Jalisco, Mexico.


Among those participating in the grand opening ceremony Friday: Lic. Francisco Ramirez Acuna, Governor, State of Jalisco; Dr. Jose de Jesus Becerra Soto, Secretary of Health; Lic. Evangelina Delgado Rivera, President, Vallarta Contra el SIDA; Lic. Gustavo Gonzalez Villasenor, President, Municipality of Puerto Vallarta; Dr. Rafael Nunez, Director, Regional Sanitaria Jurisdicion VIII; Dr. Patricia Campos Lopez, AHF Deputy Director of Latin American Affairs; Michael Weinstein, President of AIDS Healthcare Foundation; and Jessie Gruttadauria, Director, AIDS Healthcare Foundation Public Affairs Department.


"In keeping with our mission to provide medical care and advocacy to those in need, AHF is honored to partner with such respected federal, state and local Mexican government bodies as well as with 'Vallarta Contra el SIDA' in this new, free AIDS treatment facility to bring HIV/AIDS medical care and anti-retroviral treatment to the community in Puerto Vallarta," said Michael Weinstein, President of AIDS Healthcare Foundation. "AHF and its local partners will work together to ensure that all people living with HIV/AIDS have access to the care and services they need regardless of income level."


"Until now, most people living with HIV/AIDS in Puerto Vallarta had only one option in seeking care and treatment: the regional hospital, which provided use of a treatment room a couple of hours in the evenings, and the medical provider coverage at this part-time AIDS treatment clinic was often inconsistent at best," said Jessie Gruttadauria, AHF's Acting Director of Public Affairs, who headed this project over the past 14 months and worked closely with Vallarta Contra el SIDA representatives and Mexican government officials on the clinic. "This new clinic will greatly improve access to HIV prevention and testing services, medical care and anti-retroviral therapy for these and others in need of care and services in the city and region."


Mexico's social security institutions offer free HIV/AIDS care; however, those individuals not covered by social security or without access to the state's FONSIDA (Mexican National Fund for Persons Living with HIV/AIDS) program often face difficulties in accessing both testing services and life-saving anti-retroviral drugs (ARVs). It is expected that this new AIDS treatment clinic in Puerto Vallarta will likely serve as primary clinic for HIV care and services.


There were roughly 180,000 people in Mexico living with HIV in 2005 according to UNAIDS. The state of Jalisco ranks 4th with accumulated AIDS cases (almost 9,000 cases). Of these, nearly 80% are concentrated in the Metropolitan Zone of Guadalajara, with a four to one male/female infection rate. Puerto Vallarta has almost 500 accumulated AIDS cases; however, the infection rate in Puerto Vallarta breaks down almost twelve to one, male versus female, thought to be in part a reflection of a larger concentration of gay men and men who have sex with men (MSM) living in this popular international tourist destination.


This unique clinic partnership, which will be known as CAPASITS, has many participants contributing critical pieces to the overall project: Mexico's federal government and CENSIDA, the country's federal AIDS program, provided the building its furnishings and some medical supplies; the local Health Ministry in Jalisco will provide and pay for many of the utilities; the state of Jalisco and the federal government will pay for anti-retroviral and other drugs; AIDS Healthcare Foundation will provide the physician, the office administrator, and will cover maintenance and incidental costs; the local health jurisdiction in Puerto Vallarta will provide a social worker, nurse and will cover some utilities; and Vallarta Contra el SIDA, the respected local NGO, will pay for a psychologist, support groups, treatment adherence, as well as some activities such as art classes and will administer a small food bank for clinic clients.

Source: AIDS Healthcare Foundation
Tell a Friend
•
Site Map
•
Print this Page
•
Email Us
•
Top