News from Around Banderas Bay | November 2006
ASOMEX Completes Annual Tennis Tournament at Canto Del Sol

Bob Cohen - PVNN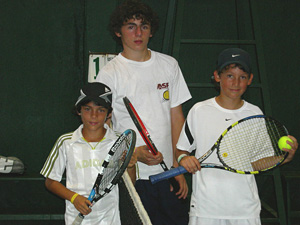 Javier Diaz, (right) of Mexico City defeated his schoolmate Alejandro Fajher in the boys 10 year old finals.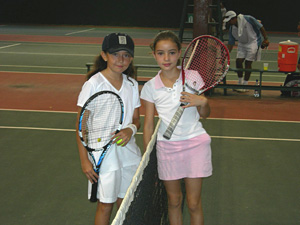 Camila Garcia, (left) from Mexico City also defeated her classmate, Luria Diaz in the girls 10 year old finals.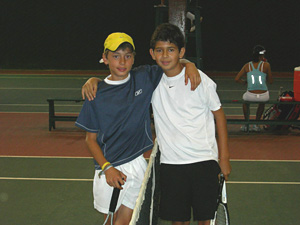 Juan Pablo Jaramillo (left) from Mexico City defeated local favorite Rodrigo Martinez of Puerto Vallarta in the boys 12 year old finals.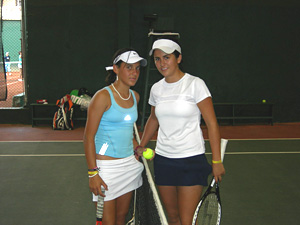 Rebeca Calvillo (left) from Durango defeated Laura Pelaez of Pachuca in the girls 14 year old finals.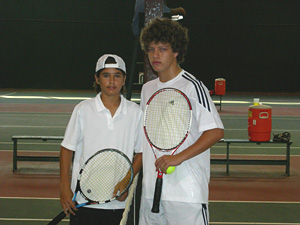 Bernardo Yañez (right) from Peterson defeated another local, Esteban Said of Puerto Vallarta in the boys 16 year old finals.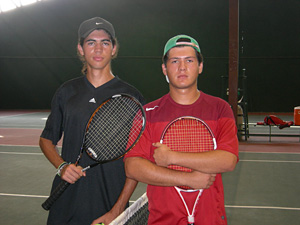 Juanc Eden Winter, the best 18 year old ranked in Mexico form Puebla, (right) defeated Andres Hernandez of Guadalajara in the boys (actually mens) 18 year old finals.

ASOMEX (Collegio Americano) concluded their annual tournament Wednesday at the Canto Del Sol Resort and Tennis Club. The event seems to grow each year and the level of competition increases as well. There are ten American Schools currently in Mexico and are located in Puerto Vallarta, Pachuca, Durango, Tampico, Mexico City, Torreon, Peterson, Puebla, Guadalajara and Queretaro.


The format of the event was much different than most tournaments. All age divisions were played in a round robin format, with the top two players that collected the highest point total playing in the final. Also in all preliminary rounds players played the first to win six games, and if the score was tied at 5-5, they went to a tiebreak to seven points. There were also no deuce games that had to be won by two more points; the next point won the game.


In the finals the first to win eight games was declared the champion, with the same rules as previously mentioned. There was a large gathering of family members that made the trip to Puerto Vallarta to cheer their children on. It was quite obvious that these participants had extensive coaching and lessons for two reasons; the level and quality of competition was superb and the schools are the most expensive private schools in Mexico.


I spoke with Miles Reynolds, the coach of the Mexico City team and he informed me that their campus is the only one of all the Collegios that had their own tennis courts and other schools had students that played in private clubs. Miles was proud that all his kids were "home grown."


The singles winners were:


• Boys 10 year olds:
Javier Diaz (Mexico City) 8-1 over Alejandro Fajer (Mexico City)


• Girls 10 year olds:
Camila Garcia (Mexico City) 8-2 over Lucia Diaz (Mexico City)


• Boys 12 year olds:
Juan Pablo Jaramillo (Mexico City) 8-2 over Rodrigo Martinez (Puerto Vallarta)


• Girls 12 year olds:
Chanel Squire (Puerto Vallarta) over Fernanda Diaz (Pachuca)


• Boys 14 year olds:
Jan Krouhan (Pachuca) 8-2 over Sergio Guerra (Tampico)


• Girls 14 year olds:
Rebeca Calvillo (Durango) 8-3 over Laura Pleaez (Pachuca)


• Boys 16 year olds:
Bernardo Yañez (Peterson) 8-3 over Esteban Said (Puerto Vallarta)


• Girls 16 year olds:
Natalia Salum (Durango) over Maria Jose Albanes (Guadalajara)


• Boys 18 year olds:
Juance Eden Winter (Puebla) 8-3 over Andres Hernandez (Guadalajara)


• Girls 18 year olds:
Sandra Rosanno (Puebla) over Marrana Perez (Puerto Vallarta)
Tell a Friend
•
Site Map
•
Print this Page
•
Email Us
•
Top