News from Around Banderas Bay | November 2006
Second Chance Adoptions

Laura Gelezunas - PVNN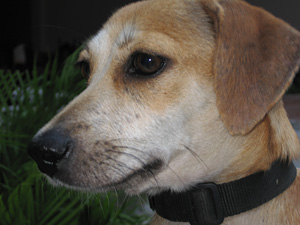 Chiquita is just one of the dogs staying at Rita's. She is playful, has lots of energy, and runs just as quickly as her little legs will carry her

One Puerto Vallarta woman is opening her home and her heart to area stray dogs. Rita Kunz, a 25 year resident of PV, has taken it upon herself to have a special adoption day at her home, Casa Del Pescador, Basilio Badillo 206, across the street from the Restaurant, Fajita Republic.


Rita has a definite soft spot for the pups. She currently has five dogs staying in her home, all waiting for new families to love. "I just want to help the dogs find homes. It is really about saving the lives of these precious little ones," she says.


So each week, the Animal Shelter of Puerto Vallarta, El Centro de Acopio Animal, will be bringing some of these adorable adoptables, mainly smaller dogs, to Rita's home. Feel free to stop by on Tuesdays between 11 am and 2 pm to get acquainted with the dogs and meet some fellow animal lovers.


This special adoption day is designed not to discourage people from driving out to the Animal Shelter, but to make it a bit more convenient for potential pet owners to see some of the smaller animals that are up for adoption each week. She cannot accommodate large dogs, so a trip to the shelter would be necessary if you are looking for a big friend.


If you are looking for a certain type of dog, please call the Animal Shelter at 293-3690 and ask for Liliana. She speaks English and will put your name and number in her files so she can give you a call when they have a dog that fits your wish list.


You can also check out the Pet Parade. This is updated weekly and gives you a chance to see some of the dogs and cats that can be adopted at the Puerto Vallarta Animal Shelter on Thursdays from 9 am to 2 pm.


Show a little love! The animals of Puerto Vallarta need your support. There are only a handful of steady volunteers at the Animal Shelter, and now at Rita's, so if you have some extra time and would like to help, please contact Rita at 222-2379.


The dogs staying at Rita's need a walk every day around 8 am, and she could also use some help with bathing the dogs so they look extra special for adoption day on Tuesdays. The Acopio also needs volunteers to go to the shelter every week and bathe some of the dogs that are up for adoption on Thursdays.
Tell a Friend
•
Site Map
•
Print this Page
•
Email Us
•
Top