Business News | November 2006
Oregon Christmas Tree Growers Branch Out Internationally

Michael Rose - Associated Press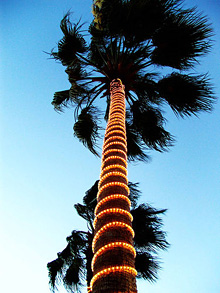 About 13 percent of Oregon Christmas trees harvested in 2005 were sent to Mexico.

One of Oregon's signature industries is hustling to put freshly cut Douglas and noble firs in homes around the world.


At Silver Mountain Christmas Trees, owner Jim Heater already has begun loading trees bound for Mexico. The Sublimity-area tree farm was among the first Oregon growers to ship to Mexico more than a decade ago.


"I think we shipped six or seven truckloads the first year. Now, we're up to 130 to 140 truckloads," Heater said. His farm has 3,500 acres of Christmas trees, and it will be a hectic place from now until the first week of December.


Oregon is king when it comes to Christmas trees. The state's growers, who rank as the nation's largest Christmas tree producers, need to get 7.8 million trees cut, baled and delivered to stores and tree lots in a matter of weeks. Nearly one-quarter of all Christmas trees sold in the United States are Oregon-grown.


But growers can't afford to overlook international markets: they will need all the customers they can get to absorb the 2 million to 3 million additional trees that industry surveys show will be coming on the market within three years.


About 13 percent of Oregon Christmas trees harvested in 2005 were sent to Mexico, according to a survey by the Oregon Agricultural Statistics Service. In comparison, Canada buys about 2 percent of the state's Christmas trees.


Bryan Ostlund, executive secretary of the Pacific Northwest Christmas Tree Association, said Mexico represents a huge potential market. Mexico City alone has more than 18.4 million people.


"While there is certainly a lot of poverty in Mexico City, there is also a lot affluence," Ostlund said.


Douglas fir, a less expensive "economy" tree for consumers, is the most popular in Mexico. About 23 percent of Oregon-grown Douglas fir Christmas trees were shipped to Mexico in 2005. The industry hopes the trend for Douglas firs will lead the way for more exports of higher-priced noble firs, Ostlund said.


Mexico has successful choose-and-cut Christmas tree operations, as well as some startup tree farms. Mexico, however, is a long way from catching up with the production and know-how of Oregon's Christmas tree growers, Ostlund said.


"You can't just put any Douglas fir or pine seedling in the ground and expect it to make a good Christmas tree," he said.


Oregon also has made inroads in expanding tree sales in Singapore, Taipei, and the Philippines. Those trees are cut even earlier than those headed to Mexico.


The state's largest domestic market is California, responsible for 47 percent of all Christmas tree sales in 2005.


Christmas tree growers have enjoyed a streak of good years, but they are keeping a wary eye on the tree supply. In the 1980s and mid-1990s, an oversupply of trees sent prices tumbling.


"The question is, is our market expanding fast enough to take up the extra supply," said Charlie Grogan, a former president of the National Christmas Tree Association, who runs Silver Bells Tree Farm near Silverton. It's too early to tell if an oversupply will become a problem for tree farmers, he said.


Growers have seen wholesale tree prices soften this year. A 6-foot noble fir that wholesaled for roughly $25 last year is going for about $23.50 today, which growers say is a result of increasing supply.


With the typical retail markup, consumers will pay about $40 to $46 for a 6-foot noble fir sold in stores.


Heater is optimistic that demand for Christmas trees will keep growing.


Orders from his regular Christmas tree customers are up 3 percent to 4 percent from last year.


"That means they sold out and are looking for a hardier market," Heater said.
Tell a Friend
•
Site Map
•
Print this Page
•
Email Us
•
Top