Entertainment | December 2006
As Tower Fades at Home, It Still Shines Abroad

Dale Kasler - Sacramento Bee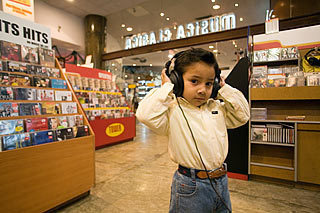 A child listens to music Wednesday in a Mexico City Tower Records store. While the brand has succumbed to competition in the United States, the Tower name appears to be going strong in Mexico, home of five Tower stores, where shoppers seem unaware of the pending U.S. shutdown. (Heriberto Rodriguez)

Ronnie Delany, Tower Records' man in Ireland, says the company's demise is "a crying shame."


But it's not fatal to his business. He's a franchisee who owns his two Tower stores, and they will continue operating after the U.S. company completes its going-out-of-business sale this month.


"We're a long way from America," he said in a phone interview from Dublin. "It doesn't really affect us."


Like satellites surviving the death of their host planet, Tower's international stores soldier on. The company's legendary red-and-yellow logo still shines at 142 franchised locations in seven countries.


In Japan, the world's second largest music market, Tower remains one of the top retailers. Partly owned by Tokyo telecom giant NTT DoCoMo, Tower Japan has added 31 stores since the U.S. corporation sold the business four years ago.


On a more modest scale, Tower Ireland is holding its own against tough competitors like Virgin Megastores.


"Business is great. It's very strong. It's an institution here," said Delany, an Irish entrepreneur who bought the stores from the U.S. corporation in 2003.


Yet Tower international hasn't been immune to some of the same kind of business pressures that destroyed the U.S. company. In recent years Tower has disappeared completely from Hong Kong, Taiwan, South Korea, Thailand, Canada, England, Scotland, Argentina and Dubai. The Tower franchisee in Singapore reportedly closed its lone store in August.


The Philippines franchisee, a 32-year-old music impresario named Anton Ramos, dropped the Tower name shortly after the going-out-of-business sales began in the United States in October.


"With Tower being in liquidation, we felt it wasn't to our advantage to keep the brand," he said by phone from the Philippines. He has renamed his eight stores Music One, although he's been told by Tower officials that their lawyers are reviewing his contractual obligations.


By contrast, the brand appears to be going strong in Mexico, home of five Tower stores. A manager in the Mexico City suburb of San Angel said business is good, and shoppers said they were unaware of the pending U.S. shutdown.


"I think it's an important company here in Mexico," said Alfonso Gutierrez, a 21-year-old student who shops at the San Angel store frequently. "I'm not sure what happened in the United States."


Tower's franchisees do business with almost no involvement from the home office in West Sacramento. Unlike restaurant chains that insist on standardized menus and require the franchisees to buy raw materials from the home company, Tower's international stores are free agents. They buy music, DVDs and other merchandise from whomever they choose.


Despite their independence, the stores remain tethered to the mother ship by money. Except in Japan, where the franchisee owns the Tower trademark outright for that country, the international stores pay royalty fees to the U.S. corporation. The fees are based on sales figures.


That setup will continue after the U.S. stores close. The company is in negotiations to sell the Tower trademark, and whoever buys it will become the recipient of the royalty payments, said a company source who insisted on anonymity because he wasn't authorized to speak for Tower.


This source said Tower wanted to sell the trademark at the company's October bankruptcy auction but wasn't satisfied with the bids. The auction ended with the rest of the company's assets being sold to a consortium led by a liquidating firm.


The franchises are the legacy of a global business that once generated 40 percent of total company sales. Tower opened its first overseas store in Japan in 1979 and spent the next 20 years building up its international operations.


Although some stores were always franchises, Tower also spent tens of millions of dollars developing more than 70 company-owned international stores.


Its greatest success: Japan.


Led by an eight-floor store in Tokyo's Shibuya district -- believed to be the world's largest record store -- Tower's Japanese stores became the mainstay of the entire corporation. In 2001 they earned an $11.3 million operating profit while the entire company was losing $37.4 million.


Tower Japan has prospered in part because there's less competition from aggressive discounters of the sort that helped drive Tower U.S. into oblivion. Japanese-made CDs are subject to price controls that protect retailers like Tower from price wars, said Keith Cahoon, Tower's former senior vice president for Asia.


While Tower's U.S. operations were crippled by illegal Internet downloading, "this never happened on a mass scale in Japan," Cahoon said in an e-mail from Japan. By the same token, legitimate downloading through services like Apple Computer Inc.'s iTunes store hasn't made a huge dent yet in the Japanese market, he said.


The sun began setting on the Tower empire in 2001. Bloated with debt, the company began retrenching, both in the United States and overseas. A year later, as its financial picture grew increasingly desperate, Tower sold the Japanese stores to a Tokyo investment firm for $125 million. The cash helped keep Tower afloat but severed the company's most profitable unit.


By 2003 just about every international store had been closed or sold to franchisees. In a poignant surrender, Tower retreated from London's Piccadilly Circus by transferring the lease to archrival Virgin.


"They just expanded too fast," said Stevo Berube, who was a Tower manager in London and Dublin during the heyday.


Delany began his connection with Tower as the company's Dublin landlord. The owner of several shops and restaurants in the city, Delany couldn't help but notice that his famed tenant was struggling. The store shelves, normally brimming with product, were looking threadbare.


A deal was struck in mid-2003, and Delany said he has been able to turn around the two stores despite competition from other brick-and-mortar retailers and iTunes.


"Music lovers, I think, prefer to shop in Tower," he said. "There's more variety; there's a different sort of feel to it."


Delany has mulled the idea of purchasing the Tower name in the United States and opening some stores in America. But he acknowledged it might be enough just to keep the brand alive in his home country.


"In little old Ireland, Tower will be here for a long time to come, we hope," he said.
Tell a Friend
•
Site Map
•
Print this Page
•
Email Us
•
Top