News from Around Banderas Bay | December 2006
Full Stream Ahead

Laura Gelezunas - PVNN





BanderasNews videojournalist Laura Gelezunas shows us why this adventure tour operator is unparalleled in the Banderas Bay area.

Puerto Vallarta - The right mix of fun, education and challenge make Vallarta Adventures some of the best tours and excursions in the world. This adventure tour company in Puerto Vallarta, Mexico offers a fantastic variety of excursions for people of all ages and skill levels who want to explore all that nature has to offer.


Nature is wonderful and there is no better way to explore it than with the help of Vallarta Adventures. For over 12 years they have been offering Puerto Vallarta tourists the opportunity to swim with dolphins, explore the great outdoors, discover the wonders of the sea on sailing excursions, snorkeling and scuba diving trips; experience cultural encounters in remote villages and explore out-of-the-way places in a safe and fun manner.


But what most distinguishes Vallarta Adventures from other tour companies is the high caliber of the people who lead their excursions. Their friendly and bilingual guides delight in sharing their special knowledge and enthusiasm with vacationers, and they skillfully set the tone for each journey.


Around 300,000 people per year embark on their 20 different types of tours, but Vallarta Adventures had its humble beginnings. "It wasn't like a business project or anything formal, I just started it as a hobby, and it kept growing and growing," says Vallarta Adventures owner, Ricardo Farkas. "I wanted to do something I enjoy, and I very much enjoy being outside and being active... even though I spend way too much time in the office."


With over 500 employees dedicated to their jobs, Vallarta Adventures offers its visitors a unique and gratifying experience. The tours are enhanced by attention to safety, details, wildlife diversity, natural beauty and friendly trip leaders, who apply their efforts with gusto.


"It is that little bit of adrenaline that gets flowing, it gives you that extra will to get up in the morning and go do something fun - plus you meet a lot of people, it's a really fun job. It's something that I love doing," says Canopy Tour Designer, Pavel Gaitan.


Employees go through a rigorous training program so their knowledge, language skills, and appreciation for the environment comes through on every expedition. There is a great deal of pride in what they do, and they can even speak for their partners.


Speaking of his dolphin partner, dolphin trainer, Ricky Rebolledo says, "They love to interact with the people, sometimes they need people to play to give them love and affection, I really enjoy this and if I can do something good for animals, I can do better things for people."


Vallarta Adventures is open every day of the year. So, put your mind and body to the test, or let their friendly tour guides and trip leaders do the driving, because they hope to turn all vacationers into adventurers.


Whether you prefer a relaxing day, extreme adventure or just some fun, check out Vallarta Adventures. For more information, visit their website, Vallarta-Adventures.com or contact Vallarta Adventures toll free from the U.S. and Canada at 1-888-303-2653.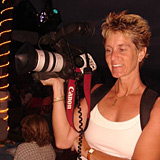 After having spent 10 years in the world of US broadcast news, Laura Gelezunas decided to unleash her skills on Puerto Vallarta by opening Video Diva Productions, a full-service, professional digital video company. Whether you're interested in a sales video, WEBmercial, music video, feature story, documentary, or corporate event video coverage, she has the experience, equipment and talent to coordinate a professional production. For more information, visit her website at VideoDivaProductions.com.
Tell a Friend
•
Site Map
•
Print this Page
•
Email Us
•
Top