Technology News | December 2006
Internet Video Preceded Death of Mexican Singer

Mariano Castillo - San Antonio Express-news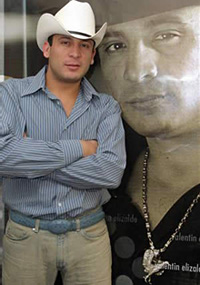 Valentin Elizalde

Leads seemed few in the days after singer Valentin Elizalde was gunned down in Reynosa, Mexico, last weekend no arrests made, no suspects named but in cyberspace, clues were plentiful.


Nicknamed "The Golden Rooster," Elizalde, 27, was well known in Northern Mexico for his brass-based traditional "banda" music and for his lyrics, some of which glorified the drug trade.


Three months before his death, on the popular video-sharing Web site YouTube.com, someone posted a photo slideshow depicting a succession of bullet-riddled bodies, with Elizalde's song A Mis Enemigos (To My Enemies) as the soundtrack.


The gory collection had a partisan theme it was taunting the Gulf Cartel, showing only victims aligned with it and its enforcement arm, known as Los Zetas. And just so nobody missed the point, the screen name of the person who shared the gloating documentary was "matazeta," or Zeta killer.


Volleys of foul-mouthed insults soon began to be posted to the site, resulting in a strange dialogue between self-described supporters of the Sinaloa and Gulf cartels, which are locked in a turf battle over lucrative smuggling corridors into the United States.


It was a rare glimpse into the narco underworld, but not the only one. Anger, macho posturing and vows of revenge spinning off two years of gangland violence are occasionally finding a voice usually anonymous but by turns bitter, sarcastic and menacing on the Internet.


On the YouTube site, the rhetoric escalated in the days before Elizalde was slated to play in Reynosa, in the heart of Gulf Cartel territory.


There's no evidence Elizalde had anything to do with the posting of the photos. He lived in Sinaloa and once penned a song exalting the hometown cartel's boss, Joaquin "El Chapo" Guzman, but such lyrics, until now, haven't caused security concerns to popular musicians.


Menacing postings


The online debate was something else, again.


"Videos like this cause the death of Chapitos," warned a Gulf supporter in a posting one day before the concert, using a slang term for El Chapo's followers.


The most cryptic message was posted almost immediately after the shooting.


"Just because of this video, they filled the Rooster with lead, hahahaha. He cried like a bitch," another poster who sided with the Gulf Cartel wrote.


Elizalde was gunned down along with his manager and driver inside a black Chevy Suburban shortly after performing at a fair in Reynosa. The singer was in the passenger seat, his limp body slumped toward the door. These details are clearly visible in another video posted on YouTube, a 50-second clip of the crime scene.


Elizalde reportedly opened and closed his last show with To My Enemies.


It wasn't the first time an assassination was foretold on the Internet. On a Weblog in August, in a similar vitriolic back-and-forth, a threat to kill Monterrey investigator Marcelo Garza y Garza became reality just weeks later.


As organized crime activity spreads in Mexico, its presence on the Internet is also growing, though its impact and its usefulness to police as an intelligence source remain unknown, experts said.


"We have to be circumspect about the information being posted, especially when it's on the Internet, an area where you can post from anywhere in the world," said Steve McCraw, director of homeland security for Gov. Rick Perry.


Any real intelligence posted on a blog would be difficult to sift from other "noise," said McCraw, a former FBI assistant director for intelligence.


"When you try to drink from a fire hose, it creates problems," he said, but added, "I certainly would use it as part of my investigation."


Contacted this week, several FBI and DEA agents along the border said they had heard of the tribute to Sinaloan marksmanship appearing on YouTube, but none had read through the comments it attracted.


At least some of the messages posted on YouTube did appear to have been written by knowledgeable insiders, one federal official said.


Some comments referred to the ousting of Gregorio "El Goyo" Sauceda from the Gulf Cartel leadership after a rift with other bosses.


El Goyo's fall had not been reported anywhere, but matched intelligence that U.S. authorities had gleaned from contacts in Mexico, the official said.


If there were other nuggets of truth buried among the poorly spelled curses, they are now lost. YouTube yanked the video and comments Nov. 27, citing violation of terms of service.


But other versions of the Elizalde video surfaced immediately on YouTube, one opening with machine gun fire and closing with a video clip of an execution. One video gathered more than 125,000 views and 225 comments in 24 hours.


Not just narcos


In the territory disputed by the Gulf and Sinaloa cartels, primarily in the border cities of Tamaulipas state, people don't speak of the main protagonists. The names of cartel leaders are mentioned only in whispers, if at all.


But under the anonymity bestowed by the Internet, whispers become pronouncements.


"It allows people to say things they would not say in public," said Bruce Bagley, a University of Miami professor and expert on drug trafficking.


"Increasingly, as in all of Mexico, online activity and blogging seems to be on the rise in all segments of Mexican society. In a sense, they are simply reflecting what is going on," Bagley said.

mcastillo@express-news.net
Tell a Friend
•
Site Map
•
Print this Page
•
Email Us
•
Top