Entertainment | Restaurants & Dining | December 2006
Eat Dessert First at Café des Artistes

Kathy Taylor - PVNN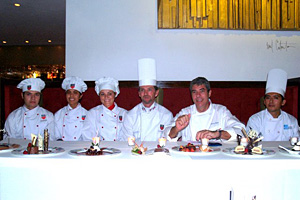 Escuela Culinaria Internacional students Miguel Angel Olivares, Nayelli Guadalupe Cruz, Yoly Plascencia, Chef Eric Fernandes, Master Chef Thierry Blouet and Cafe des Artistes Pastry Chef Salvador Alvarez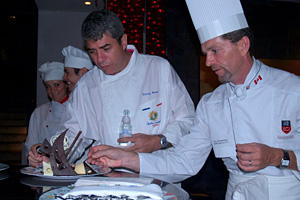 Cafe des Artistes Thierry Blouet with Eric Fernandez, tasting desserts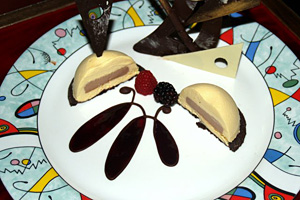 Chocolate Passion Fruit Bavarois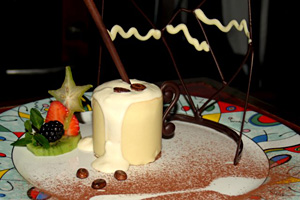 Mochaccino Cup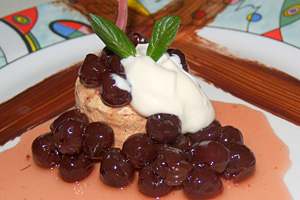 Chocolate Pavlova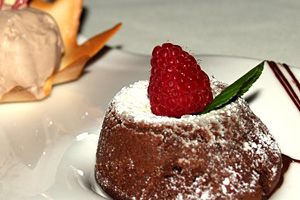 Chocolate Volcano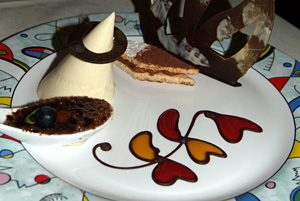 Chocolate Symphony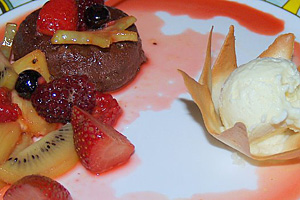 Chocolate Baba au Rhum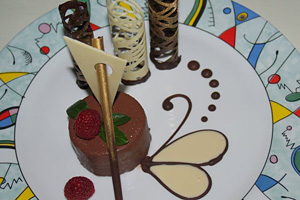 Chocolate Decadence

I once watched Julia Child bake Baba au Rhum with Jacques Pepin on their PBS series "Cooking at Home with Julia and Jacques." Her rapturous "Ooooohh" as she tasted it, glancing sideways at a bemused Jacques, as if to say, "watch out, mon ami," came to mind yesterday as I watched Chef Eric Fernandez taste his own chocolate creations.


Eric Fernandez, invited chef for the 16th anniversary of Thierry Blouet's world famous Café des Artistes in Puerto Vallarta, is one of the chief instructors at Guadalajara's Escuela Culinaria Internacional, and has designed a sophisticated chocolate menu of desserts as part of the celebration.


He hand-picked three students to accompany him on this obviously passionate mission, their selection based on their own passion and talent, but also for their stamina. "I picked those who can take the work physically as well as academically. I chose those who can stand in the kitchen longer than four hours... eight hours... ten hours..."


"Twenty hours!" added Master Chef Thierry Blouet, Fernandez's host and another very exacting chef. Everyone laughs, but it is obvious that each plate on this menu of gourmet chocolate creations takes hours to prepare. The finesse and detail-oriented concentration required to bring off these elaborate creations are physically and mentally challenging.


The three advanced students, close to graduating, have attended Escuela Culinaria Internacional for 2 ½ years, and bask in the attention and admiration that their work obviously deserves. Fernandez said that he was "selfish" in designing this dessert menu - the students have other creative opportunities; but, for now, they are happy with being the best, the chosen few.


Fernandez's menu is a feast for all senses: each dessert is a work of art in every sense of the word - visually exciting, aromatic, textural, and ultimately, delicious.


This is a chocoholic's dream come true. White, dark, milk, bitter sweet... accompanied with everything from ice wine to ice cream adorned with fruit, coffee, liqueurs and nuts. And I got to taste it all!


The menu:


CHOCOLATE PASSION FRUIT BAVAROIS


White chocolate and passion fruit bavarois with chocolate Crème Brulee in the middle, over a fine bitter chocolate sable, served with Cassis reduction. The first spoonful is flirty, the chocolate and passion fruit winking at each other in a light, cool, creamy bavarois.


The flirtation kicked up a notch with the discovery of a rich crème brulee centre, and then, the incredibly, impossibly crisp, sable, wafer thin. The second spoonful is a slow dance, all of the flirty bits pulled through a puddle of very sophisticated cassis reduction. This is "last dance" stuff.


CHOCOLATE DECADENCE


Chocolate and almond biscuit in ganache with ice wine butter capsule, covered with chocolate and served with English cream and basil.


This is why they pick grapes in the dark, or whenever the temperature descends to -10°C, and frozen grapes are perfect for ice wine. Chef Fernandez has lived most of his life in Canada, so I thought that he might have used one of the mighty Okanagan ice wines, but instead he reached into Artistes' cellar and used a Chilean ice wine. Wonderful. But of course, being the creamy ice wine/buttery centre in this ganache/ chocolate almond biscuit smothered in chocolate, it's hard to be anything but delicious.


CHOCOLATE PAVLOVA


Served with black cherry and anise compote accompanied by fresh cream and mint.


I have a love/hate relationship with Pavlovas. I used to love them, but I once catered an August wedding in Vancouver at a small, but lovely, venue with limited refrigeration space.


I arrived and discovered that the bride's sister (they were Kiwis) had lovingly made 10 beautiful Pavlovas for dessert. Gorgeous. No room for anything else. Not for the salmon or the prawns or the salads or the butter or cheese. Hot August. (It doesn't always rain in Vancouver, contrary to reputation!) We filled every available container with ice and managed not to kill anyone or make them seriously sick.


I still have the odd nightmare about it. So you might say that Pavlova and I broke up. But when I met this Pavlova we had make up sex on the spot - the best kind! This chocolate Pavlova is flawess - a crisp meringue exterior and a barely-set middle. The Anise laced black cherries are the perfect fruit, a bit of luscious cream, a hint of mint... mmmm.


MOCHACCINO CUP


Cup of chocolate tuile, covered with white chocolate, stuffed with semi-bitter chocolate mousse and coffee beans.


This cup runneth over. You can have your cup and eat it too! Okay, so that's taking literary licence, but this white chocolate coated tuile cup is huge, and full, and once you scoop out coffee bittersweet chocolate mousse, you can break it up and eat it! Pop a coffee bean in your mouth, and you have all the wonderful after dinner flavours that you can imagine. Brandy anyone? Cigar?


CHOCOLATE BABA AU RHUM


Chocolate Baba au Rhum flambé, prepared at the table.


Flamboyant table side flaming has been considered a little old fashioned for the last few decades, but I say that it's time to bring back the fireworks. This tasty Baba could ignite some fireworks all by itself. Hey Jacques, "Watch out, mon ami!"


CHOCOLATE VOLCANO


Chocolate cake with pepper truffle and chili centre; magnolia tuile, milk chocolate and Contreau glace.


What's in a name? In recent years flourless chocolate cakes with rich runny chocolate centres have been all the vogue. A good restaurant's dessert menu is hardly worth its salt (sel du jour, French, Sea) these days if it doesn't feature at least one Molten Chocolate or Lava Cake.


Death by Chocolate's author Marcel Desaulniers calls one of his "baby cakes" Heart of Darkness. Great name. Chef Fernandez's Chocolate Volcano owns its own great eruptive name. The marriage of the chile stoked truffle centre with the big bold chocolate taste made me cry out for a glass of Shiraz - a really good one, please, Cellar Door, Hunter Valley. This is lava, molten - a volcano with a velvety devilish heart of darkness. The cool orange and milky chocolate flavoured glace was a nice counterpoint to the heat, but oh, a big red, please.


CHOCOLATE SYMPHONY


Mini milk chocolate crème brulee with raspberry; meringue with almond and semi-bitter chocolate; white chocolate and marscapone mousse, each with garnish and sauce.


This was a fun, fun plate comprised of: a mini crème brulee in a Chinese soup spoon, a tiny diamond shaped bridge sandwich made of layers of meringue with an almond and chocolate filling, and a cone of marscapone and chocolate mousse, capped with a jaunty chocolate Saturn's ring. All on a beautifully, edibly, painted plate.


All were delicious, as to be expected, but the marscapone and white chocolate mousse was the biggest hit in this little chocolate amusement park - the kids came back with their spoons again and again. My turn. No, mine!

Located at Guadalupe Sanchez 740, in the heart of downtown Puerto Vallarta, Cafe des Artistes is open daily from 6-11:30 pm. The Costantini Wine Bar is open from 6 pm to 2 am. For reservations please call (322) 222-3229 or visit CafeDesArtistes.com.
Tell a Friend
•
Site Map
•
Print this Page
•
Email Us
•
Top