Entertainment | January 2007
The Show Did Go On!

Polly G. Vicars - PVNN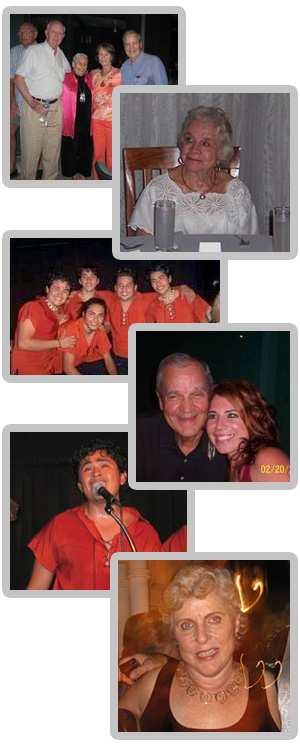 Top to bottom...


1. Beth and Bill Curlin from Frankfort, Kentucky with Polly and Husband at last week's Bambino concert


2. Barbara Topete, number one hostess and more than 30 year Vallarta resident


3. Los Bambinos in their red concert shirts


4. Husband with lovely Joanna, the light of Carlos' life


5. Handsome Carlos, belting out the song


6. Margaret Tolton, friend and original supporter of Los Bambinos

Because of my illness last week we missed an Archi's Wok dinner hosted by our Kentucky friends, Brenda and John Frank, a moonlight dinner on El Dorado's beach with more Kentucky friends, Beth and Bill Curlin, and then a dinner party at the beautiful Malecón condo of gourmet cook, Barbara Topete!


Even though my wonderful doctor, Jaime Castañeda, who incidentally made a house call, told me to stay in, keep warm and take some high powered antibiotics to knock out my severe case of bronchitis, after 6 days I rebelled.


So yesterday I and Husband, who wasn't feeling all that well himself, threw caution to the wind and headed down to the Santa Barbara Theater for the Los Bambinos' Monday night concert.


It was so good to be out and about amongst the people. Mama and Papa Morales, parents of Carlos, Lazzaro, Immer and Giorgio, as well as aunt and uncle to Luis, the fifth Bambino, joined us at our usual table.


Yes, we have a "usual table," as we go to all their shows and love every minute of being there. Joanna and Esperansa, novias of Carlos and Immer also graced our table to our delight.


While Esperansa is in school here in Vallarta, Joanna just finished law school in Colima and is studying for her bar. She isn't often able to make it to Vallarta for the show so this was a special occasion for her, and of course for Carlos.


The boys came out in their red shirts, designed and fashioned by Bambino Luis, and set the theater rocking with the Turtles' "Happy Together!." The girl Carlos loves (hope I am not spilling any secrets) was sitting front and center basking in the music and the incredible smiles being sent her way, as Carlos sang these words "Imagine me and you, I do. I think about you day and night, it's only right to think about the girl you love and hold her tight - so happy together!"


The audience loved the next song, the little ditty explaining how they put the show together that the Bambinos and their producer/director/father-confessor/slave driver, Blaine Selkirk, composed.


This song is especially meaningful to those of us who were there at the beginning of Los Bambinos' concert career. When Ed Hutmacher, the owner of the Santa Barbara Theater, Margaret Tolton and I came up with the idea of the boys doing a concert back in November of 2005, I called Carlos to see if they would like to give it a try.


He was excited and said a resounding YES! But about thirty minutes later he appeared at my door with this plaintive cry, "Polly, we don't know how to put on a show!" We took the problem to Ed, who called Blaine, who auditioned the kids and agreed to take them on. And, as they say, "The rest is history!"


The first act of Everly Brothers, Beatles, Mexican favorites and two of the boys' original songs went all too fast and closed to hoots, hollers and whistles of approval. During the short intermission those of us who stepped outside were almost swept away by a freaky wind that roared down the street.


Back to our seats just as all the lights went out! Then one phase (Husband is an electrical engineer and he explains all of that stuff to me) came on so that we only had some of the lights - and those were dim.


Ed, Blaine and the boys desperately got to work to see what could be done. Husband opined that possibly a fuse on the main line was blown knocking out one phase all over the Romantic Zone, so there was nothing that could be done "in house." After a short conference, Blaine announced that, true to tradition, the show would go on.


Los Bambinos really stepped up to the plate. With no microphones, no electric guitars, they sang their hearts out! The audience was wonderful, clapping and singing along making it a real happening! Cousin Luis, with his limitless energy, even got some of the ladies up to dance! It couldn't have been better.


If anyone had doubts that Los Bambinos have what it takes to make it to the top, they only had to have been there Monday night when those five young guys made lemonade out of lemons and gave the performance of their lives.


Boy am I happy that I was there when the show did go on!


Los Bambinos are in concert every Monday night at the Santa Barbara Theater, 351 Olas Altas in the Romantic Zone. For tickets and reservations call 223-2048. They sell out fast, so don't miss out!
---

Polly G. Vicars and her husband of 55 years, Hubert (a.k.a. "Husband") retired to Puerto Vallarta in 1988 and soon became active members of several charitable organizations. Polly is the author of "Tales of Retirement in Paradise: Life in Puerto Vallarta, Mexico" [a sell-out!] and "More Tales of Retirement in Puerto Vallarta and Around the World." Proceeds from the sale of her books go to the America-Mexico Foundation, a scholarship foundation that is their passion.

Click HERE for more Puerto Vallarta articles by Polly Vicars.
Tell a Friend
•
Site Map
•
Print this Page
•
Email Us
•
Top