Entertainment | Restaurants & Dining | January 2007
Fast Food That Doesn't Taste Fast

Denise Derameé - PVNN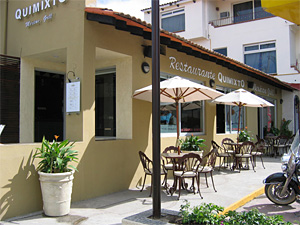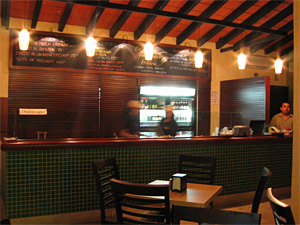 Alberto Perez, who owns two of the finest restaurants in Puerto Vallarta, La Palapa and Vista Grill, recently opened his latest dining concept, Quimixto Mexican Grill.

Realizing that both residents and visitors want to enjoy good food, but don't always have the time, or the money, to enjoy dining at a gourmet restaurant, more and more Puerto Vallarta restaurants have been tapping into the community's desire to eat on the run.


But fast food can involve a whole lot more than just burgers and fries.


Puerto Vallarta restaurateur Alberto Perez believes that just because you want your food fast doesn't mean you have to endure a typical fast-food experience. His solution? Gourmet food to go at his innovative new restaurant, Quimixto Mexican Grill.


Offering delicious fast food to eat in or take out, Quimixto Mexican Grill maintains the quality and excellence that have made Alberto's gourmet restaurants, La Palapa and Vista Grill, two of the finest restaurants in Puerto Vallarta.


Quimixto Mexican Grill's menu offers a variety of Mexican favorites, including beef, chicken and seafood burritos or hand-made corn tortilla tacos accompanied by rice, pinto or black beans and your choice of ingredients, like cheese, lettuce, tomatoes and a variety of delicious sauces that turn each dish into your own personal culinary creation.


If you prefer to eat something a little lighter, try one of Quimixto Grill's fresh and tasty salads topped with carrots, jicama, tomatoes, sour cream, cheese, guacamole and tangy vinaigrette, or one of their mouth-watering fish, smoked marlin, shrimp, or seafood combination burritos.


With prices ranging between $55 and $75 pesos per dish, this is one "fast food" restaurant you can't afford to miss! You can enjoy your meal in the Quimixto Mexican Grill's air-conditioned dining room, call ahead to place your take-out order, or take advantage of the restaurant's home delivery service by calling 222-8608.


Located just across the street from the CMQ Hospital on the south side of Vallarta at 370-5 Basilio Badillo, Quimixto Mexican Grill is open daily from 11 am to 11 pm. For more information, or to place your order, call (322) 222-8608.
Tell a Friend
•
Site Map
•
Print this Page
•
Email Us
•
Top