Entertainment | Restaurants & Dining | January 2007
A Mediterranean Masterpiece in Bucerias

Gary R. Beck - PVNN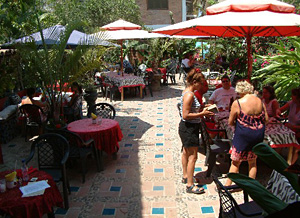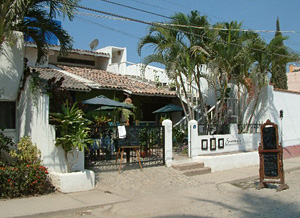 Takeout and local delivery are also available. For more information, call (329) 298-0273 or visit Sandrinas.com.
BanderasNews food writer and restaurant reviewer, Gary R. Beck, pays a visit to Sandrina's, a charming little Mediterranean restaurant in Bucerias, Nayarit. Located at Lazaro Cardenas #33 on the south side of town, Sandrina's is by far the most romantic restaurant in Bucerias.

Open for Breakfast, Lunch and Dinner every Wednesday through Monday from 10:30 am to 10:30 pm, Sandrina's is a whimsical and charming little restaurant on the south side of Bucerias, which, like many restaurants in Bucerias, was once a private home.


Serving Mediterranean cuisine and Greek family favorites, owners Sandrina Neumann and Andrew Vlassie have transformed the space into a unique lovely garden getaway where you can enjoy their specialties.


Offering wonderful culinary creations such as Hearts of Palm with Feta cheese, garbanzo and chile mayo; Curry Chicken salads and sandwiches; Saganaki fried Greek cheese; Snapper Fillet and Garlic Shrimp with 2 pestos; Tasty pizzas; Pita with humus, pesto and chicken; Blue Cheese Mushroom Burgers on garlic toast, plus an array of tempting desserts like Apple Cinnamon Pie or Chocolate Fudge Cake, Sandrina and Andrew have been serving patrons like friends since 2001.


The lunch and dinner menus offer diners many tasty choices, including Pollo Mediterráneo with artichoke, capers and feta and Salmon Filet with Hoisin and red chile sauce, and the daily specials are always a great deal.


In addition to fantastic food, diners are treated to Sandrina's artistic endeavors, including artwork and uniquely tiled walls and benches in the garden courtyard, where bubbling fountains, lush plants and tropical flowers create a magical and relaxing atmosphere.


Sandrina's also has special offerings like Margarita Mondays and Sangría Saturdays and you never know what might be happening in the courtyard... watercolor painting classes, live Spanish guitar music, amazing jewelry display and sales by Estaben.


In the air conditioned dining room, you can catch your favorite game on Sandrina's satellite TV, buy delicious cakes, pastries and even whole lasagnas to go. On the back porch there are computers offering customers free internet service, and fax services are offered at reasonable rates.


Takeout and local delivery are also available. For more information, call (329) 298-0273 or visit Sandrinas.com.
---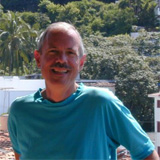 After 20 years in the San Francisco restaurant business, Gary R. Beck turned his attentions to cooking, dining out, creating recipes and exploring Puerto Vallarta's rich array of eateries. Famous for his restaurant guide, available online at CafePress.com or Lulu.com, Gary also writes restaurant reviews for Puerto Vallarta newspapers, Bay Area magazines, and now, a feature column for BanderasNews.com. Contact Gary at garyrbeck1@yahoo.com.
Click HERE for more articles by Gary R. Beck.
Tell a Friend
•
Site Map
•
Print this Page
•
Email Us
•
Top