Entertainment | February 2007
Mexican Directors Bring Outsiders' Edge to Oscars

Greg Brosnan - Reuters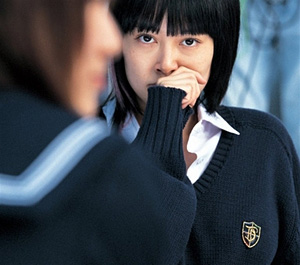 In this promotional photo provided by Paramount Vantage, actress Rinko Kikuchi is shown in a scene from 'Babel.' Kikuchi was nominated for best supporting actress for her role in 'Babel.' Studios have been paying more attention to casting more diverse faces in large part because films make a huge portion of their profit from playing to overseas audiences. (AP/Tsutomu Umezawa)

In best-picture hopeful "Babel" and two other vanguard movies nominated for Sunday's Oscars, a trio of Mexican directors is bringing an edgy outsider's viewpoint to this year's Academy Awards.


Alejandro Gonzalez Inarritu's inter-continental saga "Babel," filmed in five tongues including sign language, leads them with seven nominations and offers a jolting look at cultural and language barriers in the era of globalization.


A common thread in the movie links scenes as diverse as a raucous Mexican village wedding, a barren Moroccan mountainside and a Tokyo nightclub crammed with ecstasy-fueled teen-agers.


In Guillermo Del Toro's "Pan's Labyrinth," up for six Oscars including best foreign-language film, fascist soldiers in post civil-war Spain torture rebels as an eyeless, child-eating demon lurks nearby in a mysterious underworld.


Writer-director Alfonso Cuaron's "Children of Men," set amid civil strife in crumbling, post-apocalyptic Britain, earned three nominations.


Critics have praised the Mexican filmmakers for bringing a foreign, and often disturbing, touch, to their work.


"They are visionary directors," said critic Emanuel Levy, author of popular U.S.-based movie web site emmanuellevy.com. "It's not just technical skill, but they also have a fresh approach to storytelling, they have a fresh angle on cinema."


"They take the best of Hollywood without paying the price. The best way to describe them is one foot in, one foot out."


Close friends, all three are truly international directors but struggled in their early years in Mexico, where financing for films is virtually impossible to come by.


"DESIRE TO DISRUPT"


They relish the ability to bring something different to an industry that often tends to back safer blockbuster bets.


"I believe there is a desire to disrupt as part of the movies we make," Del Toro told Reuters in a recent interview. "All of them go against the grain to some degree. They are not just pleasant movies to do."


Mexico's new wave of cinema is a world away from its golden age of film in the 1950s, when most movies were lavish musicals in which pistol-touting crooners courted dusky maidens in frilly dresses, like Maria Felix.


Inarritu first received Oscar recognition in 2000 for best foreign-language nominee "Amores Perros," his gritty testament to a Mexico City underworld of snarling pitbulls, kidnappings and car crashes.


The directors have since moved away from making movies locally, taking on bigger projects. Cuaron is most famous for directing the third film in the Harry Potter series.


Critics say he injected an eerie darkness into his take on the boy wizard, no small feat for a franchise sequel. The directors say they partly inherited the ability to turn a tale around from their upbringings in Mexico.


"Obviously, where you're born gives you a lot of perspective," Inarritu told Reuters recently. "Where you're born and when you are a kid the way you are filled with ideas and how you see things, that has a huge impact on the way you tell stories."


Mexicans hoping to break into the industry are proud to see three of their own on the Oscars list but regret that they had to seek their fortunes first in the United States.


Only "Pan's Labyrinth" is a partly Mexican production.


"They had to do it abroad; they couldn't do it in Mexico," said Octavio Maya, who is writing a book on the country's film industry. "Original ideas are being developed in Mexico. There is a abundance of talent, but there is no money."

(With additional reporting by Bob Tourtellotte in Los Angeles)
Tell a Friend
•
Site Map
•
Print this Page
•
Email Us
•
Top