News from Around Banderas Bay | February 2007
Puerto Vallarta's Thais Romero Wins Her First International Tennis Tournament

Bob Cohen - PVNN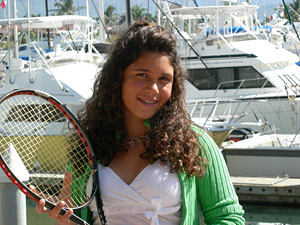 Thais Romero, just a month ago on school break in Puerto Vallarta, just won her first USTA International Tennis Tournament.

Puerto Vallarta's Thais Romero, who has been on scholarship at the Bollettieri Tennis Academy in Florida for the last 1 ½ years, began to play competitive tournaments a few weeks ago, after celebrating her 14th birthday in January.


In the third tournament she participated in, the unseeded Mexican youngster defeated the third seed and top seed to win her first Junior Championship. She defeated Ecuador's Romina Adum, that country's best youngster for the championship 6-4, 6-3.


In the field of 32, Romero defeated Nathalia Da Silva 6-1, 6-3 in the opening round, and then took out 3rd seeded Renee Deane 6-4, 6-1 in the quarterfinals. She faced the top seeded Melissa Narzissenfeld in the semifinals and destroyed her 6-2, 6-1 before running the table in the finals; not losing a set in the whole event.


Played in Sarasota, and open to international players, she played in the 16 year old division in the Bangoura Junior Championship and upset players in each of the four rounds to win her first USTA event.


Tennis Director Sekour Bangoura stated that he has not seen a forehand from a girl that young in quite a long time and believes she has quite a future ahead of her.


The week before, in the Bollettieri Junior Championships, Thais played in chilly conditions, but made it to the semifinals before losing to Yu Xuan Zhang, a youngster from China 2-6, 3-6. Prior to that round Thais took out the third and fifth seeded players in straight sets.


Also playing in that same tournament was 14 year old Rebeca Aguirre, also of Puerto Vallarta, who is attending school and tennis camp at the nearby University of South Florida. Rebeca made it to the semifinals before getting defeated.


Thais and Rebeca have battled on the courts in Vallarta and both now have stepped it up a level, the eventual goal to become a tennis professional. We congratulate Thais on her maiden international victory, and to Rebeca as well.
Tell a Friend
•
Site Map
•
Print this Page
•
Email Us
•
Top