Entertainment | Restaurants & Dining | February 2007
Miller to Launch Mexican-Style Beer, Court Hispanics

Emily Fredrix - Associated Press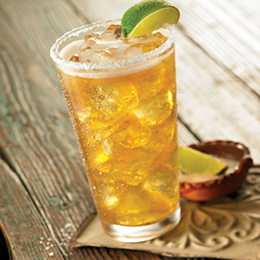 MICHELADA

Lime wedge - 1 each


Coarse sal - as needed


Cayenne Pepper Sauce - 2 dashes


Worcestershire Sauce (optional) - 2 dashes


Soy sauce (optional) - 1 dash


Beer - 12 oz.


Rub rim of tall glass with lime wedge and dip rim in coarse salt, fill with ice. Squeeze remaining lime juice into glass. Add Frank's and, if desired, Worcestershire and soy sauces. Pour in beer, stir and serve.

Se habla Miller? Miller Brewing Co. is hoping Hispanics speak its name next month when the company introduces a beer flavored with lime and salt.


Miller Chill, modeled after a popular style of Mexican beer called a "chelada," will be test marketed throughout Florida, Texas, Arizona, New Mexico and San Diego, said Pete Marino, a spokesman for the Milwaukee-based brewer. The company hopes to eventually expand the line nationwide, he said.


"We call it a modern American take on a Mexican classic," he said Monday.


The low-calorie beer will compete with mainstream light beers, such as top selling Bud Light and competitor Coors Light, Marino said. It'll be priced slightly higher than Miller Lite to compete with premium beers such as Anheuser-Busch's Budweiser, he said.


"It's a different beer," Marino said. "It's a different take on light beer than what consumers are used to."


The lime green bottles feature green and silver modular designs reminiscent of Aztec art, with the word "Chill" in bold black letters across the front and "Chelada style" below. A television advertising campaign with the slogan "Se habla Chill" will air in the test markets, Marino said.


Miller, the nation's second-largest brewer, has been stepping up its efforts to woo Hispanic drinkers. In January, Miller began importing Colombia's leading lager, Aguila, which is brewed by parent company SABMiller Inc. The company is also importing two SABMiller beers from Peru — top local beer Cristal and premium brew Cusquena. Distribution is focused on communities with large South American populations in places such as Florida and New York.


Miller is smart to expand its presence in the light beer market, which has expanded while sales of domestic premium beer remained flat, said Eric Shepard, executive editor of the trade publication Beer Marketer's Insights. The success of the recently introduced Heineken Premium Light has given light beer more status, especially with imports, he said.


"This particular extension makes more sense than, say a new full calorie brand with a new name," Shepard said.


A spokesperson for Anheuser-Busch, the world's top beer maker, declined to comment on whether it is working on its own version of a chelada.
Tell a Friend
•
Site Map
•
Print this Page
•
Email Us
•
Top