Entertainment | April 2007
Season's Final Concert by Katmandu

Polly G. Vicars - PVNN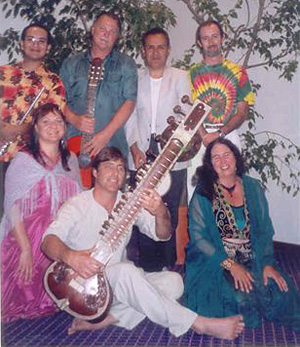 Don Pope's musical group, Katmandu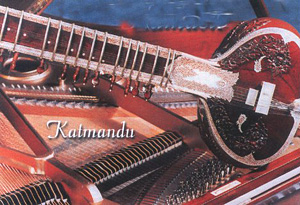 Don's sitar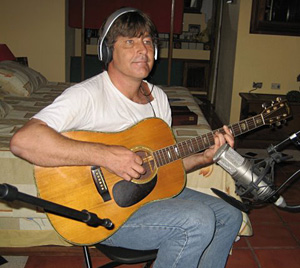 Don with acustic guitar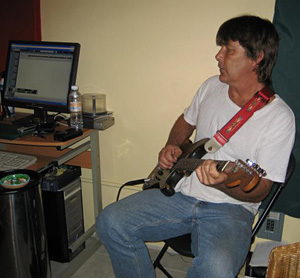 Don with electric guitar

A Google description of Katmandu, Nepal, reads "where the mythical melds with the modern," and that also describes Don Pope's musical group of the same name, "Katmandu." That is what they strive for and achieve in their exotic concerts, with a season-ending performance coming up at Cafe des Artistes on April 18th.


I only know Don because of his connection to musical producer Blaine Selkirk, who will be producing a new CD for him in the fall. Of course you know that Blaine is producing Los Bambinos CD of original music, but unknown to me until yesterday Don is adding some of his incredible guitar and sitar notes to that recording.


In the early 1970's Don, a guitar player from Calgary, Canada, traveled to India where he fell under the spell of the sitar virtuoso Ravi Shankar. Don's attendance at a Shankar concert was for him a "life changing experience." Don told me he was blown away "by the improvising and the spirit of Indian classical music!" He vowed to learn to play the sitar and to know and understand the mystical music of India.


Back in Calgary he located the nephew of Shankar, Ashish Khan, who had been trained by his uncle and who agreed to teach Don. This teacher-student relationship turned into a collaboration when Don, Rhonda and their one year old daughter, Seline, joined Ashish in a mind expanding concert tour of India.


Along with Don and Rhonda's long musical careers in various places in the world they have raised four children. The youngest son, Julian, was born and lives here in Puerto Vallarta, following the family's musical tradition, but not as a performer. He recorded his parents' latest CD, "Ragamazo," and did the sound for Los Bambinos Concerts when Blaine was out of the country.


For many years Don and Rhonda have been an integral part of our musical scene, with Rhonda's beautiful voice and expertise on both piano and keyboards accompanied by the versatile Don on guitar, acoustic and electric. Cafe des Artistes, Ritmos Beach, Miguelito's Treehouse are among the venues they have filled with their music.


Four or five times a season, Vallarta is treated to Katmandu's concerts of original music "written to display and enjoy the sounds of the Indian sitar combined with jazz, blues, Latin and rock and roll accompaniments."


Katmandu includes many of Vallarta's most talented musicians: Don on sitar and guitar, Rhonda on voice, piano and keyboards, Oscar Terrazas on soprano sax and flute, Willow Brizio on electric guitar, and Memo Suarez on percussion and drums. Completing Katmandu are beautiful Ayesha, Sol and Cecilia who compliment the songs with their sensuous Middle Eastern and Indian dances.


Katmandu starts each concert with a Namastáe. Don explains that this is literally telling the audience "we honor your souls" and is the traditional way to greet the people who have come out to attend your concert. All the songs are original music "drawing upon Hindu mythology, bringing to the stage some of the deities such as Vishnu, Krishna and Shiva." Don added that their show is a fusion of Mexican-Canadian-Indian styles with free flying, playful exchanges between the music and the dancers.


Wednesday, April 18, 2007 will be Katmandu's final concert of the season in Puerto Vallarta. For the first time, the concert will be in conjunction with a three-course gourmet meal with wine at the internationally known Cafe des Artistes for only $550 pesos.


Dinner starts at 7 pm and the show shortly before 9 pm. Space is limited and their recent sold-out concerts at Miguelito's Treehouse suggests making early reservations by calling 222-3228. Husband and I already have ours - and hope to see you there.
---

Polly G. Vicars and her husband of 55 years, Hubert (a.k.a. "Husband") retired to Puerto Vallarta in 1988 and soon became active members of several charitable organizations. Polly is the author of "Tales of Retirement in Paradise: Life in Puerto Vallarta, Mexico" [a sell-out!] and "More Tales of Retirement in Puerto Vallarta and Around the World." Proceeds from the sale of her books go to the America-Mexico Foundation, a scholarship foundation that is their passion.

Click HERE for more articles by Polly Vicars.
Tell a Friend
•
Site Map
•
Print this Page
•
Email Us
•
Top