Health & Beauty | April 2007
Dental Care Much More than Gleaming White Choppers

Linda Bryant Smith - heraldnet.com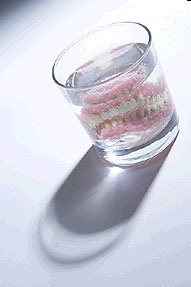 The American Dental Hygienists Association Web site carries a report that says 50 percent of Americans 55 or older have partial or complete dentures.

For the past few months, our lives have revolved around East-West choppers. It's been expensive, time consuming and has required a lot of professional expertise.


I wish I could say that these choppers reflect a sudden interest in youthful adventures and the excitement of the open road.


Sadly, it's much more a part of old age and youthful ignorance.


Let me digress, briefly, to a memory some of you may share: those early childhood trips to the dentist involving painful, noisy drilling without benefit of painkillers.


I hated the dentist's drill. My mother was adamant about brushing twice a day and regular visits to the dentist. When I voiced my displeasure at the whole concept, she added a grim threat: "Do it or you'll wind up with choppers like Grandpa's."


I wasn't really sure what choppers were until I saw them in a bowl in the bathroom when Grandpa came to live with us. I was 8. Those choppers left a lasting impression. I understood why cavities had to be filled and teeth required brushing.


Never, never in my wildest dreams did it occur to me that one day there'd be a porcelain dish with false teeth in my bathroom. But there it is. Right next to a half-squeezed tube of Fixodent.


As a teen I had regular appointments for cleaning and checkups and by then we had Novocain. As an adult I was blessed to work for employers who provided health benefits including some dental care. So I entered retirement with most, but not all, of my teeth still in place.


That was not the case for my husband. As a single dad with a limited income, he rarely took the time or had the money to pay for dental care. He was 50 when we married and his teeth were not in good condition.


I introduced him to my longtime favorite dentist, who was able to repair his remaining upper teeth and add bridges, which gave him useable chewing surfaces. Even then, he was warned this was not a forever solution. Tooth implants were not within his budget so he gambled that his teeth, as they were, would last as long as he did.


This year he turned 71, healthy, strong in almost every way except for his teeth. The lowers were badly worn down. Only seven of his own teeth, most of them loose, were left on top. A bridge was broken and could not be replaced.


The American Dental Hygienists Association Web site carries a report that says 50 percent of Americans 55 or older have partial or complete dentures, so my husband has lots of company.


Our friends wintering in Arizona urged us to come on down and do what many of them have done. Thousands of older Americans cross into Mexico every winter to get cheap dental care at one of dozens of storefront dentists.


I think it's pretty risky. Skill level, cleanliness standards, adequacy of equipment, procedures and medicines are all just taken on faith. And if you have problems, you may not be able to get the immediate care you need.


Our friend Chuck Goose had 22 teeth pulled one morning last November. The Mexican dentist put in full dentures and sent him on his way to drive 100 miles back to his RV park. Total cost: $1,400 plus fuel for the truck and lunch for his wife.


The painkillers wore off the next day and he was miserable. Certainly, he was in no shape to return to Mexico if he'd had excessive bleeding or any other complications. But Chuck's a tough old cuss and he got through the worst of it by eating chicken soup and complaining bitterly.


Despite the temptation of cheap Mexican choppers, we decided to pay more at home and be safe. My husband consulted with a dentist in nearby Ephrata and then went to across the mountains to Arlington to talk to our longtime dentist.


Thus, began our East-West saga. My husband's remaining upper teeth were pulled by the dentist in Ephrata over a period of three weeks and replaced by a full upper plate.


Once his mouth had healed, he made bi-weekly trips to our old dentist in Arlington who built up his worn-down lowers with crowns that meshed neatly with his new upper denture.


The cost was a whole bunch more than Chuck's one-stop dentures, but it was worth every penny if it keeps Orin healthy and avoids all of the problems that come when older folks have a mouth full of bad teeth.


Lack of proper treatment for gum disease and cavities, can have a serious effect on our overall health and may even lead to cardiovascular and respiratory disease and strokes, a new study on issues of oral health and seniors reports.


Bacteria from gum infections can increase the development of the fatty plaques that cause strokes and heart attacks. Residents of nursing homes are also at risk for developing pneumonia, which results from aspirating bacteria from gum infections, says Ira Lamster, dean of Columbia University's School of Dental Medicine.


Most of us in the Medicare generation don't have dental insurance, so a trip to the dentist can squeeze the budget.


I think some of us are tempted to put off those regular checkups because of that. We gamble we may just get lucky and our teeth will not wear out before we do.


Not a good bet.


The same things we learned as children, still apply. Brush at least twice a day, floss, rinse well and get regular checkups.


That regular checkup may reveal more than just infection and cavities. Many cases of oral cancer are discovered during a thorough dental examination. Expect your dentist to ask lots of questions about your general health and answer honestly.


Now that his mouth has healed and the work is complete, Orin has had to learn more than proper denture care. Chewing, for example: After weeks of soup and soft foods, he's graduated to chicken, fish and other tender meats.


By summer, we may celebrate this latest adventure in aging, East-West and all, with a thick steak grilled medium rare. We've got the chops for it.

Linda Bryant Smith writes about life as a senior citizen and the issues that concern, annoy and often irritate the heck out of her now that she lives in a world where nothing is ever truly fixed but her income. Email her at ljbryantsmith@yahoo.com.
Tell a Friend
•
Site Map
•
Print this Page
•
Email Us
•
Top