News from Around Banderas Bay | April 2007
Newborn Animals at the Puerto Vallarta Zoo

Adriana Romero - PVNN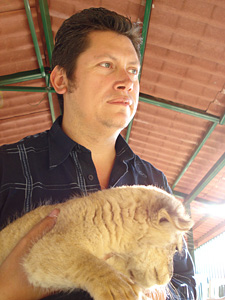 Zoologico de Vallarta owner, Martin Castañeda, with one of the lion cubs.

If you want to experience the magic of the jungle and see a diversity of both indigenous and exotic animals from all over the world, a visit to Zoologico de Vallarta should top your list of things to do on your Puerto Vallarta vacation.


If you live in Vallarta and haven't yet visited the zoo, you have been missing the unique opportunity to enjoy this amazing sanctuary in the lush jungle of Mismaloya, where more than 400 animals from 70 different species are cared for in a safe and loving environment.


Zoologico de Vallarta is owned by the Castañeda family, who have deep ecological concerns and devote themselves entirely to the preservation of all animal species. Half of the animals on display are indigenous to Mexico, and most every creature found in this area is represented – Jaguars, Pumas, Coyotes, Ocelots, Tlacuaches, Coatimundis and quite a few bird and reptile species among them - including crocodiles and iguanas.


An assortment of endangered animals, including Mexican Wolves and White Tigers, also inhabit the zoo, where excellent care and a safe environment encourage all of the animals to reproduce in captivity.


In fact, since September of 2005, employees of the Puerto Vallarta Zoo have witnessed the successful birth of Spider Monkeys, Capucchino Monkeys, Hiennas, Pumas, Flamingos, Emus, Nandus, African Midget Goats, Vietnamese Pigs, Pheasants and Guacamayas, to name a few.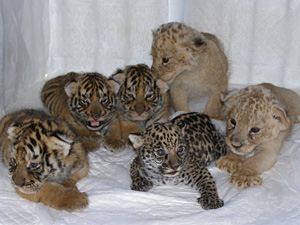 The Castañeda brothers recently announced the births of one Jaguar, three Bengal Tigers, and two Lion cubs at Zoologico de Vallarta.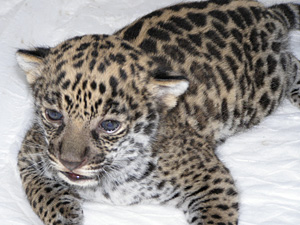 A baby Jaguar, affectionately named Lucy, is just one of the endangered animals born at the Puerto Vallarta zoo since its opening in 2005.

More recently, at a celebration that was held at the zoo on April 8th, 2007, the Castañeda brothers proudly announced the births of one Jaguar, three Bengal Tigers, and two Lion cubs in the Zoologico de Vallarta facilities. And, according to owner Antonio Castañeda, they are expecting one of the zoo's more exotic animals, an Albino Bengal Tiger named, "Bombon," to give birth soon.


As most of us know the Puerto Vallarta Zoo, better know in the community as Zoologico de Vallarta, opened its doors on September 15th of 2005. The initial phase of the project covers five of the family's 65 hectare parcel of land in Mismaloya that will soon become one of Latin America´s most recognized recreational and educational zoological parks.


Since its opening in 2005, slowly but surely, developers have been adding more facilities to this amazing and wonderful project, which the Castañeda Jimenez family estimates will take 10 years to complete.


When this gigantic project is finished, the recreational center will include a water park, a cable railway, an amusement park and rental cabins. These new sections will be opened to the public as soon as the construction of each new segment has been completed.


The imagination, good will and entrepreneurial spirit of the Castañeda Jiménez family is reflected in all its splendor at the Puerto Vallarta Zoo. This amusement center not only provides a safe place for animals in danger of extinction, but also gives Puerto Vallarta an additional attraction that no tourist, nor resident, should miss.

Located just south of Vallarta in the jungles of Mismaloya, Zoologico de Vallarta is open daily from 10 am to 6 pm. For more information, call (322) 228-0501, click HERE or visit ZoologicoDeVallarta.com.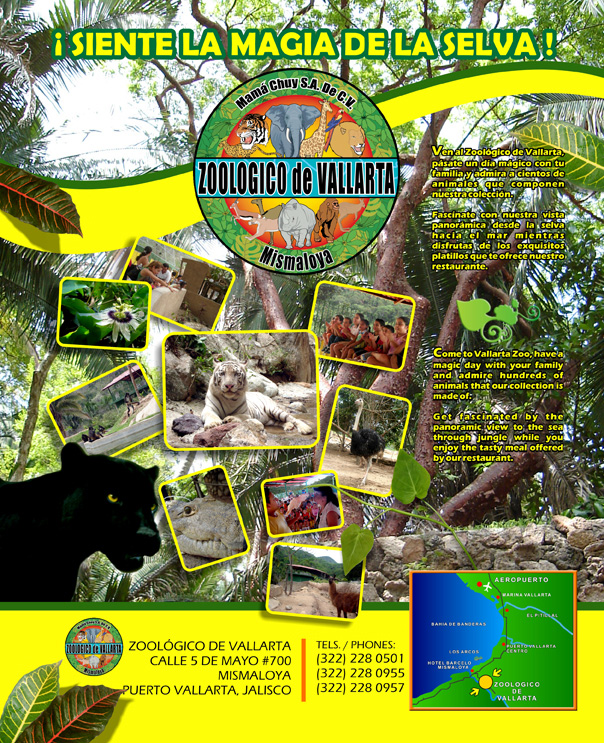 Tell a Friend
•
Site Map
•
Print this Page
•
Email Us
•
Top